Buffalo Wild Wings Has Officially Entered The Chicken Sandwich Wars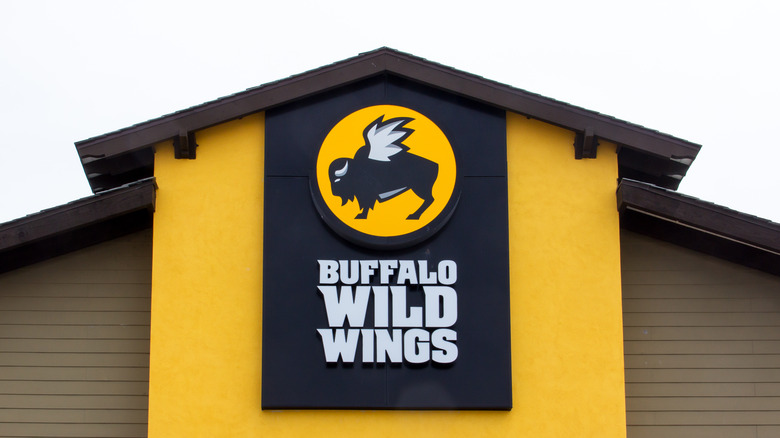 Shutterstock
Buffalo Wild Wings woke up Tuesday morning and dropped a food bombshell: they've entered the chicken sandwich wars. Gird your loins people — this is not a drill! The sports bar and American restaurant franchise announced the news on Twitter earlier this week tweeting, "Bun, chicken, mayo, pickles, fries...and beer." According to The Takeout, BWW's new Classic Chicken Sandwich will feature "a hand-breaded, beer-battered chicken breast, pickles, and a schmear of mayonnaise," all beautifully layered on a fluffy challah bun. You also have the option to make your chicken sandwich "Wild" with BWW's signature Wild Sauce for no additional cost (via Chew Boom).
But wait, it gets better. BWW's new Classic Chicken Sandwich will cost you just $5.99, which includes a side of their finger-lickin' delicious natural-cut French fries. Can you spare an extra few bucks? If so, you can add a tall house beer to your order for only $3 more. That's a crispy chicken sandwich, fries, and a beer for under $10. Who's hungry?
What does Buffalo Wild Wings' Classic Chicken Sandwich taste like?
YouTuber Peep This Out! got his hands on Buffalo Wild Wings' new Classic Chicken Sandwich and is encouraging chicken lovers everywhere to run not walk to your nearest BWW to try it. In the beginning of his review, he commented that he was "totally getting some Popeyes and KFC vibes" from the sandwich. Then, after further analysis, he quickly switched gears to say, "Shut the front door with this one! This is a ridiculous situation!" Between the sandwich size, signature Wild Sauce (spicier than traditional buffalo sauce), and golden bun, he's giving this new chicken sandwich two thumbs up.
Peep This Out also spent a good portion of his review critiquing the sandwich's batter to chicken ratio. While some fast food chains tend to lose the chicken in a sea of batter, that is not the case with BWW's. He specifically pointed out that BWW's chicken breast is very thick with little batter: "Believe it or not, there's more chicken than [fried] coating."
Grab BWW's new Classic Chicken Sandwich for only $5.99 plus a tall beer for only $3 more.