Why Trisha Yearwood Just Brought Lauren Alaina To Tears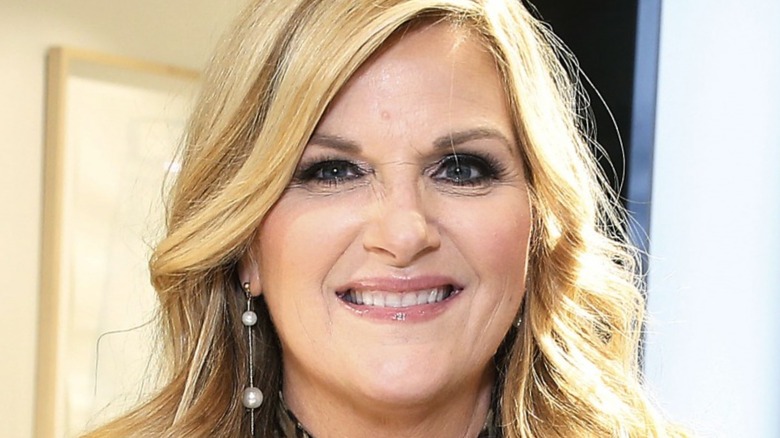 John Lamparski/Getty
Trisha Yearwood showed fans that she is full of surprises when she went from a famous singer belting out country tunes to a Food Network star dishing up southern cuisine. Her many talents aren't the only thing up her sleeve, and she proved that to fellow country crooner Lauren Alaina when she shocked her with an invitation to join the Grand Ole Opry.
Alaina has been singing since she was a young girl growing up in Georgia and competed in Season 10 of "American Idol" when she was just 16 years old (per ACESHOWBIZ). After taking second place in the iconic singing competition, she moved to Nashville to further her music career and made her debut at the Grand Ole Opry in 2011. By 2021, the young country star had logged over 50 performances on the legendary stage. 
Alaina was back at the storied venue on Saturday, when Yearwood appeared on the stage screen behind her, pretending to deliver a virtual Christmas greeting to the audience. She surprised Alaina and the crowd when she walked out from backstage to deliver a special holiday present to Alaina, who promptly sank to her knees in shock when she realized that present was Yearwood inviting her to become the newest official member of the Grand Ole Opry. Alaina said that the honor was "the only thing [she] wanted" and that Yearwood, her "hero," was the "perfect person to ask [her]." 
Alaina also appeared on Yearwood's cooking show
Lauren Alaina and Trisha Yearwood had an emotional bond long before their appearance together at the Grand Ole Opry. Alaina told ET Canada that she first met Yearwood at an award show where they started talking about how they both loved getting a cheeseburger after hitting the red carpet. Yearwood invited Alaina to appear on her Food Network show, "Trisha's Southern Kitchen," where they drank, sang together (via Instagram), and eschewed Yearwood's kitchen secret weapon — the crockpot — in order to whip up the same grub they initially bonded over: fast food. 
In an interview with Fox News, Alaina explained her admiration for Trisha, who she has come to know as "a beautiful person inside and out." "I grew up listening to her sing on the radio, and she taught me how to sing," Alaina said, adding, "She's one of those voices that really shaped my voice." The young singer was thrilled to later stand side-by-side with Yearwood on the set of her cooking show, and even join in a verse of "Walkaway Joe" with her real-life American idol. Afterwards, Alaina gushed, "That made my whole life!"
Trisha Yearwood wasn't done making Alaina's dreams come true, and the newest member of the Grand Ole Opry is likely still recovering from the shock and honor bestowed upon her by the country music legend. Hopefully, after walking the red carpet, they enjoyed a cheeseburger together.