Chicken Wings Will Soon Be Coming To Your Local Taco Bell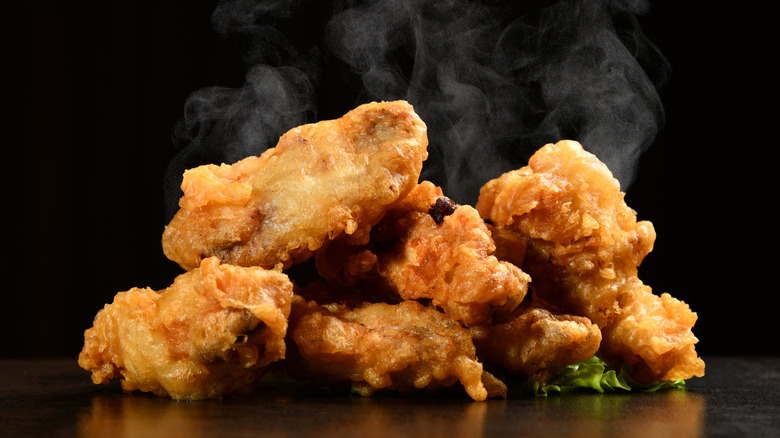 Dmitry Lobanov/Shutterstock
When people think of chicken wings, national chains like Buffalo Wild Wings or Wingstop might first come to mind. These tasty chicken drumettes have been exploding in popularity over the last few years, with Eat This, Not That! noting that during the pandemic restaurants saw a huge increase in the number of wings we order as a country. But a new entry into the market might take a lot of people by surprise — as it's none other than Taco Bell!
A limited test run in Fullerton, California, last year got a promising response, with a Foodbeast contributor giving the wings generally positive reviews. Foodbeast writer and taste tester Elie Ayrouth stated, "Taco Bell nailed it on what they're good at, textures. The flats did what they needed, the drums were crispy, had a fair amount of meat."
And now, starting January 6th, wing lovers can rejoice, Taco Bell's wings will be on offer nationwide. Though you might want to act fast because, as Today reports, they will be gone from the menu after a week! The bone-in wings are lightly battered and fried to crispy, then coated in a "Mexican queso seasoning," and come with a spicy ranch dipping sauce. The pack of five wings will cost $5.99, according to Thrillist, a dollar more than what the Fullerton test wings sold for $4.99, according to Foodbeast.
The wings are part of a larger menu shakeup at Taco Bell
While it might seem a little counterintuitive for a fast food taco joint to venture into the chicken wing market, it's part of a larger project by Taco Bell to change up its menu. It's been removing some beloved offerings and adding in new ones — though Forbes noted some of the changes have left people unhappy when their favorites have been eliminated.
But the company is standing by its changes and hoping to open restaurants up to a wider audience. As Taco Bell's vice president of Product Development, Heather Mottershaw, told Forbes, removing less popular items gives the chain the opportunity to broaden the scope of what it offers. In addition to meeting customer demand at the drive-thru at a faster pace, "slimming down and streamlining operations ... allows us to build out new options and new innovations," said Mottershaw.
Specifically, chicken is on Taco Bell's mind, and wings might only be the first of many chicken-focused options to come. Mottershaw explained, "When we think about the acceleration of new trends, it's really clear for us that it's chicken, and that means chicken as a whole category. We're focused heavily in this area at the moment, so expect lots to come here." Taco Bell told Foodbeast, "We're always innovating and listening to our fans, and chicken is just one category that we're excited to explore further and put our Taco Bell spin on."