This Single Nugget Chick-Fil-A Order Has Reddit Laughing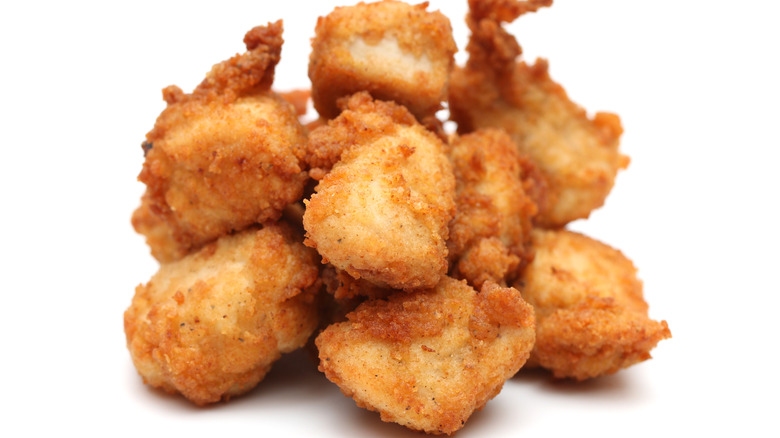 P Maxwell Photography/Shutterstock
One of the most ordered things on the Chick-fil-A menu is the restaurant's popular chicken nuggets. They were first introduced to the world in the 1980s, when people demanded a bite-sized alternative to Chick-fil-A's famous chicken sandwich, per the chain's website. What makes the nuggets so addictive? Maybe it's the fact that they're fried in peanut oil, giving them a unique flavor, or maybe it's the wildly popular Chick-fil-A sauce that everyone loves dunking them into.
There are a lot of ways to enjoy your Chick-fil-A nuggets. On the menu at any location across the country, you can order them in packs of five, eight, 12, or 30. You can also order a supersized batch of nuggets for a party (in quantities of up to 200 nuggets) or, on Valentine's Day, a heart-shaped tray of chicken for your sweetheart. But those aren't the end of your options: According to a recent Reddit thread, you can even order a single Chick-fil-A nugget.
People can't believe you can order just one Chick-fil-A nugget
In case you didn't already know, you can, in fact, order just one chicken nugget at Chick-fil-A. One Redditor proved it with a photo of their receipt featuring a lone nugget for $0.53, which they shared in a post that quickly had fellow customers laughing. Former Chick-fil-A employees chimed in, saying they've seen the single-nugget order before. "Whenever we saw an order of one nugget in the kitchen, we always joked that we should tell the customer to open their mouth and chuck a nugget through the window," one person wrote. 
What's the deal with the strange order? Another Chick-fil-A employee explained that the option to get just one nugget was originally meant for dogs, but now most drive-thrus have free dog treats. The single-nugget option remains at some stores — apparently for those of us who just aren't that hungry. However, it's not available at every Chick-fil-A location. "Not all Chick-fil-As will do this," one commenter said. "I work at Chick-fil-A and people ask me for this all the time and we're not allowed to do it, plus our system wouldn't let us even if we wanted to."