Instagram Is In Love With Michael Symon's Adorable Kitchen Assistant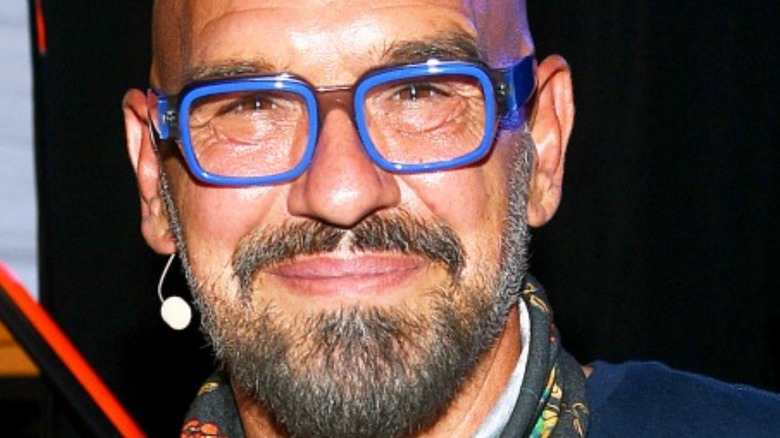 Dave Kotinsky/Getty Images
There's nothing like the holidays to put the spotlight on family, and Instagram loves how Michael Symon is spending time with his. Symon is not only the newly minted throwdown king, having been anointed by none other than the OG, Bobby Flay, who is producing the new "Throwdown with Michael Symon," but he is also a dad and a grandfather. And during his downtime, Symon likes to spend time cooking with his favorite little assistant in his home kitchen. This assistant happens to be his son Kyle's daughter, and the internet is loving this grandfather-granddaughter duo. 
Symon adores his granddaughter. When she was born, he tweeted, "930 this morning Emerson Lena came into the world ... 7lbs..6oz and 20 inches of beauty & magic ... all are healthy and happy ... & I must say being a grandparent feels amazing ... could not be happier or more proud of Kyle & Krista." And in September 2020, the cookbook author took to Facebook to share a sweet photo of himself holding Emerson in the kitchen as she longingly looked at bagels and a present sitting on the counter. Symon wrote, "My little chef in the making! ... I can't tell if she's eyeing the bagels or the present!" More recently, Symon shared a video of the two cooking, and Instagram is in love with the cuteness overload.
Emmy is not a fan of caramelized onions
Symon posted an adorable 13-minute video of his granddaughter on Instagram showcasing their adventures in making baked ziti with cauliflower from his new cookbook, "Fix it with Food." The celebrity chef captioned the special moment, "As promised ... me and Emmy cheffin' the Baked Ziti with Cauliflower & Gruyère from page 210 of the NEW Fix it with Food ... I always have the best time in the kitchen with my Emmy." Emmy's cuteness is undeniable as she shuns tasting the caramelized onions and nibbles on some cheese instead. Symon is a wonderful grandfather, sharing how Emmy's father loved mac and cheese, and gave her an A+ for pouring the cream.
The video has received nearly 50 thousand likes, and Symon's followers gushed over his little assistant. One wrote, "I LOVED this video so much! Emmy is so adorable and you are so wonderful! Reminds me of when I would cook with my little guy ... who is now 14! So fun!"  Another follower commented, "It's a great blessing to have little hands helping in the kitchen. They learn so fast." And still, another shared what we were all thinking, "You are so cute with her. Just adorable!" Best. Cooking. Show. Ever.