Twitter Is Raving Over Michael Symon's Throwdown Takeover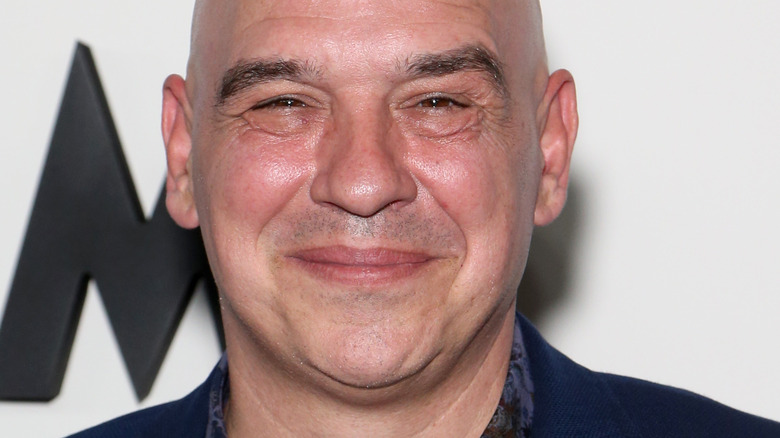 Gabe Ginsberg/Getty Images
"Throwdown with Michael Symon" premiered on Tuesday evening on Food Network and fans can't get enough of this new show that Bobby Flay's Rock Shrimp Productions is producing. While Flay was the ruling "Throwdown" king until 2011, he gladly handed the reins over to Symon for this new incarnation. Flay made the announcement via Instagram, sharing this message for Symon with his followers, "You OGs may remember Throwdown... a competition show on @foodnetwork that premiered in 2006 and put spotlight on some of the country's best culinary talent. WELL I HAVE OFFICIALLY PASSED THE THROWDOWN BATON." Flay's fans were nothing but excited about this announcement.
Of course, Flay revealed to People that he hopes Symon, who he says is "secretly competitive" isn't always victorious. Flay jokingly said, "I'm rooting against him. I want the people that he challenges to kick his a**. It would be good to humble him."
So how did Symon fare during his first episode, which was billed as a delicious and mouthwatering bbq burger brawl? Per IMDb, Symon faced off against Matt Abdoo of Brooklyn's Pig Beach, and according to Twitter, "Throwdown with Michael Symon" is a hit. Fans can't wait for the next episode and are sharing their support on the social media platform. 
Twitter is Team Symon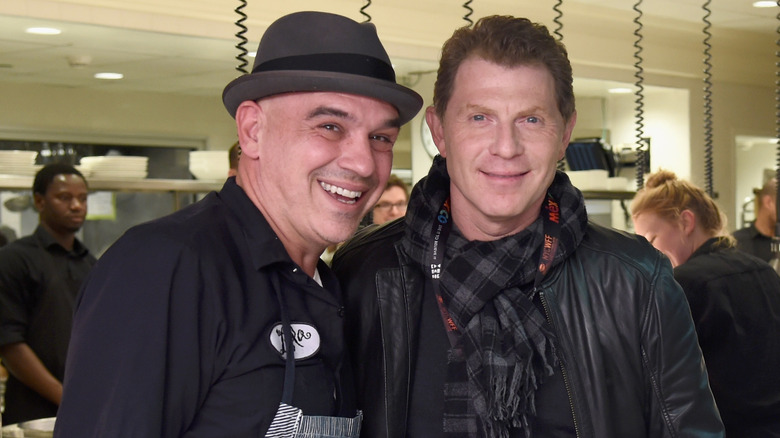 Ilya S. Savenok/Getty Images
The proof is in the pudding, or in this case, the tweets from the tweeters, and they are loving Michael Symon's approach to this new version of "Throwdown."
One bold, spellcheck eschewing tweeter wrote, "Loved that throw down. The perfection of your burgers and BBQ is undisputable as far as I am concerned. Adding the Cleveland caviar to that burger was genuis. One visit to Mabel's to eat the fatty brisket and anyone will see that you are a BBQ force." Another foodie wrote, "I would watch literally any @FoodNetwork show with @chefsymon I am loving watching and learning with #ThrowdownWithMichael." And another echoed this sentiment tweeting, "#ThrowdownWithMichael is legit everyone watch. @chefsymon kills it."
Of course, one follower had to jokingly point out, "Amazing! The throw down was in Brooklyn, NY but the mustard was from Cleveland! Oh the irony..." Still, another fan wanted to know if another Symon project that was cancelled in 2018 might be up for a reboot, asking, "You have always been my favorite chef on @FoodNetwork! Well deserved, sir!! Any chance we could have a reboot of #thechew on FN?" Symon was kind enough to reply, writing, "Thank you .. and I never say never .. but it would be a big long shot."
Regardless, Symon should take a well deserved bow and we can't wait for next week.