Gordon Ramsay's Sticky Toffee Pudding Video Is Oddly Satisfying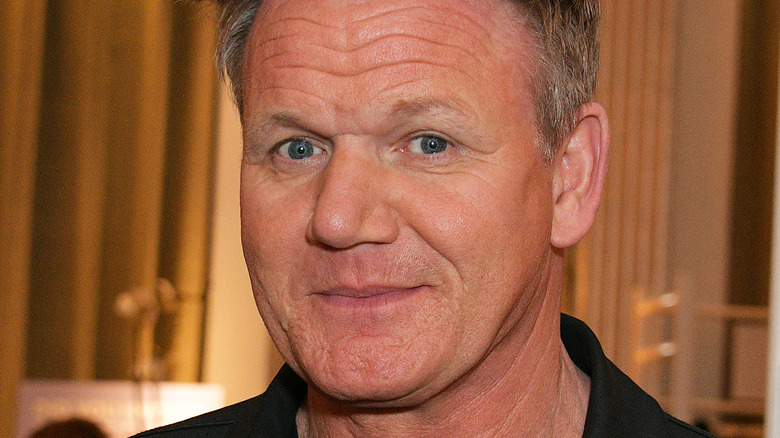 David M. Benett/Getty Images
Any "Hell's Kitchen" contestant worth their salt knows just how important a dish's presentation can be. After all, countless previous contestants who weren't up to par in this category have landed on the unfortunate receiving end of one of Gordon Ramsay's iconic insults. In addition to building up some thick skin, future contestants who want to get ahead of the game may want to pore over the celebrity chef's Instagram account to get a feel for Ramsay's sky-high standards.
Over on GordonGram, there are plenty of stunning images and enticing videos to inspire future cooking show contestants, home cooks, or anyone who just wants to order some Insta-worthy dishes. One recent post shows a video of a particularly drool-worthy dessert with the chef's caption, "You just can't beat a signature sticky toffee pudding!!" The post received some gratifying feedback like "Oh my looks delish" and "it's like I can taste the sauce." Indeed, Ramsay knows a good pour when he sees one.
Ramsay's sweet Instagram post is mesmerizing
Gordon Ramsay's Bread Street restaurant has four Kitchen & Bar locations as well as an upcoming Café location according to its website, but you'll have to travel abroad to visit any of them. Lucky for us, Ramsay has posted a video of one of the chain's decadent desserts to feed our curiosity. We should probably warn you that you may catch a serious case of FOMO from watching the video. We couldn't agree more with one commenter who said, "Maaaan I'm jealous every time he [sic] upload a menu item."
Sticky toffee pudding is a classic British dessert comprised of a date sponge cake with a toffee sauce topping, according to Brittanica. In Ramsay's post, a globe of cream-colored, vanilla ice cream perched on top of a slice of cake is slowly covered with a stream of light-brown toffee until the ice cream has a buttery glaze and a small, toffee-ice cream avalanche begins to create a heavenly pool just begging for a spoon. The video is absolute, pour-perfection! Coincidentally, sticky toffee pudding also happens to be a favorite dessert of Duchess of Cambridge Kate Middleton, according to People. If Ramsay plays his cards right, who knows, perhaps he'll land a royal spoon cameo in an upcoming video!