What The Top Chef Family Style Winners Have To Say About The Show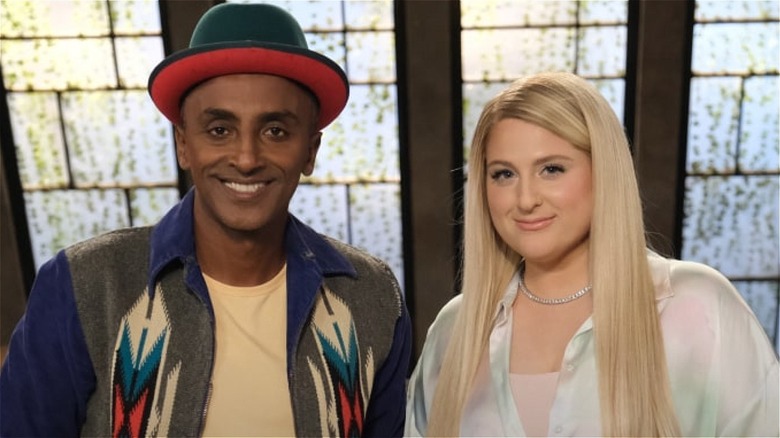 Peacock TV
The latest in the "Top Chef" series spin-offs, called "Top Chef Family Style" and hosted by Marcus Samuelsson and Meghan Trainor, recently culminated its first season earlier in December. The premise of the show is pairing up teams of adult chefs with and their young family members who to go head-to-head against other familial duos. In the end, 12-year-old Delilah Flores and her uncle, 24-year-old Danny Flores were crowned the inaugural champions. The California natives made it to the final challenge by presenting a four-course meal that showcased their journey on the show, and with it, they reigned victorious, defeating the mother-daughter team of Anu and Anika Kumar. 
But, were they surprised by their victory? According to pre-teen cooking sensation Delilah, the whole experience was shocking to them. In an interview with People recently, the petite phenom (according to Orange County Register, she was known not just for her talent, but also for her "I can't reach it" tagline) said, "We didn't think that we would even make it past the first episode. We were shocked to even make it on the show." Uncle Danny concurred, and admitted to being surprised — not only by their continued success as the competition heated up, but also by their own level of skill. 
As he told People, "I think we were both shocked at how talented we were as individuals in the kitchen. ... I learned that Delilah was not just talented ... it was refreshing to see the way she carried herself with such poise and how she seemed so beyond her years." Delilah, who, according to Food & Wine, has been interested in cooking since she was eight-years-old, had some interesting reactions to the various challenges the duo encountered.
The uncle-and-niece team are living the dream
The challenge that Delilah Flores enjoyed the most involved sharing ingredients with fellow competitors, as she told People. She had some regrets about their effort in a sushi challenge, and felt that cooking for the Rams in a tag-team event under scorching heat was the most trying bit they encountered, per the article. The duo seemed to flourish in the heat of competition, though, and the opportunity to cook together really elevated their game as the series progressed. 
In terms of what they gained along the way, the young chef said that she and her uncle learned to "use the different elements of molecular gastronomy and [apply] it to our cooking techniques for precision, and to revamp our old traditional style of cooking for more elevated works of art." This, from an untrained pre-teen just throwing down with her uncle, who also never attended any kind of culinary school — he just worked as a prep cook at a local community college. Talk about the American dream! 
Daniel told OC Register, "We were just proud about being there and being able to represent our culture." The two plan on splitting the $100,000 prize money and look to the future, which, for both, involves their passion for cooking and making people happy. For Daniel, he has a catering business called Let's Brunch that's keeping him busy and he plans to open his own restaurant, as he told People. For Delilah, she helps her uncle in the kitchen and plans to go to culinary school — there's also talk of them opening a family restaurant together, which we can only imagine will be another true success story.