El Pollo Loco's 3 New Salads Come With A Refreshing Twist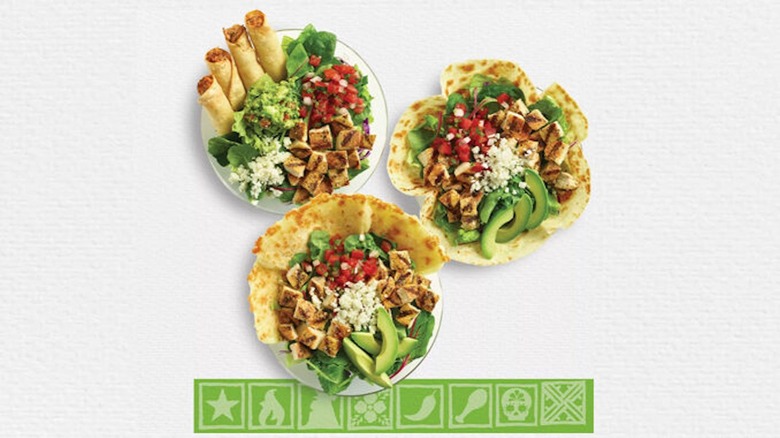 El Pollo Loco
Who knew crazy chicken would be so popular? El Pollo Loco's unique, marinated fire-grilled chicken has become a staple in the five Southwest states that house more than 480 locations of the chain. Juan Francisco Ochoa knew. He knew that the chicken recipe that had been in his family for generations was a winner, so much so that in 1975 he sold everything he owned and converted his Mexican shoe store into a restaurant, anchored on his family's delicious chicken recipe. Five years later, the first El Pollo Loco opened in LA, and the rest was history.
El Pollo Loco likes to refer to itself, according to CNBC, as "a quick-service restaurant serving high-quality food." The chain's citrus marinade (the recipe for which is a tightly held trade secret) and commitment to using fresh ingredients allows them to offer what they believe is a healthier alternative to typical fast food fare. Along those lines, they've launched a new salad line that incorporates everything that the chicken chain stands for.
El Ensalada Loco
This is not El Pollo Loco's first foray into the salad market. In 2017 they rolled out four layered salads. The chain's latest crack at the salad thing, according to Chew Boom, includes three original salads: the Cheesy Quesadilla Dos Locos Salad, the Chicken Taquito Dos Locos Salad, and the Unwrapped Burrito Dos Locos Salad. All three feature lettuce, "crisp super greens," double-portions of their famous crazy chicken, queso fresco, and their house-made pico de gallo. And the refreshing twist? All three of these Ensaladas Locos are served with the chain's signature creamy cilantro dressing. 
This uniquely flavored accompaniment is also featured in the crazy Loaded Taquito Nachos that El Pollo Loco dropped in September. Of course, if you are one of the genetically-disposed people with an ingrained intolerance of cilantro, or if you simply despise it, like the New York Times notes Julia Child did, you'll want to eliminate the creamy green goodness. But for those of us who delight in the aromatic earthiness of the herb, you'll definitely want to partake in this refreshing salad, as it elevates these fresh bowls of yumminess to, well, crazy heights.