Why We Eat Pomegranates For New Year's Eve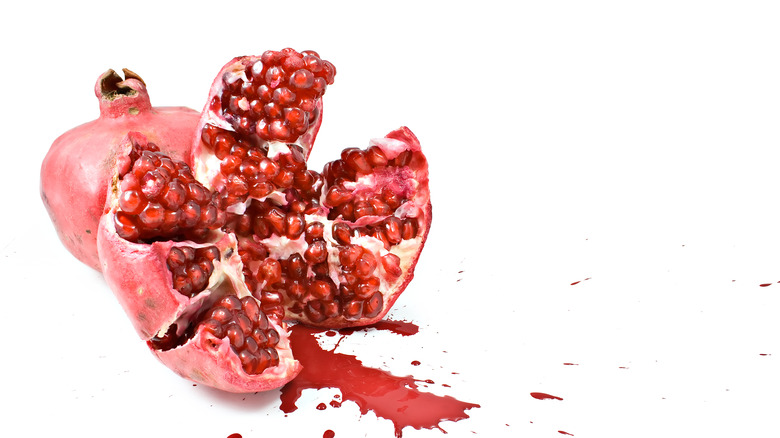 Julia Remesova/Shutterstock
New Year's Eve is just days away, and if you are like us, you are just starting to plan your party and map out how you will close the books on one year and ring in a new one. And, one of the most festive ways to kick-off the New Year is with food. You may already have your favorite bottle of Taittinger or Perrier-Jouët Champagne on ice, but it might surprise you to learn that beyond the must-have bubbly, there are plenty of foods associated with the New Year that are believed to bring good luck and prosperity to those who consume them, including the pomegranate. 
Per Medical News Today, we all know these beautiful ruby red fruits are chock-full of antioxidants that may have great benefits for health. They also make a lovely juice and can add a sweet juicy texture to salads and other dishes. But, according to the Pioneer Woman blog, the pomegranate is also an important part of the New Year ritual for those in Turkey, Greece, and the Mediterranean. In fact, Alimentarium explains that the pomegranate has strong ties to ancient Greek mythology and the goddesses Demeter, Persephone, Aphrodite, and Athena. Each of their stories taps into the symbolism of this fruit as a harbinger of fertility, good luck, and marriage — and gets to the heart of why you may want to incorporate this fruit into your New Year's celebration.
The more seeds that fly when opening it, the better the coming year will be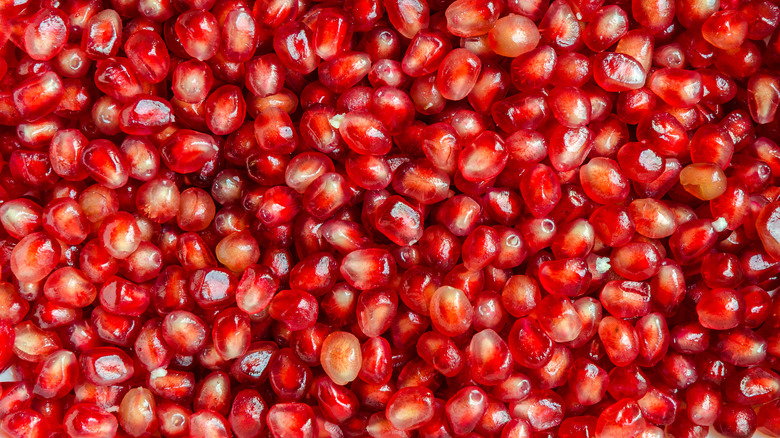 Fitria Ramli/Shutterstock
Greek Boston shares that Greek communities believe smashing pomegranates on New Year's Day will bring prosperity, fertility, and good luck to a household. The practice actually commences on Christmas Day when families hang a pomegranate that may have even been blessed at a church over the front door. Then, on New Year's Eve, as the clock strikes midnight, one lucky person is chosen to take the hanging fruit down and smash it against the door, causing the pomegranate seeds to fly everywhere. (A duck and cover may be in order for this ritual depending on the level of enthusiasm of the smasher.) The site goes on to explain that, the more seeds that are dispersed, the greater the luck of the household. Translation: Choose your pomegranate smasher wisely if you want it to be a lucky year. 
Additionally, Thrillist reveals that some people of Turkish descent look to a New Year's pomegranate as a sign of fertility, meaning if you are hoping to add a few kiddos to your family, you want to begin the year with plenty of the fruit on hand. But, regardless of your hopes for the new year, we can all use a little luck, and pomegranates — whether smashed or eaten — seem like a delicious way to bring on 2022.