Andrew Zimmern Fans Want To Try This Pickling Technique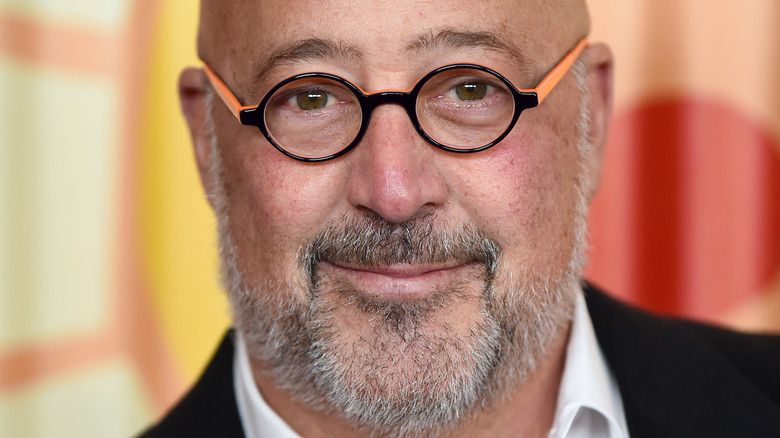 Dimitrios Kambouris/Getty Images
We love cookbooks, but these days, it seems like most of us get our recipes online. Yet, rather than solely rely on cooking blogs or websites for ideas, it's also good to check in with our favorite celebrity chefs and food personalities as they regularly share their recipes on social media, including Andrew Zimmern.
Zimmern may be best known for his unflinching palate on shows including "Bizarre Foods" and the newer Discovery+ series "Family Dinner." But, he needs to eat food at home just like the rest of us, and he's been sharing his meal ideas on social media — and they aren't bizarre at all, but straight up delicious. Take his pickled jalapeños, for example. Zimmern recently shared a sneak peak of his pickled peppers recipe on Instagram in part to promote his Substack newsletter, which he notes will be releasing new content and recipes on Tuesdays, Wednesdays, and Thursdays, and fans seemed eager to sign up so they could get the full pickling lowdown.
Substack subscribers will get more Zimmern recipes like this one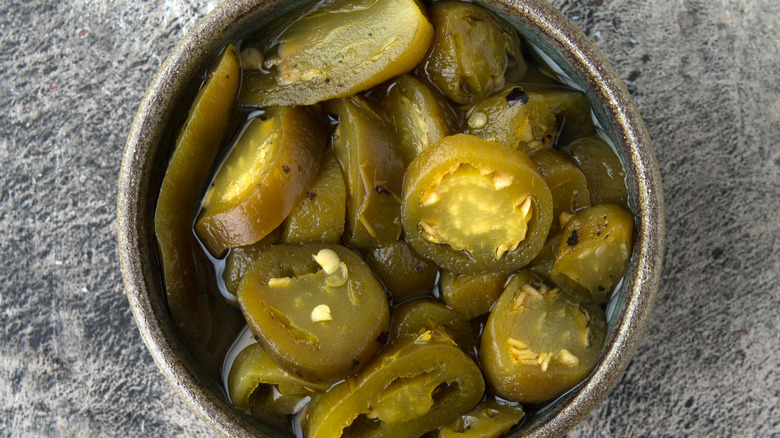 kochabamba/Shutterstock
Andrew Zimmern's Instagram video shows off the basic gist of his pickled pepper recipe: Add sliced jalapeños, a shallot, and some lemons slices to a jar, then top it off with brine — but to get the full recipe, you'll need to sign up for his new Substack newsletter. Fans seemed eager to know the details of the technique, so clearly the promo is working. "What's the lemon wedge for?" one fan asked, while another commented, "I'd like to see/learn pickling by fermentation." Others expressed their love for spice and pickles, with comments such as, "Never enough hot pepper recipes in our house," "I love pickled things too," and "Yummy! That looks amazing."
Zimmern's Substack subscription appears to be free for those who sign up, so if you are eager to get his recipe for pickled jalapeños, you might want to join the channel to get the full recipe when it's shared. In the meantime, you can find his ideas for Hot and Sour Shrimp Noodle Soup, Jambalaya, and Sticky Spicy Glazed Chicken with Root Beer, along with several essays and audio messages, in Zimmern's archives on Substack.