Crystal Pepsi Is Coming Back. Here's How To Get Your Hands On It
Pepsi and Coca-Cola have been rivals for decades and in the race for dominance within the world of soda, only one can reign supreme. In the interest of coming out on top, outside of shade throwing and trolling one another on social media, a great way to ensure massive success is to introduce (or re-introduce) a game-changing product. Stellar advertisement and marketing tactics are also necessary.
From Superbowl commercials to having Michael Jackson promote their products, Pepsi knows how to get noticed. Crystal Pepsi was no exception, garnering attention in the 90s, and Pepsi hopes to do it again, but even better.
Now, synonymous with all things 90s, Pepsi is bringing the drink back, and in a big way. With a newly spun advertising plan and massive social media campaign, get ready, because Pepsi is taking us back in time. It has been three decades since Crystal Pepsi first arrived on store shelves and Pepsi is celebrating the 30-year-anniversary in a massive way.
Posting on Twitter can get you Crystal Pepsi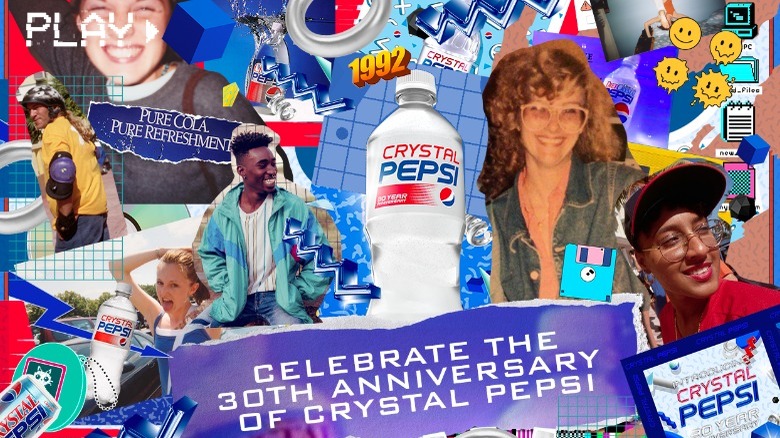 Pepsico.
According to a press release provided to Mashed, Pepsi is embracing all things 90s with a limited-time return of Crystal Pepsi, advertising to the very audience that witnessed the rise and fall of the clear, bubbly beverage.
Todd Kaplan, Vice President of Marketing at Pepsi, stated in the press release, "Since 2022 marks the 30-year anniversary of Crystal Pepsi, we wanted to do something extra special to celebrate and reward the passionate fans who have been clamoring online for its return and what better way to kick off 2022 than to throw it back to 1992 in order to get their hands on this highly limited-edition batch of Crystal Pepsi." And really, as people look for ways to escape the unpredictable and unprecedented 2020s, what's better than a nostalgic trip down memory lane? 
According to CNN, you won't be able to buy the soda, rather, Pepsi is gifting six 20 ounce bottles to 300 lucky folks. In order to win, fans must take to Twitter and post pictures that are all things 90s — from apparel to fur babies and anything in between. Make sure to use the hashtags #ShowUsYour90s and #PepsiSweepstakes when showing off that throwback for a chance to win.