Why Fans Are Disappointed With Chick-Fil-A's Breakfast Items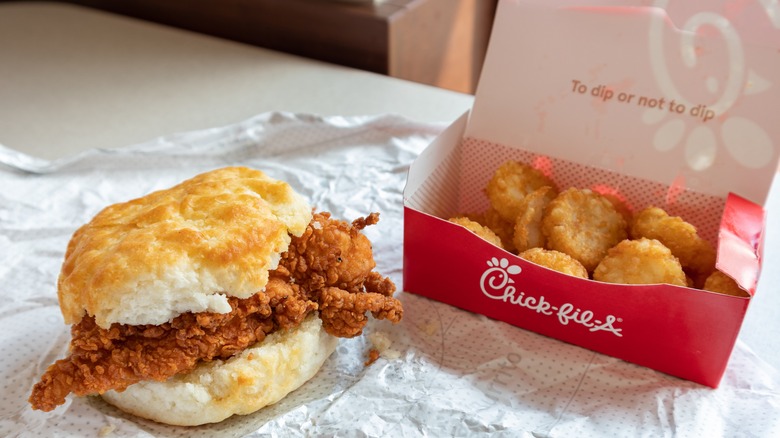 James Andrews1/Shutterstock
Chick-fil-A has some of the most loyal fans in the biz. According to The Food Institute, the chain has secured the top score among fast food restaurants in the American Customer Satisfaction Index for seven years in a row. However, while their satisfying chicken sandwiches and waffle fries might keep customers coming back again and again, it seems that not everything on the menu is quite so popular. In fact, some Chick-fil-A customers that love the company's popular lunch and dinner items feel that the chain is slacking in one important area: their breakfast menu options.
From 6:30 a.m. to 10:30 a.m., Chick-fil-A offers breakfast goodies like hash browns, chicken biscuits, and bacon or sausage egg and cheese muffins (via the official website). But, some feel the quality of their breakfast menu has dropped in recent times. One frustrated customer vented their disappointment on Reddit, posting, "I've found myself burned out on the breakfast since they got rid of the bagel and I'm very shocked they haven't replaced it with something else." When they asked if anyone else found the breakfast options "underwhelming," they got quite a few responses in agreement.
Some customers also dislike Chick-fil-A's coffee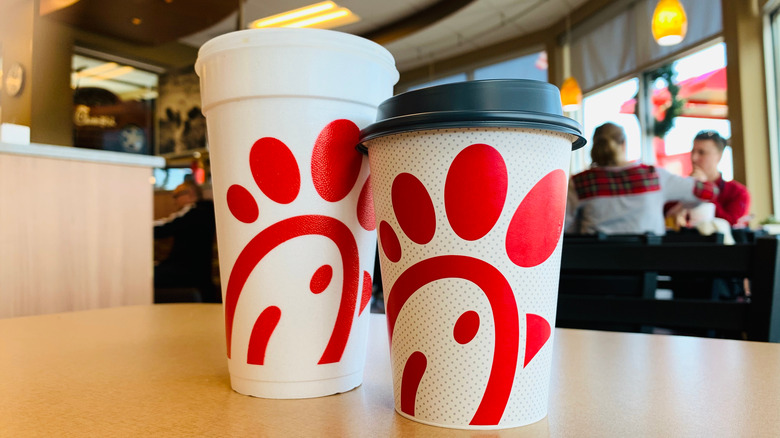 singh_lens/Shutterstock
Many fellow Chick-fil-A customers expressed similar sentiments about the chain's subpar breakfast items on the Reddit thread. Some shared the original poster's disappointment over the removal of the bagel, while others chimed in lamenting other former morning favorites that have disappeared from the menu. "Still miss the biscuits and gravy after they went away, was always a nice change of pace," one person said. "I was disappointed when they got rid of the onions and peppers in the hash brown bowls. Now it's just so plain," posted another Redditor. "I haven't wanted Chick-fil-A breakfast since they took the breakfast bagel off of the menu," another agreed.
Others didn't have anything bad to say about the chain's breakfast food, but certainly had complaints about their morning beverages. "I love the breakfast but I'll never understand how the coffee could be as bad as it is. CFA coffee is straight trash," one disappointed customer posted. So, while fans aren't likely to stop eating at Chick-fil-A entirely, it seems the chain could really kick their customer satisfaction up a notch by making some changes to their breakfast food and beverage offerings — and maybe bring back some of those former fan favorites.