Biscuits And Gravy Recipe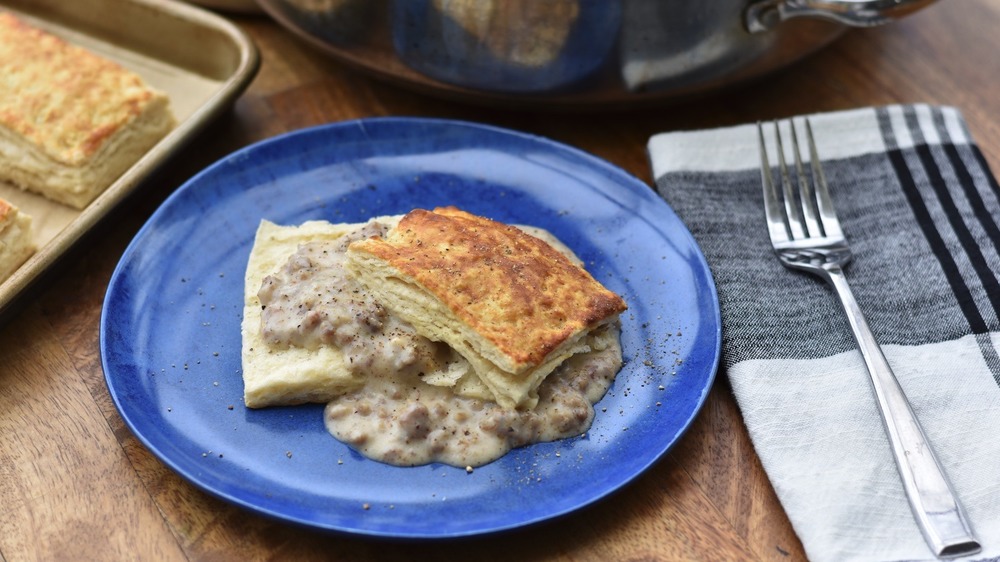 Stephanie Rapone/Mashed
Some foods were just meant to be together: Peas and carrots. Tea and crumpets. Beans and rice. Biscuits and, oh you know it, gravy. 
When it comes to breakfast biscuits, chef and foodie Stephanie Rapone of Pantry to Plate says you can go with store-bought or homemade for this delectable dish. When it comes to the gravy, however, you're going to want to go with her recipe. It's easy, reliable, and delicious, and what more can you ask than that?
While fresh gravy is pretty easy to make, it is a decidedly hands-on process, so make sure you have 15 or 20 minutes to dedicate to the sauce. If there's one secret here, it's to keep things moving pretty much the whole time, while adding milk as needed to keep it fluid, and not letting butter and flour mixture cook so much that starts to brown. 
You know what perfect gravy on top of biscuits looks like, and now, you can make your own. But before we begin, here's a little pro-tip from Rapone to keep in mind: "Toss a little more fresh black pepper on the top of the biscuits" as you serve these delicious biscuits to add some spice to the sweet, buttery goodness.
Biscuits for biscuits and gravy: To buy or to bake?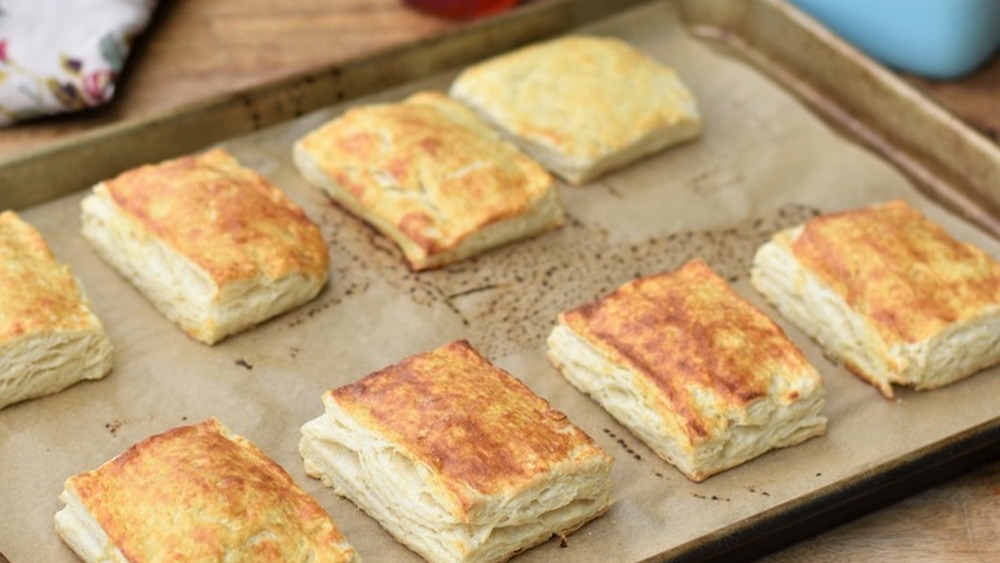 Stephanie Rapone/Mashed
Listen, if time is a factor, you can go ahead and use frozen-pre made store bought biscuits for this recipe, and the finished product will still taste great. But if you ever do make your own fresh biscuits and then top them with your own homemade gravy, be warned that "great" will never be good enough again — because when you put fresh gravy on fresh baked biscuits, you achieve perfection. And more good news: Rapone has shared a biscuit recipe you just have to try, because it's literally called "The Only Buttermilk Biscuit Recipe You'll Ever Need."
Gather your ingredients for biscuits and gravy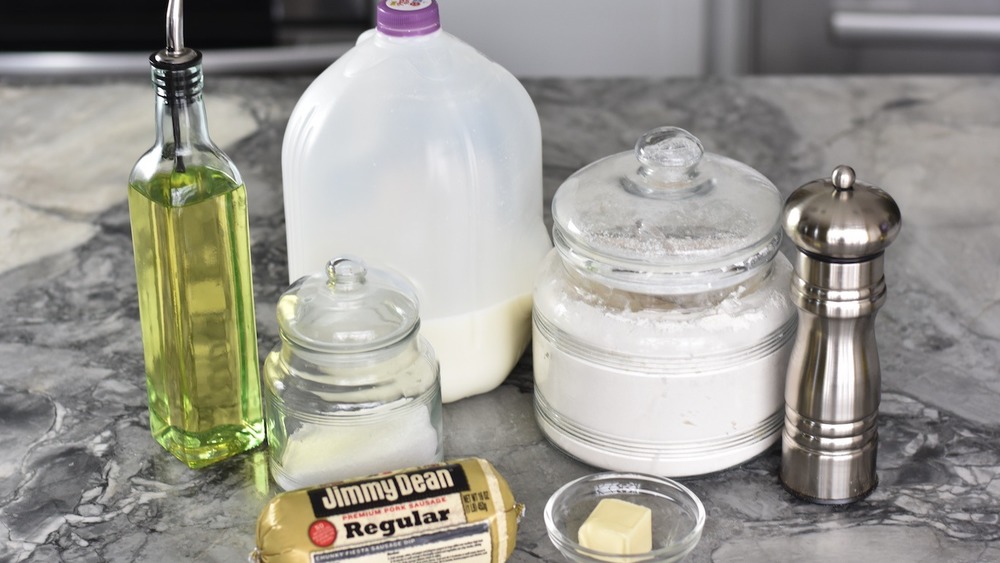 Stephanie Rapone/Mashed
As noted, when it comes to the biscuits, it's your call — make them from scratch, make them from a box (or tube), or buy them ready-made and heat them up. The hearty meal will satisfy you no matter what kind of biscuit you slather the gravy on. But, of course, we're going to recommend homemade buttermilk biscuits, because why not go all out?
Now, for that gravy: You'll need 1 tablespoon of vegetable or canola oil, a 1-pound roll of uncooked breakfast sausage, 4 tablespoons of butter, one-fourth of a cup of flour, a half teaspoon of kosher salt, one fourth of a teaspoon of ground black pepper, and about three or four cups of milk, warmed to room temperature.
Cook the biscuits and gravy sausage (and save that fat!)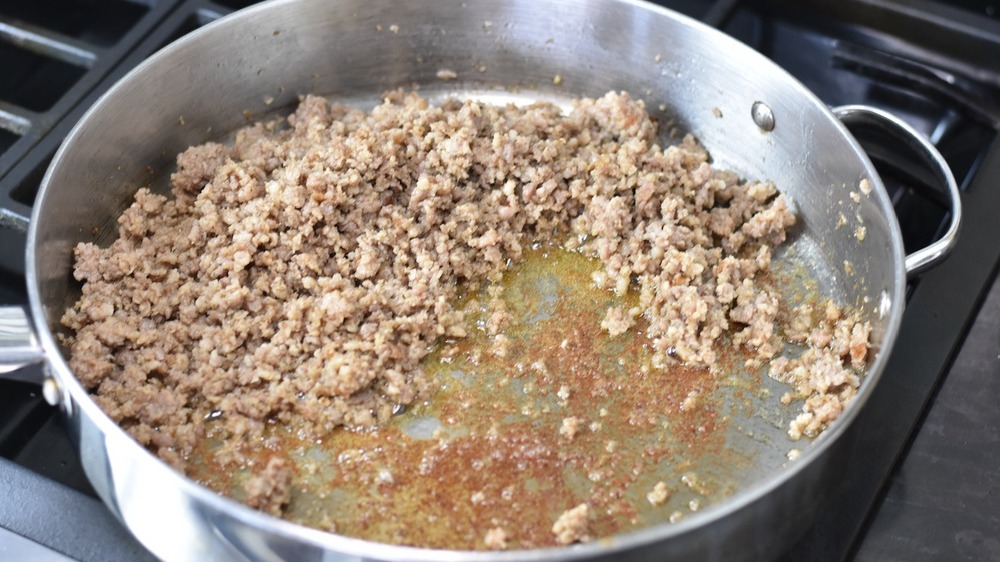 Stephanie Rapone/Mashed
Before we get to the gravy sausage, let's get some things checked off: First, remove the milk from the fridge, so it can begin to come to room temperature. Then, if you're using store-bought biscuits, now is a good time to make said biscuits according to package directions. Now, let's move on to that gravy.
Add the vegetable or canola oil to a large skillet with high sides (Rapone recommends a pan at least 12 inches wide for splatter safety) or a Dutch oven (note: If your pan is nonstick, you'll want to read below about why you might want to reconsider it). Heat the oil over medium-high heat until it's good and hot. Then, add the sausage and cook, crumbling the sausage with a spatula until it's cooked through and brown.
Reduce the pot's heat to low and remove the sausage from the skillet using a slotted spoon, putting it in a bowl or on a plate. You should have about 2 tablespoons of fat left in the skillet. If there's much more than that, remove the excess fat with a large spoon and discard it.
Why you should NOT use a nonstick pan for biscuits and gravy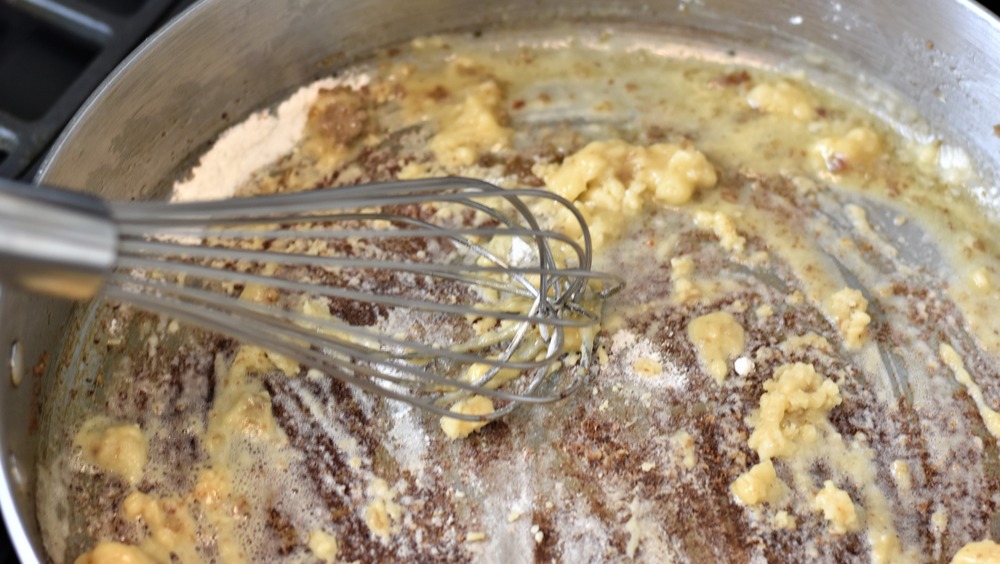 Stephanie Rapone/Mashed
The key to making great gravy for biscuits isn't in some secret spice or arcane ingredient, but rather it's all about how you handle the decidedly everyday stuff that goes into this recipe. One insider tip from Rapone? "Use a pan that is not nonstick," she says, as "any brown bits that are stuck to the bottom of the skillet are a good thing and will be super yummy" in the finished gravy.
Add the butter, then the flour, then the milk and spices for biscuits and gravy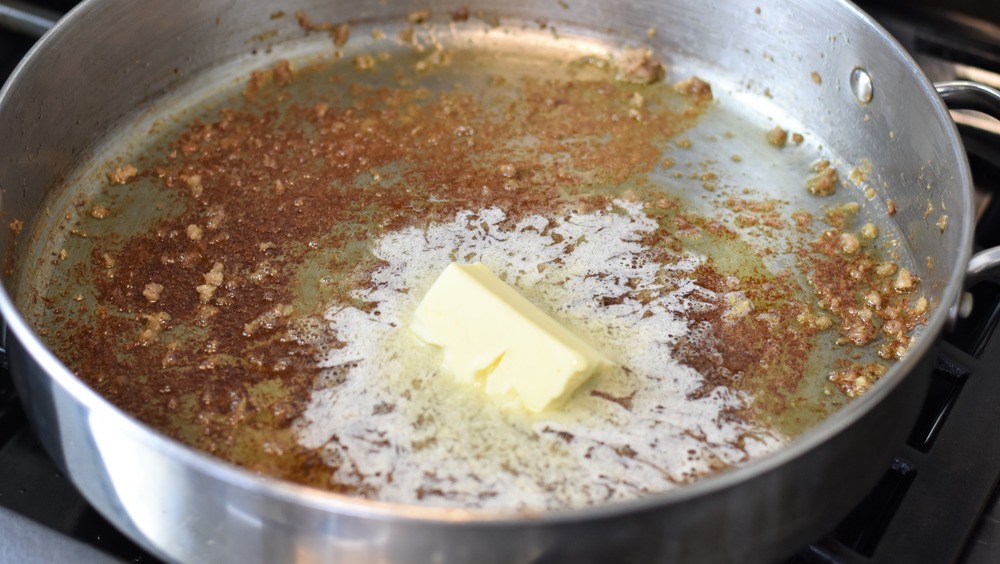 Stephanie Rapone/Mashed
Add the butter to the warm skillet and melt it, stirring a bit. Then, start slowly adding flour, and as you sprinkle it in, use a whisk to incorporate the  it with the butter and sausage fat in the pan, until you have a paste. Pro-tip: "Don't brown the flour and butter mixture," Rapone says.
Once a paste forms, add about 1 cup of milk while whisking  — "estimating is okay," according to Rapone — while bringing the heat back up a bit. Whisk everything into a smooth consistency, and then, take your spatula and scrape up the brown bits into the gravy. That's pure flavor there!
Continue to add the remaining milk, approximately 1 cup at a time, while whisking. Whisk the gravy to an even texture and allow it to thicken before adding more milk. Add the kosher salt and black pepper.
Add the sausage back in to complete your biscuits and gravy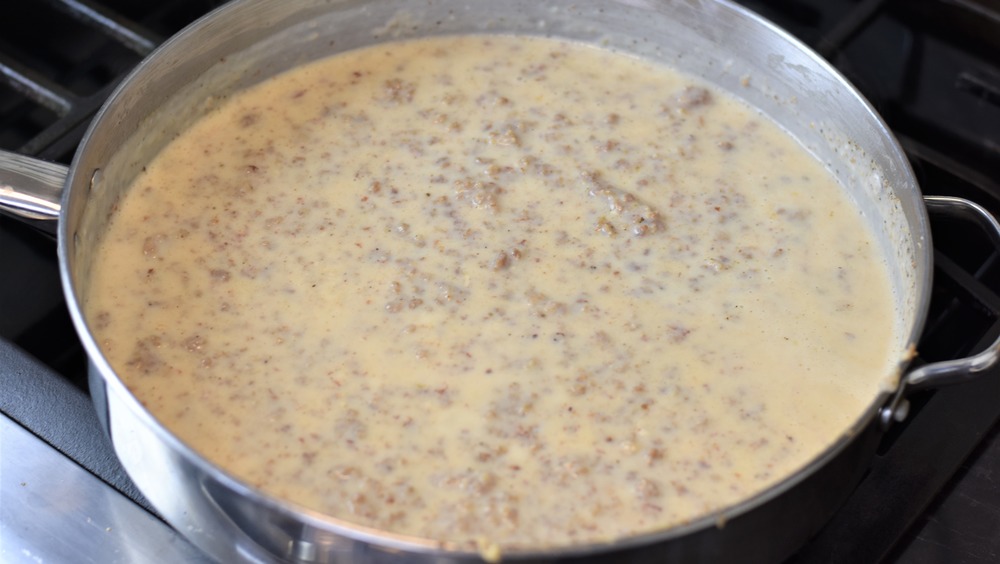 Stephanie Rapone/Mashed
Once your gravy has reached your personal desired gravy consistency, stop adding milk. The gravy will thicken as it cools, so it's okay if it's slightly runny at this point. 
Now, turn the heat to low. Carefully add the sausage to the gravy and stir with a large spoon. Then, stir and allow the sausage to heat through again and for the gravy to come together over low heat.
Finally, turn off the heat and let the gravy sit for 5 minutes. Stir, and then pour the gravy over those fresh biscuits for serving. It will have thickened slightly, and that's what you want.
Biscuits And Gravy Recipe
You can't go wrong with biscuits and gravy. Learn how to make this southern breakfast classic with homemade or store bought biscuits and simple ingredients.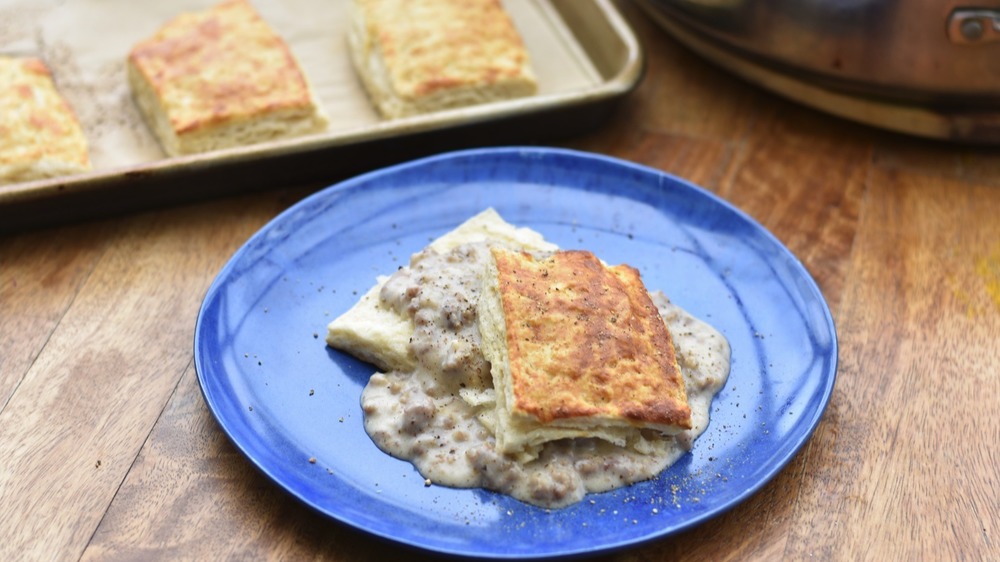 Ingredients
1 tablespoon vegetable or canola oil
1 pound breakfast sausage
4 tablespoons butter
¼ cup flour
½ teaspoon kosher salt
¼ teaspoon ground black pepper
3 to 4 cups of milk, room temperature
8 to 12 biscuits
Directions
Remove milk from the fridge to bring to room temperature.
Make biscuits according to package directions or prepare your own
Add vegetable or canola oil to a large skillet with high sides or Dutch oven
Heat oil over medium-high heat until hot
Add sausage
Crumble sausage with spatula until cooked through and brown.
Reduce heat to low
Remove the sausage from the skillet using slotted spoon and transfer to a bowl or plate
Preserve two tablespoons of sausage fat in pan and discard the rest
Add butter to the skillet and melt.
Slowly add the flour, using a whisk to incorporate it in until you have a paste
Add about 1 cup of milk while whisking
Whisk to a smooth consistency
Take your spatula and scrape up the brown bits into the gravy
Add the remaining milk, approximately 1 cup at a time, while whisking.
Add kosher salt and black pepper.
Turn heat to low.
Carefully add cooked sausage to the gravy and stir
Turn off heat and let gravy sit for 5 minutes
Stir gravy
Serve over biscuits
Nutrition
| | |
| --- | --- |
| Calories per Serving | 1,006 |
| Total Fat | 60.9 g |
| Saturated Fat | 20.7 g |
| Trans Fat | 0.4 g |
| Cholesterol | 92.6 mg |
| | |
| --- | --- |
| Total Carbohydrates | 86.7 g |
| Dietary Fiber | 2.7 g |
| Total Sugars | 11.6 g |
| Sodium | 1,598.1 mg |
| Protein | 28.5 g |