What This Annual Report Reveals About Chick-Fil-A Fans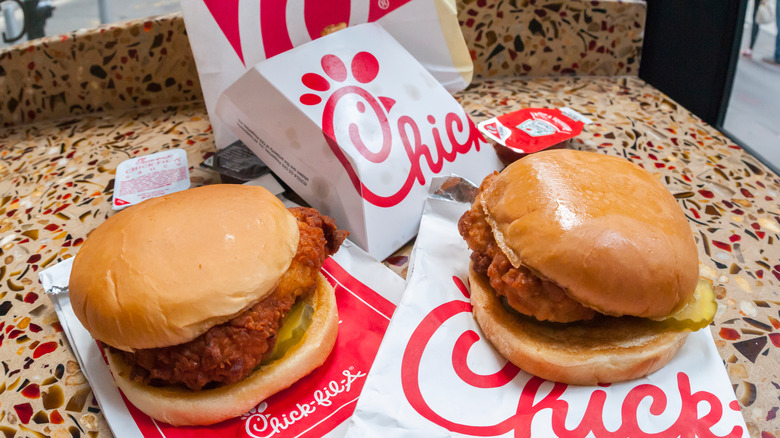 rblfmr/Shutterstock
Each year, Foursquare releases a QSR Loyalty Index Report, an "annual deep-dive into which quick-service restaurant brands have the most loyal customers." While restaurants are always hoping to grow and expand their business, the most successful brands know that the key to longevity is to keep these customers coming back year after year. And according to the 2021 QSR Loyalty Index Report, no fast food brand is better at doing this than Chick-fil-A. The popular chain secured the top spot as the brand with the most loyal customers in this year's report, followed by Dunkin' and burger giant McDonald's.
Chick-fil-A's ranking likely comes as no surprise to fans of the fried chicken chain, some of whom love their food so much they are willing to pay almost a whole dollar extra to secure an illicit chicken sandwich on Sundays, a day when all their restaurant locations are famously closed.
"By late March 2020, [Chick-fil-A] had closed all of its dining rooms and seamlessly shifted gears to capitalize on its drive-thru service," the report read (via The Takeout). "To drive penetration amidst the COVID-19 crisis, the brand erected drive-thru tents and multi-lane setups that managed to deliver a quality guest experience (including cow-themed face coverings). Within weeks of the lockdown, there were consistent lines of cars waiting at Chick-fil-A locations across the country."
How Chick-fil-A ranks in customer loyalty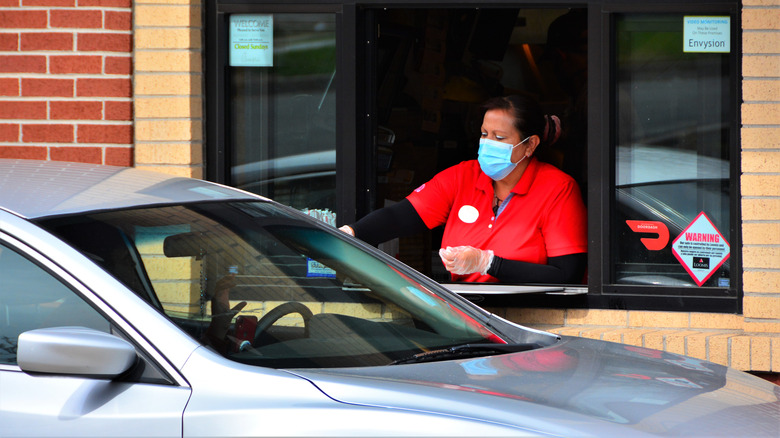 Jim Lambert/Shutterstock
Chick-fil-A's rapid adaptation to the closures and social-distancing mandates put into place in response to the COVID-19 crisis paid off, with their committed fans continuing to order from their favorite fast-food brand via takeout, delivery, and drive-through options. As The Takeout reported, drive-through service played a particularly important role for restaurants' ability to secure success throughout 2020, and Chick-fil-A responded accordingly, continuing to serve their loyal customers throughout the height of the pandemic even without an indoor dining option.
Chick-fil-A is certainly no stranger to winning recognition for their exceptional skill building and maintaining consistently strong relationships with their customers. Earlier this year, MBLM's Brand Intimacy COVID Study reported Chick-fil-A to be the fast-food company with the strongest brand intimacy with its customers. "Consumers have been more emotionally connected to fast food brands during the pandemic," Mario Natarelli, a managing partner at MBLM, explained, and it sure seems that more than a few people took comfort from their favorite fried chicken brand throughout the pandemic (via The Takeout).
Chick-fil-A also secured QSR's top spot in 2019, when it snagged the number one ranking for fast-food brands "creating emotional engagement and loyalty," according to Restaurant Dive. There was no QSR Report issued in 2020 due to the COVID-19 pandemic (per Foursquare).