TikTok Is Jealous Of This Influencer-Exclusive Chick-Fil-A Card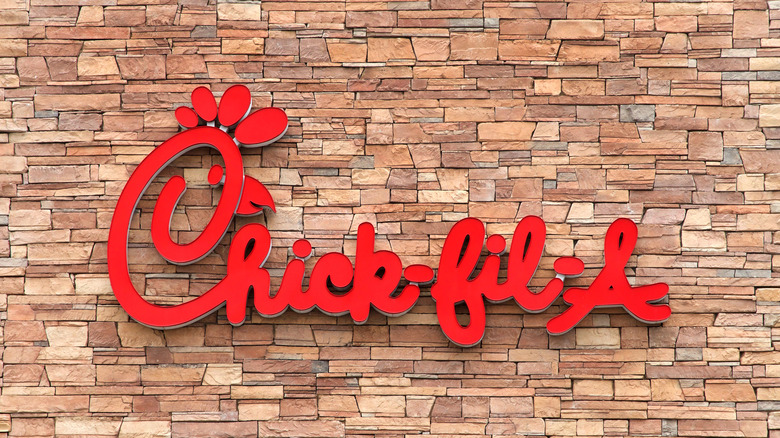 Sheila Fitzgerald/Shutterstock
With their signature chicken sandwich and customer service that's almost too friendly, Chick-fil-A has solidified itself as one of the most successful fast food restaurant chains in America. According to Reader's Digest, Chick-fil-A was the most popular fast food restaurant in 2021 and has held on to that top spot for five years running. This top ranking comes from the American Customer Satisfaction Index (ACSI), which surveyed 19,000 people in the U.S., asking participants to rank 22 of the most popular fast food chains and 14 full-service restaurants on a 100-point scale. Chick-fil-A secured the top spot with a score of 83, coming in higher than all of the full-service and fast food restaurants.
This survey and the lines at the restaurant at any time of the day are proof of their popularity, but the reason that they outshine other establishments could be related to several variables. Maybe it's because they say "my pleasure" instead of "thank you," or maybe it's the waffle fries; either way, they are drawing a lot of business. Despite their growing popularity, however, one aspect of Chick-fil-A to note is that they have been criticized and even boycotted because of their donations to anti-LGBTQ+ organizations (via USA Today). Despite this controversy, TikTok was especially excited when they found out about a special card the chain gives out that's exclusive to influencers, and everyone seems to want to get their hands on it because of the special perk that it offers.
Chick-fil-A's Black Card gives cardholders one free meal per day
You've surely heard of the Amex Black Card designed for the mega rich, and apparently Chick-fil-A has their very own exclusive card that allows holders one free meal per day. One lucky owner of the Chick-fil-A Black Card has been posting about it on TikTok — @ashleeonair, a radio host in Houston, has made a few posts telling people how she got the card and explaining how it works. People were shocked by her first video, commenting, "WAIT WHAT IS THIS" and, "All of a sudden my signature status looking real mediocre."
Her most viral post explained that Chick-fil-A throws a party every year in Houston where radio hosts, news anchors, athletes, and influencers can mingle and then pick up their Black Card at the end (presumably, this happens in other markets as well). One TikTok user commented on the video, "What does it feel like being god's favorite?" and another said, "I'm about to move to Houston just for this." When another mentioned that she would literally go to Chick-fil-A every day if she had this special privilege, the original poster responded, "Oh I do! Lol but after trying everything once you gotta take a break lol." In another TikTok, the radio host calls this exclusive club the "Chick Fil-uminati," which sounds like an accurate description from the details she's provided. If only we could join!