Instagram Is Loving Padma Lakshmi's Mother-Daughter Soup Moment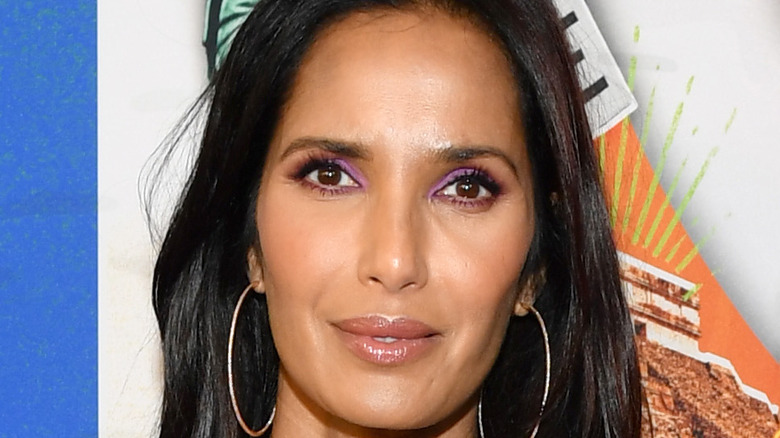 Noam Galai/Getty Images
Padma Lakshmi has always been careful about guarding her daughter, Krishna, from the public eye. The "Top Chef" and "Taste the Nation" host shares 11-year-old Krishna — whom she calls "Littlehands" on Instagram — with the girl's father, Adam Dell, and it was only beginning in 2020 that Lakshmi started posting pics that included Krishna's face on social media (via Wide Open Eats). 
Lakshmi said the shift happened during the filming of "Taste the Nation," in which the star chef said she "asked others to share their life" with her, and — feeling disingenuous if she didn't do so as well — she decided to include Krishna in an episode. "So then it also seemed silly to go back to covering her face again," Lakshmi later noted (via "Today"). Luckily for us, the culinary personality has been featuring Krishna more frequently on her Instagram profile, including a recent post in which she tries to share her soup and gets a response that many parents might relate to.
What does Padma Lakshmi have to do to get her daughter to share her soup?
Padma Lakshmi took to Instagram with a post highlighting a soup she made for her and Krishna. "I made ramen this week for dinner with Littlehands. This isn't a traditional version. It's just some simple home cooking," Lakshmi captioned the video. In the clip, Krishna digs into the noodles with chopsticks, and said, "Gorgeous, gorgeous girls love soup. Gorgeous, gorgeous girls are territorial about their food," pulling the bowl away from Lakshmi as her mother tried to share the bowl. "Come on! This was my soup!" Lakshmi says, slurping down the noodles as soon as Krishna allows her a taste. 
Instagrammers took to the comments to share their loving reactions, including one user who posted, "Omg little hands is so grown," and another who wrote, "I love watching you and Krishna so much!" Other commenters saw their own parent-child relationships reflected in the pair, with one who added, "Our son pulls his ramen bowl away from us too!" and another chimed in, "This is my life with our 13-year-old! Love the laughter and the relationship here!"