Kraft's New Flavor Boosts Will Upgrade Your Boxed Mac And Cheese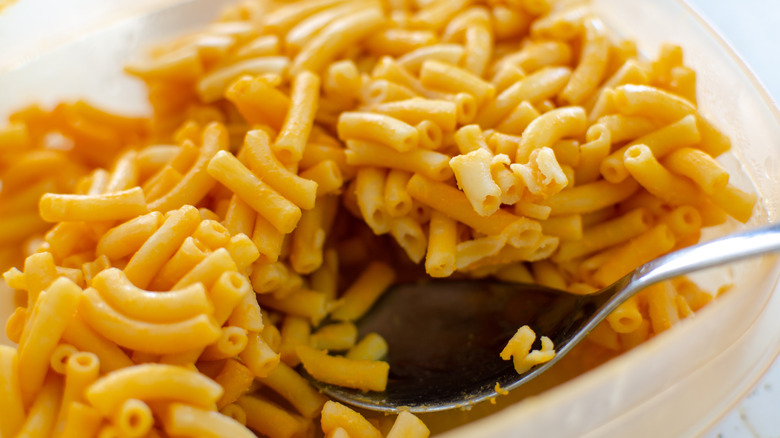 danhusseyphoto/Shutterstock
Fans of Kraft's classic blue box mac and cheese now have the opportunity to upgrade their orange-hued noodles with the help of the company's latest innovation: tasty powder packets.
Last fall, Kraft announced the limited debut of Flavor Boost seasoning packets, as well as the KRAFT FLVRS CLUB, an online club that offered Kraft fans the opportunity to be the first to try out various Flavor Boost flavors before they hit store shelves (via Business Wire). The packets are designed to be stirred into a batch of mac and cheese before serving, and infuse the popular product with a flavorful new twist.
While the product's initial launch was limited to a select group of mac and cheese connoisseurs, this week the famed macaroni brand announced that the highly anticipated seasoning packets are now available to order nationwide via the Flavor Boost website.
The packets, which can be purchased alongside boxes of mac and cheese, come in three flavors: Pizza, Ranch, and Buffalo.
Three ways to boost your mac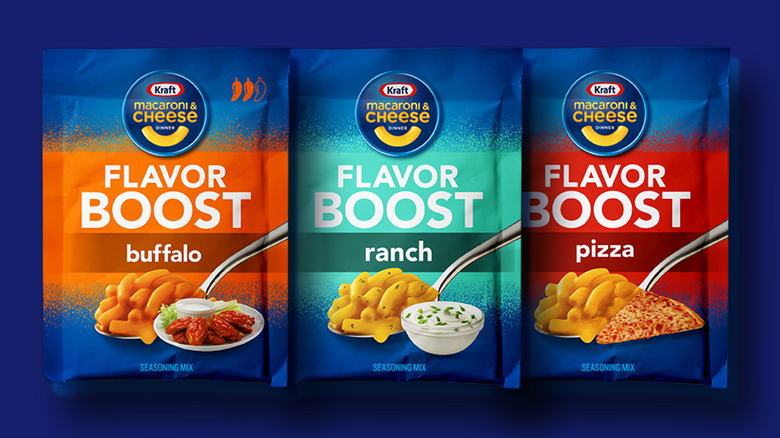 Kraft
"We know die-hard fans of Kraft Macaroni and Cheese ... are always excited by new ways to enjoy a comforting bowl of our iconic mac and cheese," Maya McDonald, Kraft's Marketing Activation Lead, said in a press release. According to McDonald, the flavor packets are perfect for people "willing to expand their mac and cheese horizons."
The pasta company first debuted the Flavor Boost concept for its Kraft Dinner boxes in Canada. The "KD Flavour Boost" packets include unique options like Ghost Pepper, Jalapeno, Poutine, Butter Chicken, and Buffalo Wings (via Kraft Heinz). There was even a Cotton Candy flavor, which Narcity described as having "a sweet smell ... [and] a definite cotton candy taste that's not really what I want when I'm eating mac 'n' cheese."
However, for now U.S. consumers will be limited to just three flavors (sorry, cotton candy lovers!). Kraft fans can purchase the packets on the Flavor Boost website in sets of 6 for $16 (which includes 6 boxes of mac and cheese and 6 packets), 15 for $30, or 24 for $40. Or, if you'd prefer to purchase the Flavor Boost packets alone, you can snag a 24-pack of seasoning mixes for $25.
While it's unclear whether more Flavor Boost flavors are in the works, if the popularity of Kraft's classic mac and cheese is any indicator, chances are more flavorful combinations could be coming soon.