Kraft Mac & Cheese Is Bringing This Popular Canadian Product To The US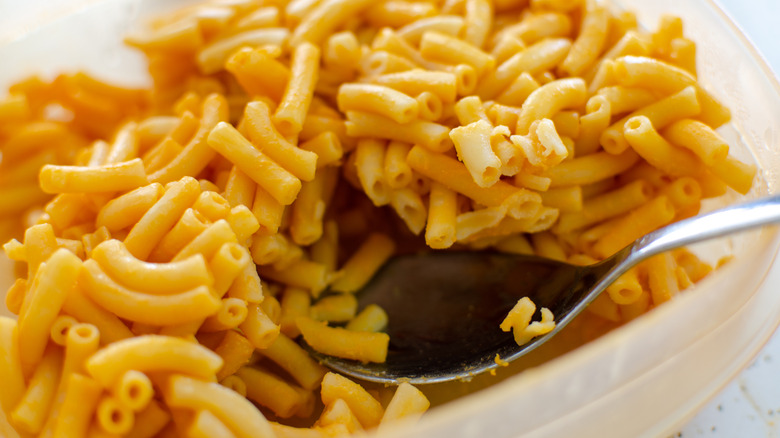 danhusseyphoto/Shutterstock
While there are plenty of reasons to love classic Kraft Mac & Cheese, the brand has been giving fans a lot of new ways to spin the original blue box. Over the past year, those who love the easy-to-prepare bowls of macaroni and cheese have seen a pumpkin spice version as well as a pink candy-flavored take for Valentine's Day. Then, over the summer, Kraft created a mac and cheese-flavored ice cream that had tons of people puzzled and ready to give it a taste. Now, the brand is bringing one of its Canadian creations to the United States.
Kraft is bringing its Flavor Boosts to you, and starting Kraft FLVRS CLUB, as a way for fans to have even more ways to experience Kraft Mac & Cheese. According to a press release sent to Mashed, that's exactly what those who join the club can do. They will be among the first to try new Flavor Boosts such as pizza, ranch, and buffalo before they hit grocery store shelves. They can even get limited-edition Flavor Boost merchandise too, making it a must-join for ultimate fans.
This is what you need to know about Flavor Boosts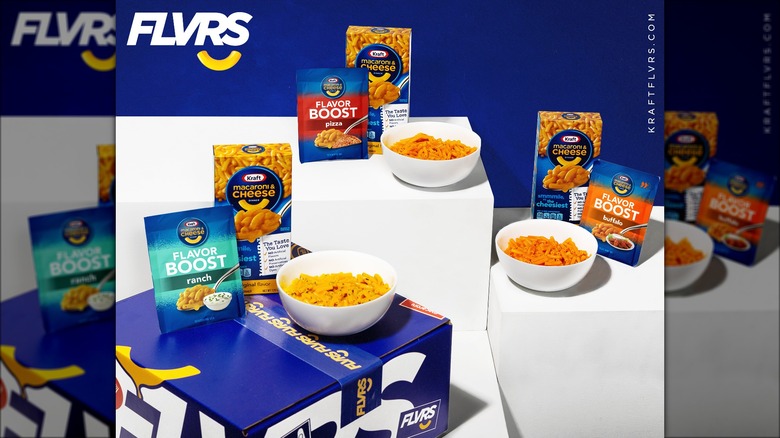 Kraft
Fans who join the FLVRS CLUB are alerted through social media when new Flavor Boosts will be coming up so they can try them before they hit grocery stores at the start of 2022. "The FLVRS Club is for those fans willing to expand their mac & cheese horizons with these limited-edition packets that bring flavors we love to our favorite comfort food," Maya McDonald, Marketing Activation Lead at Kraft Heinz, explained in a press release sent to Mashed. But the perfectly paired merchandise — like a buffalo sports jersey, a ranch hoodie, or a pizza jacket — are all a plus too. And all you have to do is visit the FLVRS CLUB website to sign up and register.
While this new addition to the Kraft Mac & Cheese product line in the United States is far from what purists will want to go for, it's definitely an exciting new way to try mac and cheese. From an extra-cheesy bowl of pizza to tangy buffalo or creamy ranch, these are bold flavors many fans won't want to miss. So, don't wait to register. Otherwise, you won't be able to try the new flavors until early next year.