Lizzo Has Been 'Haunted' By This Viral Green Goddess Salad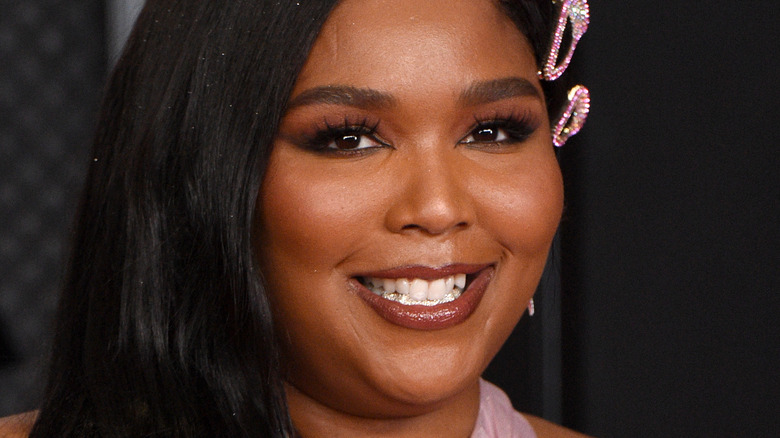 Kevin Mazur/Getty Images
You may know Lizzo as a famous entertainer; however, if you follow her on TikTok, you'll see a completely different side of the singer. A vegan since 2020 (via Us Weekly), Lizzo frequently takes to the social media platform to post recipes of both her favorite go-to meals and new meals she's trying out. One of her latest videos shows her making the 'green goddess salad,' which Today reports was created by Melissa Ben-Ishay of Baked by Melissa fame.
Ben-Ishay has recently been taking to TikTok to show that she's not just an awesome baker; she has some pretty serious skills when it comes to making salads, too. Her original post depicting the green goddess recipe went viral with 19.1 million views. Lizzo seems pretty excited as she starts cutting up the cabbage for her own green goddess salad, stating at the beginning of the TikTok, "I've been haunted by this salad and now I'm finally, finally, finally doing it!"
Lizzo makes a salad fit for a goddess
Lizzo made Melissa Ben-Ishay's green goddess salad on TikTok with viewers following along as she prepares the dressing, which includes a myriad of healthy ingredients such as rice vinegar, olive oil, cashews, walnuts, spinach, and nutritional yeast, among other items. Ben-Ishay posted a response video showing her watching while Lizzo makes the salad, captioning it with "I love you Lizzo. QUEEN." After the salad is complete, Lizzo sits down with a bowl of tortilla chips to try it, and from the look on her face as she takes her first bite, she's definitely a fan. 
Tiktokers chimed in with their own curiosities about the salad in the comments, such as one user who wrote, "Might need to try that salad dressing thing u whipped up," to which Lizzo replied, "It's [five fire emojis]." "I've been making this daily for 2 weeks now it's the best recipe," commented another user, while a third expressed their desire to see more of Lizzo in the kitchen, writing, "@lizzo when you gonna have a cooking show?!?!"