Easy Fig Smoothie Recipe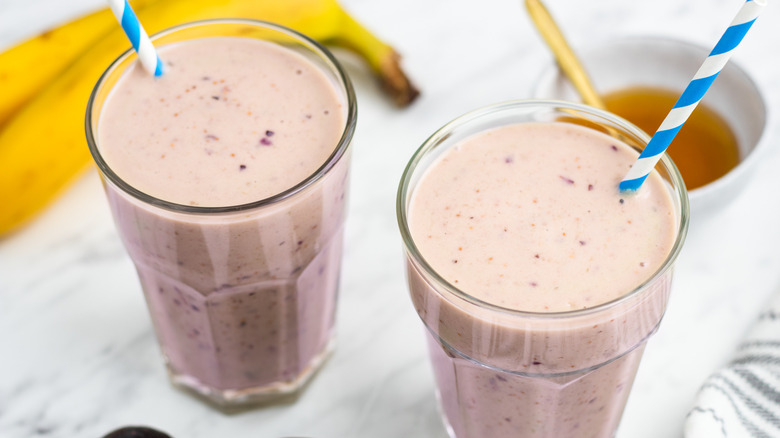 Catherine Brookes/Mashed
If you're a smoothie lover, then you know that there are hundreds of different types of smoothies to make. This recipe is a little unique in that it uses figs as the main ingredient, which you don't commonly find in smoothies. The rest of the smoothie includes banana and honey, and it's a sweet pick-me-up that's great if you have a craving for something sweet but want to stay on the healthy side. 
Recipe developer Catherine Brookes of Blue Sky Eating came up with this smoothie that hits the spot. "I love the sweetness and unique flavor that figs add to this smoothie. The milk and banana make it lovely and creamy and it fills you up well too! I love to have this for breakfast with some granola sprinkled on top (you can pour it into a bowl to do this too)," Brookes raves. 
Keep reading to find out how to make this tasty fig smoothie!
Gather the ingredients for your easy fig smoothie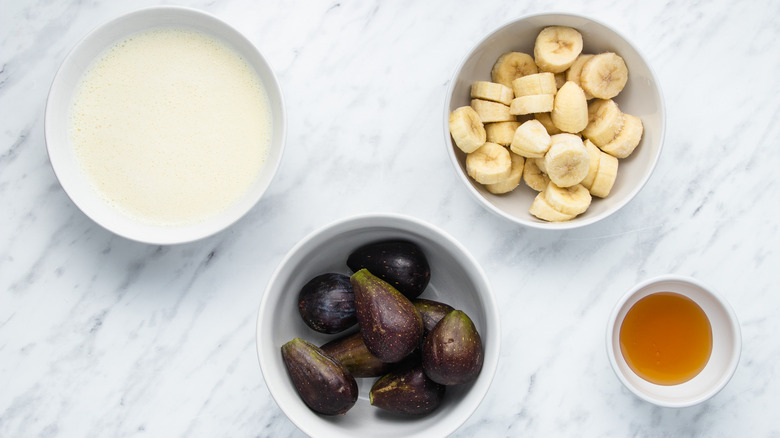 Catherine Brookes/Mashed
Are you ready to get things started? The first thing you'll need to do is head to the grocery store and grab all of the ingredients. First, pop by the produce section and grab eight fresh figs. While you're in that section, pick up a couple of bananas. Make sure they are ripe if you hope to make the smoothie sooner rather than later.
Then, grab some milk. You can use whatever kind you like, and dairy-free is also okay to use for this smoothie. Last but not least, you'll need a few teaspoons of honey.
The health benefits of figs and bananas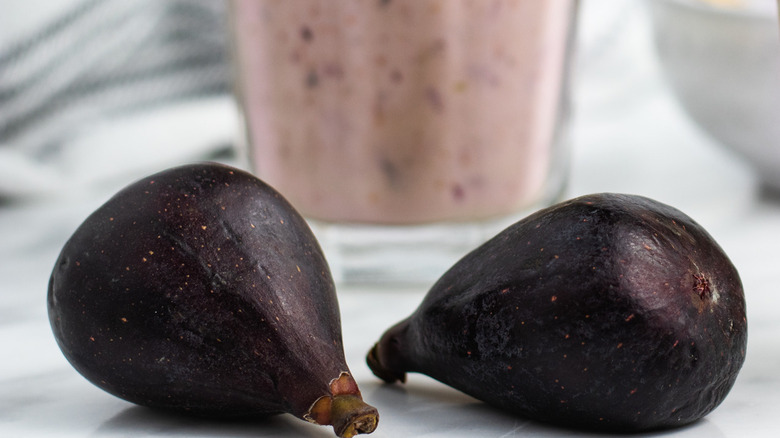 Catherine Brookes/Mashed
There are a lot of health benefits for both figs and bananas, and Brookes does a great job of promoting these wonderful fruits. "Bananas are a great source of fiber, potassium, and vitamin C, which are great for heart and digestive health," Brookes shares. "Figs are also a great source of potassium, as well as calcium which is good for bone health." According to BBC Good Food, there are plenty of other amazing vitamins, minerals, and nutrients in figs that help with digestion and may even help manage blood pressure. 
Tips on slicing the fruit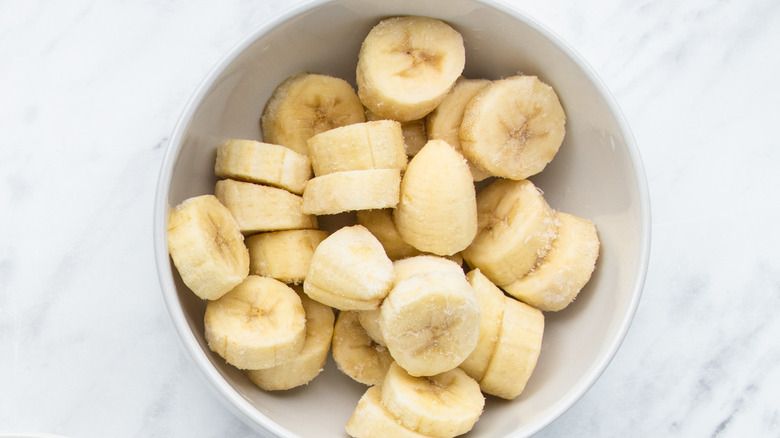 Catherine Brookes/Mashed
To make your smoothie, you'll need to chop all the fruit. This should be done ahead of time to make things easier. Most people are familiar with the step, but it's worth spilling the deets on how to prep these fruits since a few tips can make your smoothie even better. "I slice the bananas into rounds about 1-inch thick and put them in a freezer bag. You'll want to freeze them for at least 4 hours [this isn't included in the prep time] or just leave [them] overnight," Brookes shares. "For the figs, I [just snip off the] hard tips/stems from the top with scissors." 
Add the ingredients to a blender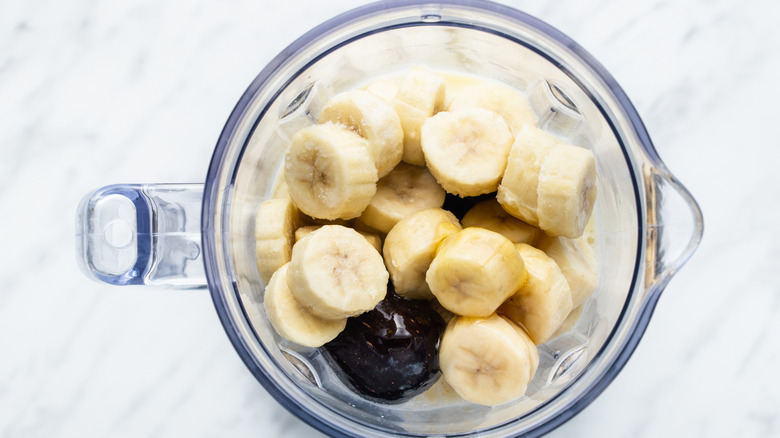 Catherine Brookes/Mashed
Okay, so like we mentioned before, it's nice that this recipe is so simple, and it really just requires one step. All you need to do is grab a jug blender and place it on your counter. "A food processor should be fine too if you have a bowl large enough," Brookes shares when asked about using another alternative to a blender. 
Then, turn the blender on and blend until smooth. This should take about 60 seconds, give or take, depending on the size and strength of your blender.
Serve and enjoy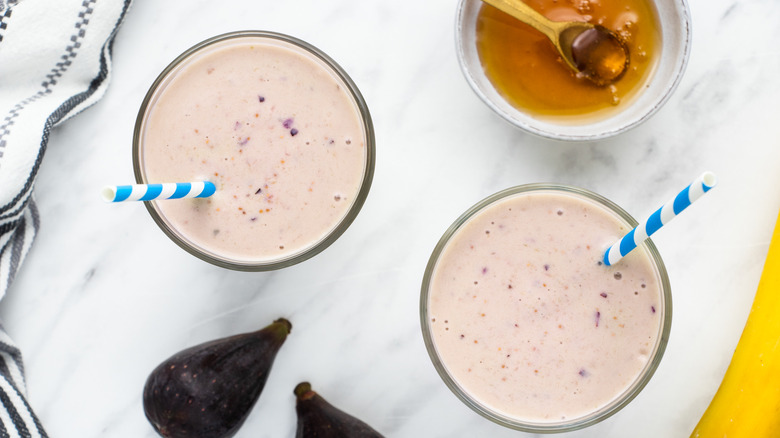 Catherine Brookes/Mashed
To enjoy the smoothie, simply pour it into a glass or jar. You could also serve it as a smoothie bowl! "Yes, [this] definitely could work as a smoothie bowl," Brookes shares. "If you want a thicker texture [that] you can eat with a spoon, I'd recommend reducing the milk to 1 cup." 
Anything left? "It should keep up to 24 hours covered in the fridge. Just give it a stir before drinking," Brookes notes. 
We hope you love this recipe as much as we do! 
Easy Fig Smoothie Recipe
Makeover your morning smoothie routine with a sweet, healthy, and easy fig smoothie recipe. With all the vitamins and nutrients, you'll start your day right.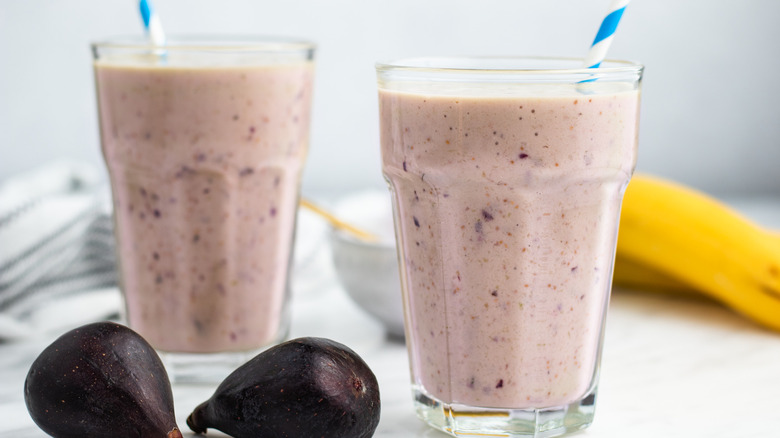 Ingredients
8 fresh figs (ends/stalks cut off)
2 bananas (sliced and frozen)
1 ½ cups milk (or dairy free alternative)
4 teaspoons honey
Directions
Snip off the ends of the figs and remove pre-sliced bananas from the freezer.
Add all ingredients to a jug blender and blend until smooth (about 60 seconds).
Nutrition
| | |
| --- | --- |
| Calories per Serving | 410 |
| Total Fat | 6.9 g |
| Saturated Fat | 3.7 g |
| Trans Fat | 0.0 |
| Cholesterol | 18.3 mg |
| | |
| --- | --- |
| Total Carbohydrates | 86.4 g |
| Dietary Fiber | 9.0 g |
| Total Sugars | 68.5 g |
| Sodium | 82.5 mg |
| Protein | 8.6 g |