Fresh Fruit Smoothie Recipe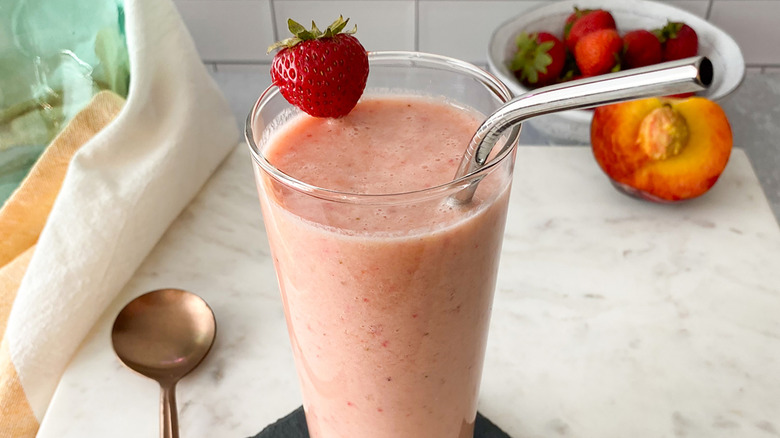 Hayley MacLean/Mashed
Using fresh, seasonal fruit in a recipe is always a great idea. This fresh fruit smoothie perfectly blends seasonal fruit into a drink that you can take on-the-go, and it's so refreshing that you'll want to make one every day of the week. Recipe developer Hayley MacLean of Happy Healthy Hayley chose peaches and strawberries as the seasonal fruits for this particular recipe, but she also wants you to experiment with whatever fruits make you happiest.
"I love combining all types of fruits for smoothies," she says. "Substituting the peach for other berries would create a delicious banana berry one, or even using a combination of tropical fruits like banana, mango, and passion fruit is incredible." A tropical smoothie sounds like the perfect addition to a day lounging by the pool, are we right? 
Like MacLean notes, a fruit smoothie can be pretty much anything you want it to be — the possibilities are practically endless. And it's great to have a recipe handy that you can use for whatever fruit is in season and easy to purchase. So if you want some inspiration for a fresh fruit smoothie you can make and enjoy right now, here are the step-by-step instructions for putting together a fresh banana, peach, and strawberry smoothie you're sure to love for a light meal or snack.
Gather the ingredients to prepare this fresh fruit smoothie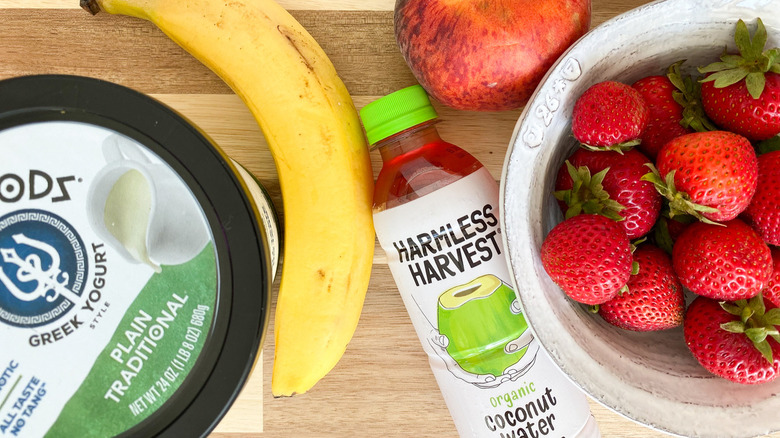 Hayley MacLean
This recipe is super simple and doesn't require much in the way of ingredients. Because it's a fresh fruit smoothie, we opted for seasonality, which you should do as well. For this smoothie, we picked peach, banana, and strawberries for the fruit, but you can do a different combo based on what's available when you decide to make your smoothie. Whatever you choose, bananas are always a great third fruit to use. Recipe developer Hayley MacLean says, "I usually add some banana to all of my smoothies, as they give such a creamy nice texture, so the three of these came together beautifully."
In addition to the fruit, you'll need Greek yogurt, coconut water, and ice. That's literally it! Once you pull your ingredients together, you can get started. The process is really quick, and you'll be sipping a fresh, fruity beverage in no time at all.
Add the ingredients to the blender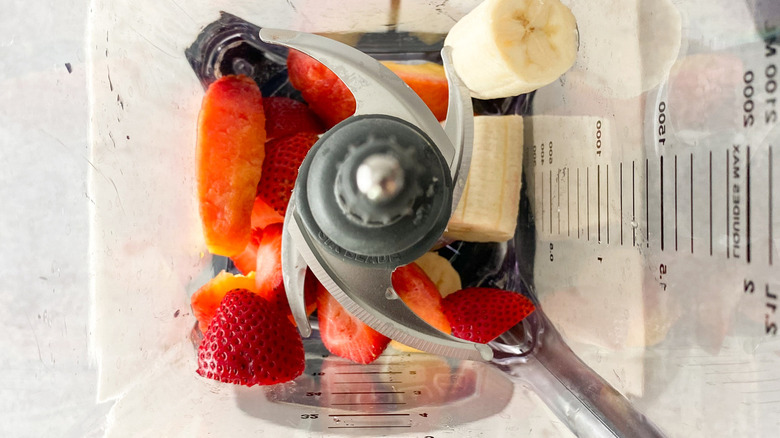 Hayley MacLean/Mashed
Prep your fruits for blending first. They don't need to be finely diced or anything, but a rough chop will help them blend more easily. Peel the peaches, and remove the pits, then remove the stems from the strawberries. Place all of the fruit into the blender.
Next, add the coconut water, yogurt, and ice to the blender. If you want to make this into a vegan drink or simply want a non-dairy option, you absolutely can. Recipe developer Hayley MacLean says, "There are a great amount of plant-based yogurts that are now widely available, my favorite being oat or cashew milk-based yogurts, as they are wonderfully creamy and have the same tang as cow's milk yogurt. Plus, the probiotics in them are great for your gut!"
If you choose a dairy-free option, you can still keep the measurement the same in the recipe. Use what works best for you!
Blend it all up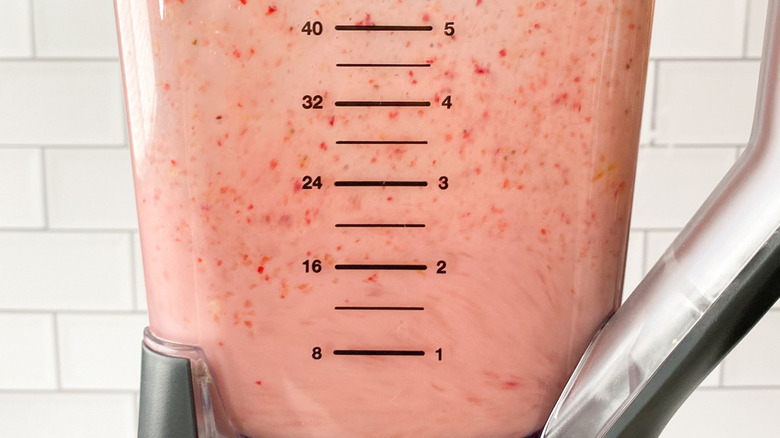 Hayley MacLean/Mashed
Once all your ingredients are in the blender, it's time to put the lid on, and blend! Depending on your blender, you can either set it to blend or pulse it until it's the consistency you want. You can leave it a little on the chunky side if you prefer, or blend until it's perfectly smooth. You can also add in a little more coconut water if you want to thin it out a little bit. At this point of the recipe, your smoothie is going to be looking pretty scrumptious, and you will be enjoying it really soon.
Serve, and enjoy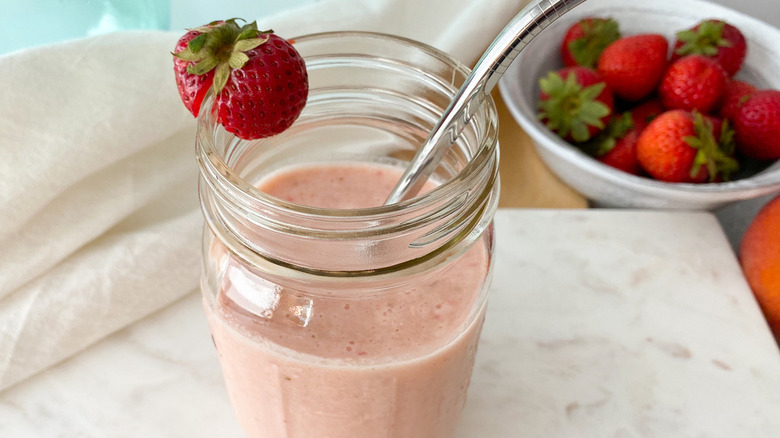 Hayley MacLean/Mashed
Once the smoothie is blended to your liking, pour it in your favorite glass. (Mason jars are always a good idea!) Pop in a straw, and add a strawberry onto the corner of your glass — then you're ready to enjoy this refreshing treat. In fact, you may want to pick up some whimsical straws just to make your homemade smoothies a bit more fun.
We told you this would be really quick to make — it's really so simple. We recommend enjoying your fresh fruit smoothie immediately, but it will hold in the fridge if you need it to. It will stay in your refrigerator for up to two days, but be prepared for it to thin out as time passes. This is because there are small ice crystals still in it that will melt in the fridge, thus making the smoothie a little more runny. However, if you want to blend up your smoothie at night so you don't have to mess with it in the morning as you run out the door for work, you absolutely can. It's really the perfect quick meal to take on-the-go.
Fresh Fruit Smoothie Recipe
This fresh fruit smoothie perfectly blends seasonal fruit into a drink that you can take on-the-go and enjoy any day of the week.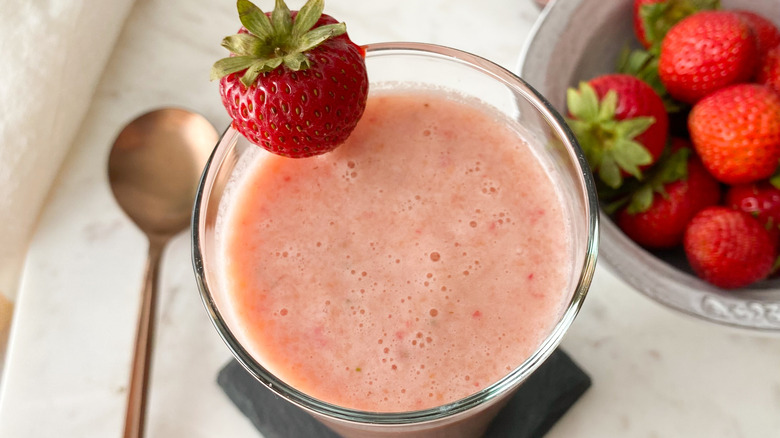 Ingredients
½ banana
½ peach, peeled and sliced
4 strawberries, stemmed and halved
½ cup coconut water
¼ cup Greek yogurt
¼ cup ice
Directions
Place the banana, sliced peach, and halved strawberries in a blender.
Top with the coconut water, Greek yogurt, and ice.
Blend until smooth.
Serve in your favorite glass, and enjoy!
Nutrition
| | |
| --- | --- |
| Calories per Serving | 183 |
| Total Fat | 4.6 g |
| Saturated Fat | 2.7 g |
| Trans Fat | 0.0 g |
| Cholesterol | 9.6 mg |
| | |
| --- | --- |
| Total Carbohydrates | 31.5 g |
| Dietary Fiber | 5.0 g |
| Total Sugars | 21.6 g |
| Sodium | 163.1 mg |
| Protein | 7.8 g |