Sunny Anderson Cracks Up Instagram With Hilarious Bobby Flay Meme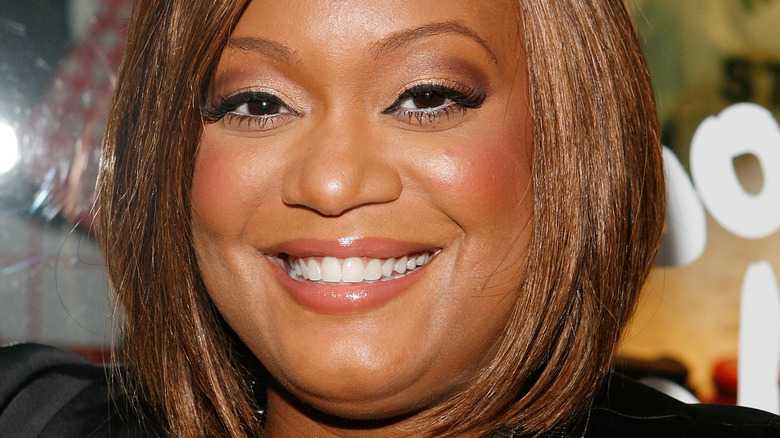 Amy Sussman/Getty Images
Sunny Anderson is a true gem of food television. Most recently, she has been co-hosting "The Kitchen" with fellow celeb chefs Geoffrey Zakarian, Jeff Mauro, Katie Lee, and Marcela Valladolid (via Food Network). And, before this stint, Anderson also successfully ran her own catering company, hosted several solo Food Network shows (including "Cooking for Real" and "Home Made in America"), and wrote several cookbooks lauded by the New York Times, as noted in a bio on Food Network's website.
In addition to her cooking skills, Anderson is also best known for her "sunny" and bubbly disposition. On many occasions, she's been known to be a bright spot in people's days like when she posted an Instagram of herself being made into an admittedly hilarious meme, or the time when she had an ingenious way to respond to commenters that had less than positive things to say. Now, Anderson is on her meme game again, and she's set her target on a friend — with many taking notice.
In her latest meme hunt, Anderson pokes fun at Bobby Flay
In her latest hilarious Instagram post, Sunny Anderson rediscovered a meme in her archives she just had to re-post. It features her friend Bobby Flay wearing a newsboy cap and grinning for a picture in a split screen with one of the characters from "Fat Albert" in a similar cap with likewise grin from ear-to-ear. The curly hair, though different colors, also helps put the meme in perspective. 
Anderson was so excited about the comparison that she posted a caption, nearly in all caps, that chided, "I SAAAAAID ... NEVER FORGET SOMEONE TELL @bobbyflay he doesn't have a hat head." Fans commented on the picture overwhelmingly laughing along, with one who asked that she "never, for as long as you live, stop reposting this" and another that said, "Omg Sunny not going to get the image out of my head now." It is yet to be seen whether Flay will fight back with a meme of his own. Be on the lookout, Sunny!