Here's Exactly When You Can Get Your Hands On Pepsi Donuts
Pepsi may seem like a strange flavor for a donut, but the shop that is crafting this creative mash-up is no stranger to unique flavors. The beverage giant is collaborating with the original Randy's Donuts in Inglewood, California to create a Pepsi ColaCream Donut. The specialty donut is a play on old-school soda shop flavors and perhaps has a little something to do with this year's Superbowl being held in L.A. (via Chew Boom).
Even if you've never been to Randy's, there's a chance you've seen its iconic giant donut on the roof, either while driving by or displayed in music videos or movies. For example, the popular donut shop appeared in the Maroon 5 "Beautiful Mistakes" video, where Adam Levine and Megan Thee Stallion drove through the giant donut in a floating car (via YouTube). 
Other unique flavors served up at Randy's include matcha, Cinnamon Toast Crunch, and maple with churros, per Randy's Donuts website. The Pepsi soda-inspired donuts will be available for a limited time and there are a few special surprises that go along with the purchase.
The Pepsi donut combo box comes with a chance to win some cool prizes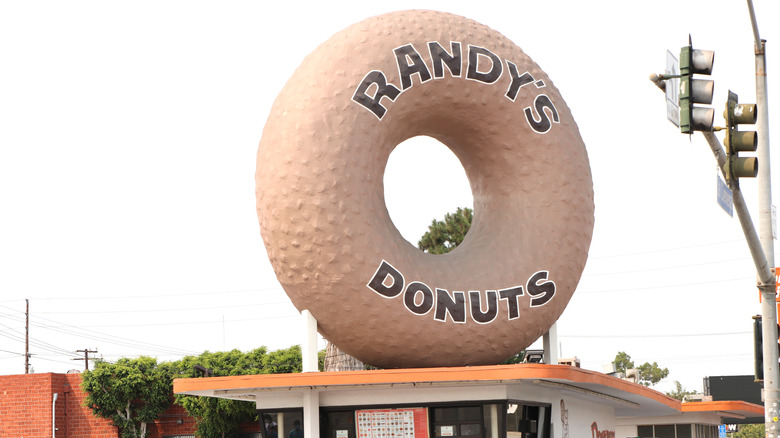 Eric Glenn/Shutterstock
The partnership between Pepsi and Randy's Donuts is like a real-life crossover episode between your favorite shows. It's almost too good to be true and lasts for just a short time. The Pepsi ColaCream Combo Box will only be available at the Inglewood location of Randy's for a little less than a month (via Chew Boom). The limited-edition flavor is available as part of the combo box that includes one donut and a 20-oz Pepsi for only $5. The soda-infused confection will feature Pepsi-Cola and cream as its flavor, topped off with Pop Rocks, and red, white, and blue frosting to form the Pepsi logo. It will be available through February 20, 2022.
Apart from having an awesome picture to post on social media, Chew Boom reports that patrons who purchase the combo can scan a QR code on the side of the box to enter to win some Pepsi and Randy's Donuts merchandise, Randy's gift cards, a year's worth of Pepsi, and entrants can even win a pair of custom-made Pepsi and Randy's sneakers designed by artist Chad Carothers. 
L.A. residents will be made aware of this partnership, not only on social media but by screaming it from Randy's rooftop by way of a specialty rooftop donut that will be painted black and feature Pepsi's logo.