This Viral TikTok Recipe Might Change The Way You Eat Oreos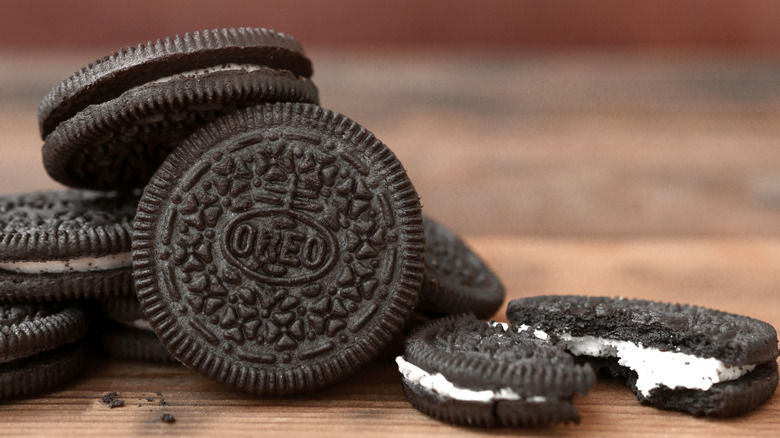 Mehaniq/Shutterstock
Now that we've reached the part of winter when the temperature may not hit above freezing for days on end, we're more than ready for warmer weather, beach days, and backyard cookouts. And since the winter months seem to drag on, it might feel like it's been forever since the fair came to town. 
The yearly event always promises to be a good time thanks to the fun rides, favorite vendors, and competitive games. However, if you're the foodie we know you are, then you know the best part about going to the outdoor extravaganza is chowing down on all of those indulgent treats — like deep-fried Oreos. The popular cream-filled chocolate cookie has been a staple of the fair food scene since its invention in 2002 (via Thrillist).
Thanks to one clever TikToker, you won't have to wait until the fair comes to town next summer to get your fix. In a now-viral video posted to the platform, the TikTok user fascinated followers when demonstrating a simple way to whip up a tasty batch of fried Oreos using a few ingredients and an air fryer, and one comment clearly states what we are thinking, "y'all gonna put the state fair out of business."
TikTok is divided over this fried Oreo recipe
TikTok user @hasaneats captured the attention of TikTok with a fried Oreo recipe, which was demonstrated in a video that has gone viral. The post has thus far generated 4.2 million views, 271,000 likes, and 1,550 comments from amazed TikTok users. 
The video instructs fans to coat the Oreos in their choice of pancake batter and then air fry them. This recipe uses the protein-packed Kodiak mix prompting the "OMG AIR FRIED PROTEIN OREOS???!!" comment. After Air-frying the cookies for three minutes at 390 degrees, the warm treats are shown being dusted with powdered sugar. 
"12/10 its bussin bussin," read the text over the final product, which, according to PopBuzz, means the air-fried Oreos are really good. Many of the posted reactions were in agreement, sharing "I just tried this and I'm obsessed," and "just made these and they were bomb." Some users tagged their friends suggesting they give the recipe a whirl, while others offered ingredient alternatives like "I bet this would be good with Girl Scout cookies too," and "What about wrapped in cookie dough then in the fryer." 
Of course, a viral video would be boring without a few shrewd comments. Some claim, unimpressed, that fried Oreos are nothing new, and others displayed their distaste with statements like "Prepare to be highly disappointed!!!" and "that looks revolting." Regardless if you love or loathe them, air-fried Oreo's made with protein pancake mix sound like a win-win to us.