Homemade Deep Fried Oreos Recipe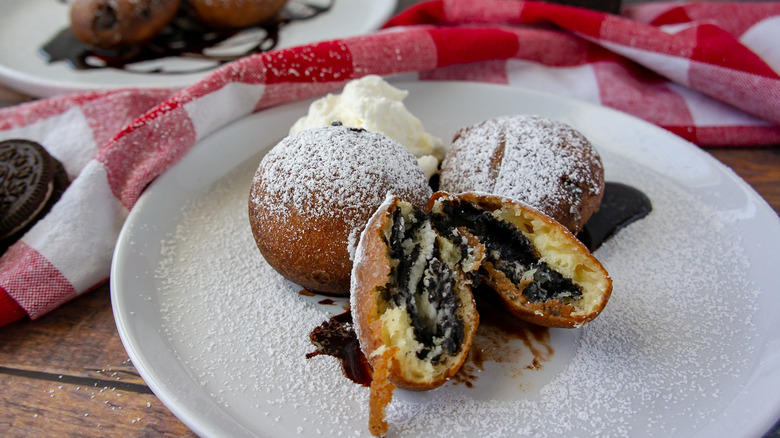 Mikayla Marin/Mashed
One of the best parts about summer is being able to go to local town fairs for some seasonal adventure. While rides and games are fun, there's one particular thing that everyone really looks forward to, and that's the food that is usually available when you get there. Who can resist the thought of deep fried Oreos? It's an iconic treat, and it's nearly impossible to deny the temptation of the crispy golden batter. It's one of the things that summer dreams are made of.
We're sharing a recipe today, brought to you by Mikayla Marin of The Flour Handprint, that can bring that fair food right to your very own home kitchen any time of year. Deep fried Oreos are the shockingly easy and oh-so-tasty treat you can make whenever you want, right at home. Whether it's for a special occasion like a birthday party or picnic, or when you want a really yummy treat, this recipe is sure to be a family favorite. The beloved chocolate sandwich cookies get coated in a quick and easy sweet batter then dropped into hot oil to achieve that golden brown crust.
No more waiting for a local summer fair, because you can now whip up some deep fried Oreos whenever the craving strikes. Dusting them with powdered sugar, drizzling them with chocolate syrup, and adding a dollop of whipped cream makes for the perfect finishing touches on a treat you'll want to indulge in time and time again.
Gather the ingredients to prepare deep fried Oreos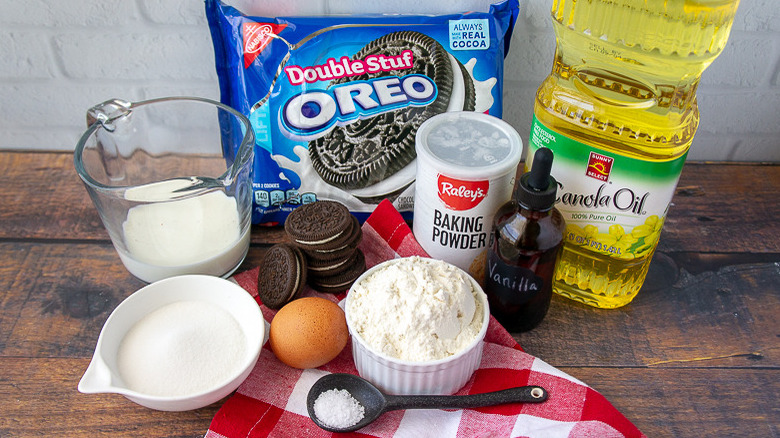 Mikayla Marin/Mashed
The really exciting part about making deep fried Oreos at home is that the recipe doesn't require any complicated ingredients. The list of items that you will need is so easy, in fact, that once you grab the pack of Oreos, you most likely have everything else already in your cupboards.
In preparing this recipe, even though every single choice we tested was absolutely delicious, we found that using a double stuffed Oreo yielded the best chocolate, cream, and fried crust ratio. Feel free to use whatever Oreos you'd like, but if you're looking for that perfect bite of cookie cream in the middle of your hot, deep fried treat, we recommend that you go for double stuffed.
In addition to your scrumptious chocolate sandwich cookies, you'll also need the basics to make a sweetened pancake batter, which are the usual ingredient staples like flour, sugar, milk, and eggs. You'll also need a decent amount of cooking oil. And last but certainly not least, we suggest scouring your cupboards for a few sweet toppings as well. If you have to go out to get a few, don't hesitate to put in the extra effort. Because as everybody knows, fun, sweet toppings are the spice of life.
A sweet pancake batter is made with simple, easy ingredients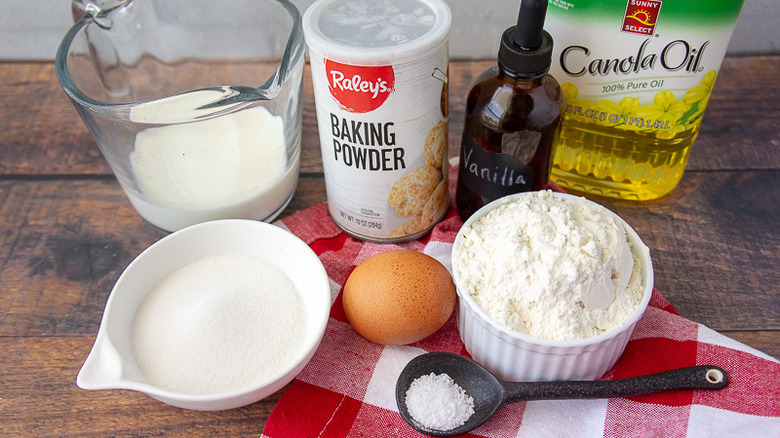 Mikayla Marin/Mashed
That delicious, crisp, golden brown crust on deep fried desserts is surprisingly easy to recreate at home and the part of this particular dessert that makes it so mouthwatering and one to look forward to eating.
This yummy coating is a simple thick batter that's very similar to a pancake batter, but with a bit of extra sugar to make sure the deep fried cookies are perfect. It also helps with the crispness of the outer layer, making it extra divine.
The combination of ingredients that makes our perfect deep fry batter is flour, baking powder, salt, sugar, milk, egg, vanilla, and a splash of oil. In a pinch, you could also substitute a cup of pre-made pancake mix for the baking powder, salt, sugar, and flour with pretty good results. This is a great trick to keep in mind!
A lot of high heat oil makes the magic happen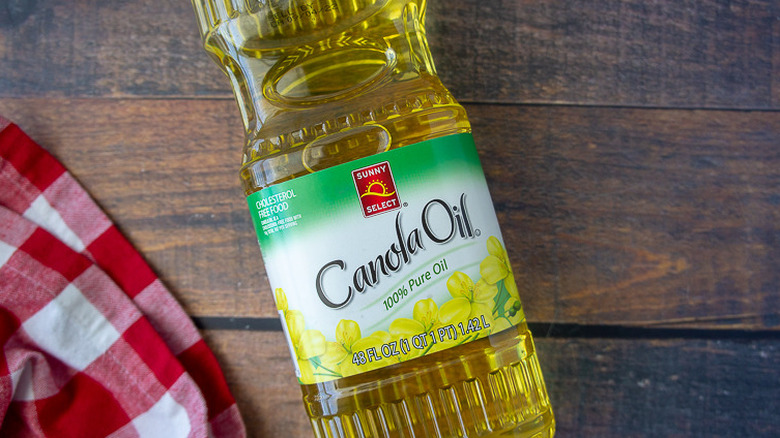 Mikayla Marin/Mashed
The key to perfectly crisp, deep fried Oreos goes beyond batter and cookie. Without the right oil, the perfect results are pretty difficult to achieve. You can use any high heat, neutral flavored oil to deep fry a dessert like this particular one. This would include options like canola oil, vegetable oil, grapeseed oil, or safflower oil. All that really matters is that the oil has a smoke point higher than 400 F. Any lower than that, such as with olive oils, and your oil will burn before it's hot enough to deep fry your cookies. 
You'll also need a good amount of oil. Unless you're experienced and very comfortable with deep frying safely at home, we recommend using a high sided pasta or soup pot with at least 6 cups of oil. This allows the oil to heat up safely, and you can drop in the cookies without the risk of it splashing over the sides. You'll want to be extra cautious either way. This is a recipe meant to have fun with!
Optional toppings make deep fried Oreos just right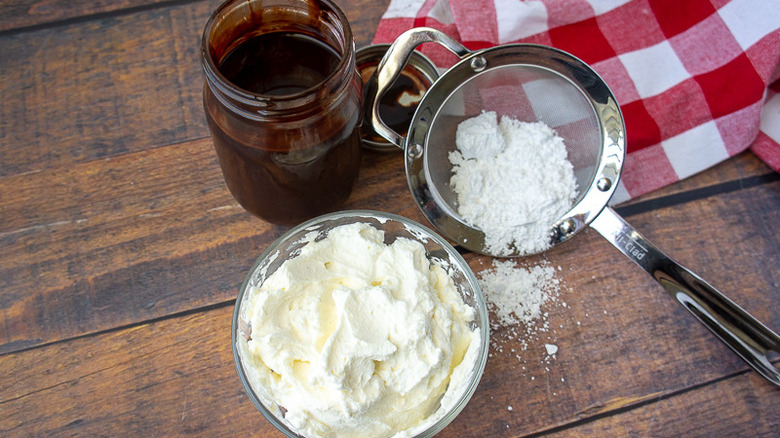 Mikayla Marin/Mashed
Even when you purchase a dessert at your local town fair, deep fried desserts are almost always topped with some sort of deliciously sweet finishing touch. Besides, making a special dessert like this at home really deserves something special on top. You'll want to document it on social media and show it off, so it should be as Pinterest-worthy as possible.
You can pick your favorites, but we recommend choices like classic powdered sugar, a sweet chocolate syrup, or whipped cream. Truthfully, we recommend using all three if you can. The combination of sweet cream, sugar, and chocolate complement the crispy hot dessert and makes a bite that you'll love — we guarantee it!
Other tasty options if those aren't your thing, include a scoop of vanilla ice cream, caramel sauce, or a fruity syrup like strawberry or raspberry. If you're without any, never fear, because just a plain deep fried Oreo is pretty spectacular all on its own.
Heat up the oil, and prep the batter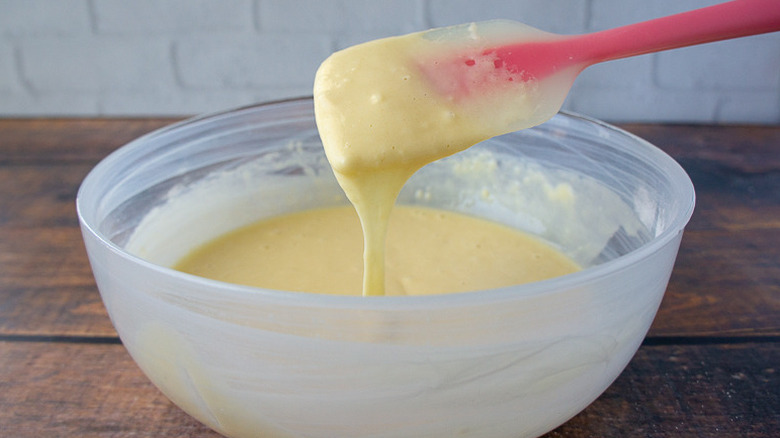 Mikayla Marin/Mashed
When you're ready to eat some golden brown, fried Oreos, the first step is getting the oil hot and ready. This is as simple as pouring the oil into the pan, and turning the burner on to medium high. Clip on the deep fry thermometer, and wait for it to read 375 F.
In the meantime, whip the batter together in just minutes by combining the flour, baking powder, sugar, and salt in a bowl. The oil, egg, vanilla, and milk are to be mixed up in another bowl. Whisk the wet ingredients together, then pour them into the dry ingredients.
Stir the batter, folding from the bottom to make sure all of the flour is well incorporated. When you have a thick pale batter that's mostly lump-free and your oil is hot, you're ready to fry the Oreos.
Coat the Oreos in the pancake batter, and deep fry them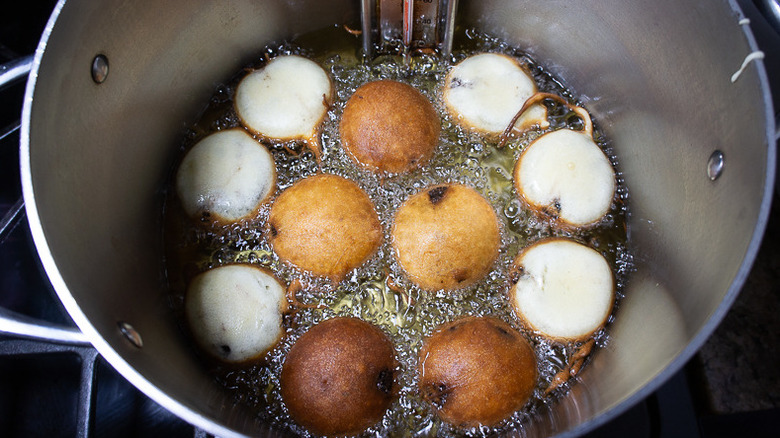 Mikayla Marin/Mashed
If you're able to use a large pot, you can easily fry all 12 Oreos this recipe calls for in one shot. If that's you, feel free to drop a dozen cookies in the batter and then straight into the hot oil.
If, however, your oil isn't hot enough yet, or you're going to be frying in batches, wait to coat the cookies until they're ready to fry. The batter will make them soggy if they sit in it for too long.
Then, simply drop the coated cookies into the oil. It's normal to have a little tail where the batter clung to your fingers — you can simply break it off after frying, and remove it.
The Oreos take about two minutes to cook per side. Flip them once, and once they're a deep golden brown on both sides, remove them from the oil.
Keep the Oreos hot while you fry in batches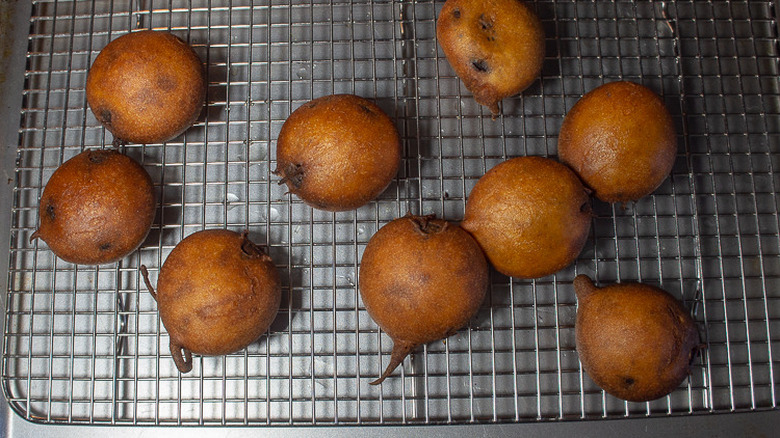 Mikayla Marin/Mashed
The trick with deep fried anything — especially if you know it's going to be a few minutes before you get to dig in — is an oven preheated to a low heat.
This works with French fries, chicken, and of course, deep fried Oreos. Simply preheat your oven to 200 F, and place a baking sheet in the oven. We like to use a cooling rack on top to allow any excess oil to drip off rather than pool under our cookies, which can lead to sogginess.
If you're frying a lot of cookies for a big group or have to fry in batches, just pop them in the oven straight out of the fryer and they'll stay hot, crispy, and pretty perfect for about an hour. After that, they begin to get hard. But you should not have a problem with this, as we expect them to be eaten up pretty quickly once they're ready.
Some of the gooeyness of freshly fried Oreos is lost in the oven after about 15 minutes, but that crunch of golden brown crust and soft chocolate cookie inside is still plenty delicious.
Top the Oreos with more sugar, and serve
Mikayla Marin/Mashed
When you are ready to serve your deep fried Oreos so everyone can dig in and enjoy, just smear a generous bit of chocolate sauce on the plate, place your deep fried Oreos on top, and dust them off with powdered sugar for just the right amount of extra sweetness. Dollop a bit of sweetened whipped cream on the plate as well, and it's finally time for your friends or family to go to town. 
However you choose to serve them, and whether you're indulging alone or recreating the fair food fun at home with friends, these deep fried Oreos are delicious and dangerously easy to prepare. Enjoy them while they're hot, as they don't keep well in the fridge, and tuck this recipe away for whenever your next deep fried fair food craving strikes. We are confident that this is a recipe that everyone will love, and you will get requests to make it over and over again.
Homemade Deep Fried Oreos Recipe
These delicious deep fried Oreos will transport you straight to your favorite summertime fair, and they are so easy to prepare.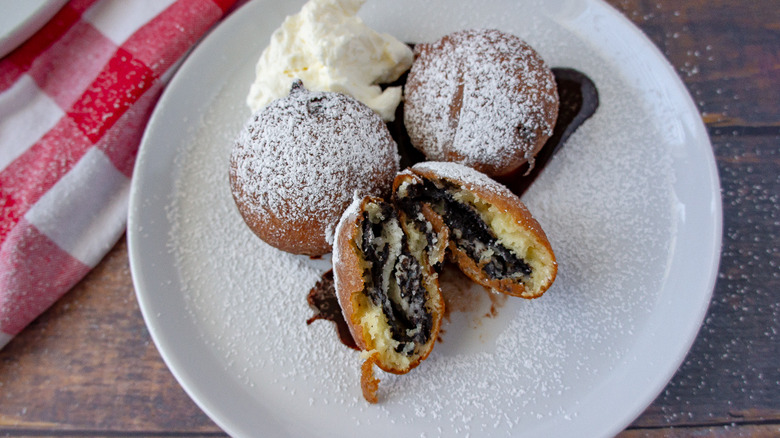 Ingredients
6 cups + 1 ½ teaspoons oil
1 cup flour
1 teaspoon baking powder
3 tablespoons sugar
¼ teaspoon salt
⅔ cup milk
1 egg
½ teaspoon vanilla
12 double stuffed Oreos
Optional Ingredients
2 tablespoons powdered sugar
2 tablespoons chocolate syrup
½ cup whipped cream
Directions
Pour 6 cups of oil into a high sided, heavy bottomed pot, and place over medium-high heat.
Combine the flour, baking powder, sugar, and salt into a large bowl, and whisk to combine.
Measure out the milk, crack the egg into it, and add the vanilla and 1 ½ teaspoons of oil. Whisk together.
Combine the milk and egg mixture into the flour mixture, and stir until a thick, smooth batter forms.
Once the oil reaches 375 F, it's time to drop the cookies into the batter. Make sure each cookie is well coated before dropping them one by one into the hot oil.
Fry for 2 to 3 minutes per side, or until they have a deep golden brown hue.
Serve immediately, or place in a 200 F preheated oven on a baking sheet to keep warm and crisp until you're ready to serve.
Enjoy with powdered sugar, chocolate syrup, and whipped cream.
Nutrition
| | |
| --- | --- |
| Calories per Serving | 385 |
| Total Fat | 22.6 g |
| Saturated Fat | 3.2 g |
| Trans Fat | 0.1 g |
| Cholesterol | 29.4 mg |
| | |
| --- | --- |
| Total Carbohydrates | 41.5 g |
| Dietary Fiber | 1.3 g |
| Total Sugars | 19.7 g |
| Sodium | 239.3 mg |
| Protein | 5.0 g |