Everything We Know About Robert Irvine And Jon Taffer's New Series
From diners to dive bars across the country, Robert Irvine of "Restaurant: Impossible" and Jon Taffer of "Bar Rescue" are known for tackling some of the most challenging restaurant and bar makeovers in America. Now, they've joined forces for a show in which they will compete against each other to see just who is the best when it comes to resuscitating eateries and drinking holes to give them new life.
The three-part series, titled "Restaurant Rivals: Irvine vs. Taffer," will be available to watch starting on March 3, 2022 on the streaming platform Discovery+. The network reports that Irvine and Taffer will flip a coin to determine which of two places they'll each be tasked with "making over," then it's off to the races with just 24 hours to improve the spot's cuisine, atmosphere, and décor, as well as customer service. The winner will be crowned in the third and final episode after a climactic dinner (via Discovery +).
As The Wrap points out, each contestant has a different style and different priorities when it comes to making over a restaurant, leaving us wondering if it's truly Irvine's confidence in strong food and a solid menu that wins, or is Taffer correct in his opinion that the victory lies in the ability to deliver an amazing overall dining experience?
"Restaurant Rivals" will show off Irvine and Taffer's true talents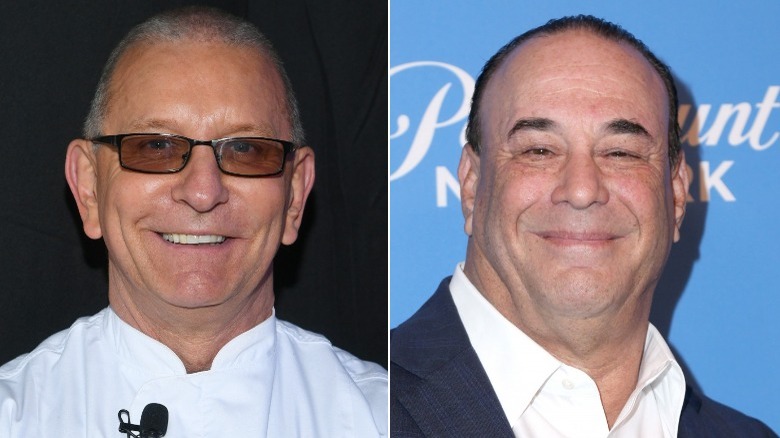 Dave Kotinsky/Getty & Kathy Hutchins/Shutterstock
Jon Taffer recently took to Twitter to announce his new upcoming show, "Restaurant Rivals," in which he will square off against fellow restaurant makeover-pro Robert Irvine, and the comments section lit up with excitement. "Omg the amount of yelling and running is gonna be spectacular," wrote one user, while another was quick to pick a side, and added, "That's amazing! I'm definitely @teamTaffer!"
In a press release from Discovery+, the duo discussed their excitement, both about the concept of the limited series and about working together. "Fans have been waiting for this show. But more than that, Jon and I have been waiting for this show because we both love helping people in this industry who are struggling. To turn that love into a friendly but fierce competition is a no-brainer. The fans benefit. The establishments benefit. And Jon and I get to have an amazing time. I'm thrilled to see this finally come together," Irvine said.
And Taffer added, per The Wrap, "For years our fans have wanted Robert and I to do something together. I have tremendous respect for Chef Irvine, and I think he would say the same about me; our ultimate goal is to see these restaurants and their owners succeed. At the end of the day, that is what motivates us to do what we do. But make no mistake, I take this challenge very seriously and I expect to win. Good luck to Robert ... he's going to need it!"