Little Caesars Is Celebrating Batman With A Unique Calzone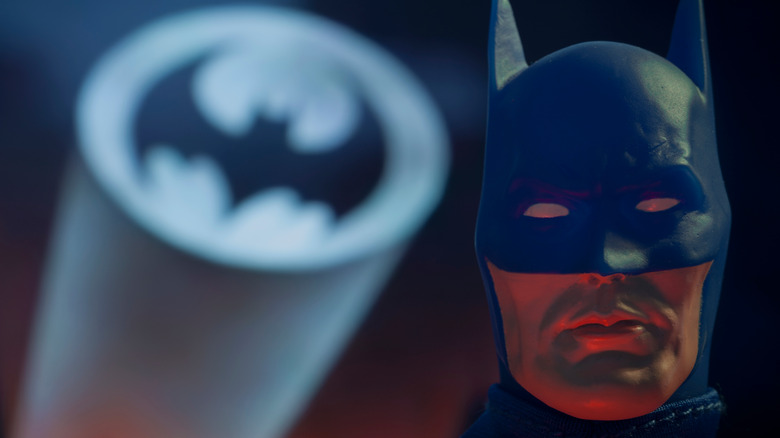 Willrow Hood/Shutterstock
Is it a pizza? Is it a calzone? If you're wondering what exactly is behind Little Caesars' Calzony and just what it has to do with Batman, there's no need to ring up the bat cave on the bat phone for the inside scoop — Mashed has all the details.
Fans of the "Batman" movie franchise might not even get the reference, as the series of movies about the winged warrior are a far cry from the original TV show, which featured a red phone that Commissioner Gordon used to ring the caped crusader whenever Gotham was in peril. Unlike the latest dark, often graphic, "Batman" film incarnations, the original '60s show was, according to Definition, a campy, pop-art sitcom that featured colorful villains (played by the stars of the day) on bright sets. 
However, new iterations have taken a darker tone, and the latest "Batman" flick has been described by the film's director, Matt Reeves, as the scariest one yet, per Comicbook.com. The film, starring Robert Pattinson as the main character, runs almost three hours in length, per The Detroit News, so it might be a good idea to indulge in a hearty snack to tide you through until the credits. And Little Caesars has come up with the perfect option to do so — a pepperoni treat inspired by "The Batman" himself.
Holy Calzony, Batman!
For those of you not hip to the pizza-calzone combination called the Calzony, the concept was introduced by Little Caesars this past August. And now the chain is introducing a special edition inspired by Batman, shaped like the famous bat image that Commissioner Gordon projects into the sky when Gotham City needs the help of the superhero to thwart impending doom. The buttery-tasting end-pieces of this new treat are filled with garlic white sauce, julienned pepperoni, and cheese, all encased in a folded dough — or, what makes a calzone a calzone, per Chew Boom. 
The middle of the batty Calzony is a Little Caesars pepperoni pizza, and it's all served with a side of Crazy Sauce. This special menu item sells for $7.99 and is available starting today, January 24, just ahead of the film's release in the U.S. on March 4. It can be pre-ordered or picked up, hot and ready, at participating locations. There is also a Batman Calzony meal deal, featuring the Crazy Calzony, Crazy Bread, and a 2-liter Pepsi product, all for $11.49.
Jeff Klein, chief marketing officer for the Detroit-based Little Caesars company, said in a press release (via Comicbook.com), that "anyone can now bring superhero vibes to pizza night by trying the new The Batman Calzony," or what he calls, "the most delicious part of our partnership with the upcoming film 'The Batman.'" A calzone and a pizza together, shaped like the iconic crime-fighter's call signal ... holy combo, Batman!