We Tried Chipotle's Plant-Based Chorizo So You Don't Have To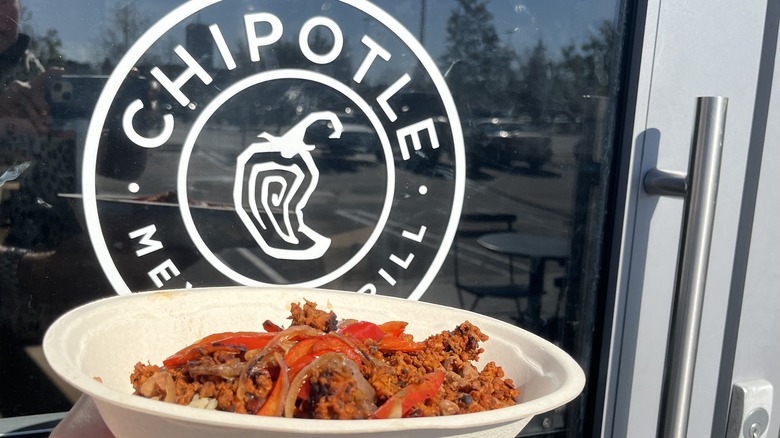 Sarah Gardner/Mashed
We're barely a few weeks into the new year and there are already multiple new entries in the ever-growing fast food plant-based cannon. KFC finally entered the ring with their Beyond Fried Chicken Nuggets, and the result was far from a knockout. A week prior, Chipotle Mexican Grill officially launched its Plant-Based Chorizo, a meatless take on the classic Mexican spicy pork sausage. The chain is no stranger to serving both flesh-free and chorizo offerings. The tofu-based Sofritas remains a longtime fixture on the menu (via AZCentral). As for chorizo, it's been among the biggest flops in Chipotle history, as the chain has tried (and failed) to satiate the masses with multiple versions of the sausage, including a recipe that combined ground pork and sausage.
But this time around, the powers that be seem to believe they've found a winning formula. In a press release touting their latest menu addition, Chipotle Chief Marketing Officer Chris Brandt asserts, "Plant-Based Chorizo is our best chorizo ever and proves that you don't have to sacrifice flavor to enjoy a vegan or vegetarian protein."
With those lofty expectations in mind, we were eager to put the Plant-Based Chorizo to the taste test. Here's everything you need to know about Chipotle's brand-spanking new protein option.
Chipotle's Plant-Based Chorizo is not made in a lab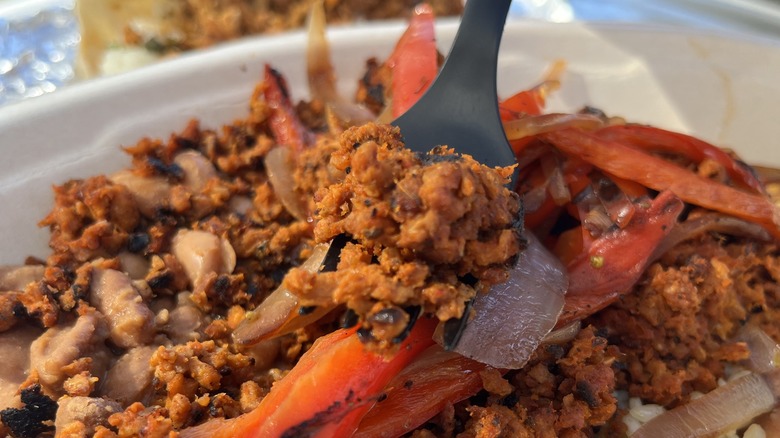 Sarah Gardner/Mashed
Since plant-based is still an emerging category, there is some confusion regarding what exactly the term entails. While brands like Impossible Foods are making a name for themselves with innovative (and controversial) meatless products that are created in a laboratory, Chipotle emphasizes the fact that the "real" ingredients for their Plant-Based Chorizo are sourced from farms. The backbone of the sausage is actually fresh peas, and despite their mushy reputation, they do a rather spectacular job of emulating the texture of ground pork ... but we're getting ahead of ourselves. The legumes are spiced with chipotle peppers (because, duh, Chipotle), crushed garlic, ripe tomatoes, and Spanish smoked paprika. With all that in the mix, it's not going to come up short when it hits your taste buds.
For those with dietary concerns and restrictions beyond avoiding animal products, rest assured that this chorizo is gluten-free, grain-free, and soy-free. And if chemical additives, cheats, shortcuts, and overall 21st-century kitchen wizardry weird you out, also be aware that there are no added preservatives, artificial flavors, or dyes.
In conjunction with the release of their Plant-Based Chorizo, Chipotle has also introduced three lifestyle bowls that feature the protein with a set roster of ingredients (more on those later).  Of course, you can still always go DIY with the general Chipotle customizable mix-and-match method and load up a bowl or tortilla with your choice of rice, beans, salsa, greens, cheese, and guacamole.
It's packed with protein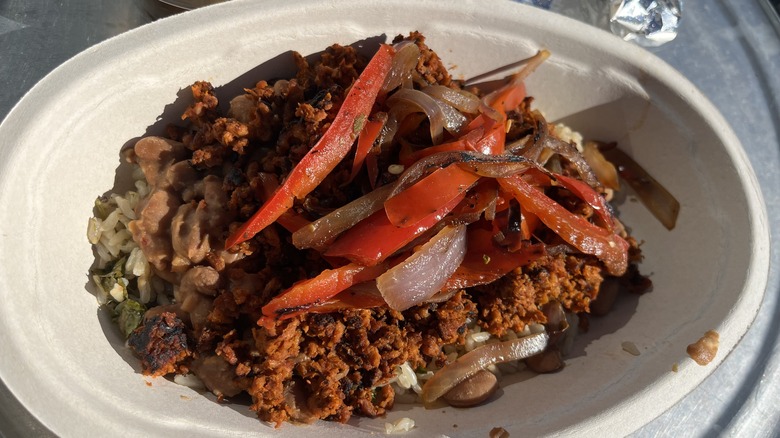 Sarah Gardner/Mashed
You can't talk about food nowadays without mentioning an item's protein content, so it's no surprise that Chipotle is eager to highlight how many grams their Plant-Based Chorizo is packing. Per the chain, a standard 4-ounce serving includes 16 grams of protein. While that's twice as many grams as a serving of Sofritas offers, it's lower than the amount of protein provided by all of the actual meat fillings. (For the record, chicken offers the most at 32 grams of protein per serving). The Plant-Based Chorizo is tops, however, when it comes to calories, with 220 per serving. Sofritas and steak, both 150 calories per serving, are at the bottom of that list. 
Those on the Keto Diet will want to avoid the Plant-Based Chorizo, as its carbohydrate count is 16 grams per serving, again earning the dubious distinction of being at the top of the heap. With 8 grams of fat per serving, it earns the bronze behind Sofritas (10 grams of fat per serving) and carnitas (12 grams per serving).
To be clear, these figures are just for the fillings — when you begin to incorporate rice, beans, and assorted Chipotle toppings, those numbers are bound to increase.
It's in the middle of the pack of Chipotle pricing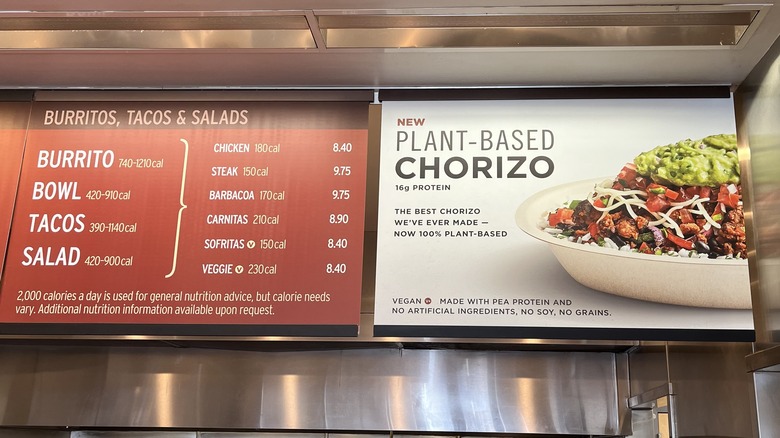 Sarah Gardner/Mashed
Be advised that even though this chorizo isn't made from actual meat, it doesn't mean that you're going to save money. (Perhaps the cost of entry is to cover the years of research and development that went into this endeavor). While the price may differ somewhat depending on location, at our local Los Angeles Chipotle, the Plant-Based Chorizo was priced at $9.40 for your standard bowl, burrito, or taco order. (It should be noted that despite being advertised throughout the venue and being available to order, the Plant-Based Chorizo had yet to be added to the printed menu in the actual restaurant).
So, how does that compare to Chipotle's other featured proteins? Well, as far as plant-based options, it's a buck more than going with Sofritas or the veggie and guacamole combo. It's also more expensive than chicken ($8.40) and carnitas ($8.90) but isn't quite as pricey as barbacoa and steak (both are $9.75).
As for those Plant-Based Chorizo Lifestyle Bowls we mentioned, for $11.95 you can get the Whole30 Salad Bowl, which includes a supergreens lettuce blend, fajita veggies, fresh tomato salsa, and guacamole. There is also a Vegetarian Bowl ($9.40) with a supergreens lettuce blend, pinto beans, fresh tomato salsa, fajita veggies, and cheese. And for the no meat, no dairy crowd, you can opt for the Vegan Bowl which is prepared with white rice, black beans, corn salsa, fresh tomato salsa, and shredded romaine lettuce. That one costs $9.40 as well.
Plant-Based Chorizo is available for a limited time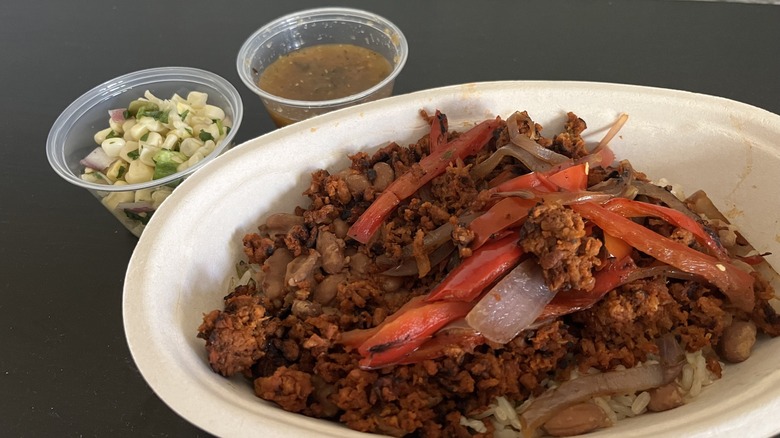 Sarah Gardner/Mashed
The Chipotle Plant-Based Chorizo made its debut August 2021 exclusively in Denver and Indianapolis, per a Chipotle press release. But on January 3, 2022 it was officially unveiled with a nationwide rollout. Beyond selecting the Plant-Based Chorizo at your local Chipotle location to include in your bowl, tacos, or burrito, you can also order the protein via chipotle.com, the Chipotle app, and third party delivery apps such as Postmates, DoorDash, and UberEats.
According to the Chipotle press release, the Plant-Based Chorizo will be "available for a limited time," but no specific end date is indicated. Of course, by indicating a short window of availability the chain may be hoping to generate hype, though in Chipotle's 2014 press release for the rollout of Sofritas, the company specifically indicated that the item would become a "permanent" menu item by the end of that year (and eight years later, it's still around).
But if the Plant-Based Chorizo is a success with customers, it would be hard to believe that Chipotle would pull it from the menu.
It tastes similar to pork chorizo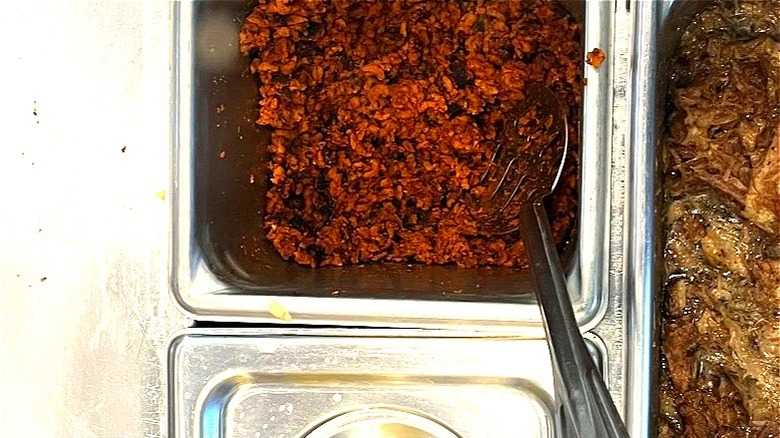 Sarah Gardner/Mashed
We have to hand it to Chipotle: Selecting chorizo (the crumbly Mexican version, not the dried Spanish variety) for a plant-based remix was a savvy move for a number of reasons. Since the sausage is a Mexican standard, it's the perfect fit for the chain's repertoire. Ground meat dishes, particularly burgers, have the greatest success when it comes to a plant-based conversion, so it makes sense that sausage would be an ideal candidate as well (via Food & Wine). In particular, since chorizo relies so heavily on an assertive blend of spices, the "meat" isn't saddled with doing all the heavy lifting.
But let's not pretend that you can't tell the difference between this vegan, plant-based Chorizo and the real deal porky product. It's definitely not as juicy or savory, but it's not a bad substitute.
Another issue we had is our portion of Plant-Based Chorizo was aggressively charred. We're not sure if this was an issue with that particular batch or if Chipotle is making it a point to highlight that the Plant-Based Chorizo is well-suited for a flat top sear, but the result was that some bites were a bit acrid.
The dryness of the Plant-Based Chorizo makes it a sub-optimal candidate as a solo taco filling, but since it delivers on the flavor front, it is effective as a team player — blended with rice, beans, salsa, and other toppings — which is par for the course when it comes to a Chipotle order.
Plant-based Chorizo is a major upgrade from Sofritas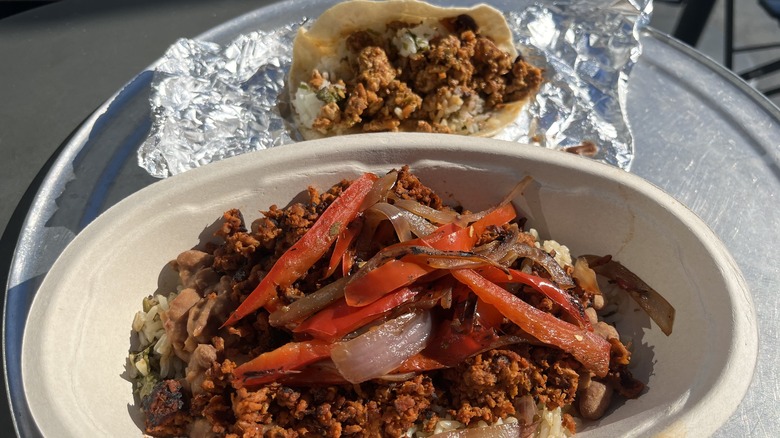 Sarah Gardner/Mashed
Unfortunately, our memories of Chipotle's O.G. pork-based chorizo are hazy, but since there is another plant-based item on the menu, we figured that would be a good point of comparison. We're certainly well acquainted with the taste of Sofritas, but just to be sure, we ordered a taco filled with the chorizo's plant-based menu competitor for a side-by-side comparison.
When it comes to taste, these two options are night and day. As we mentioned previously, the Plant-Based Chorizo is aggressively seasoned, and those spices are bound to shine regardless of what additional toppings you add to your dish. Sofritas, however, lie on the opposite end of the flavor spectrum. If you're just interested in adding some nutrients and scrambled egg texture to your meal, the tofu-based mash will suit your needs, but for flavor, whatever salsa you choose will be in the driver's seat. In a plant-based head-to-head, chorizo wins hands down. If you want to stay meatless but are averse to spice, consider ordering a grilled vegetable and guacamole combo, which we find preferable to the Sofritas snoozefest.
But would we order the Plant-Based Chorizo in lieu of Chipotle's real deal meat options? Maybe. If we were in a particularly spicy mood, we wouldn't be opposed to adding a scoop to our order. Generally, though, we would rank it behind barbacoa, carnitas, steak, and chicken (in that order). In other words, real deal meat is still our personal preference, but even though this certified vegan sausage is plant-based, it comes correct with the classic salty, pungent, smoky chorizo flavor profile that we love. Our overall verdict: Yes, peas!