Chipotle's Plant-Based Chorizo Inspired 3 New Lifestyle Bowls
If you want to get the most bang for your buck when it comes to eating healthfully at Chipotle, here's what you should order. According to Today, diners looking for a wholesome meal should opt for brown rice, beans, and more vegetables and perhaps ask for a taco shell on the side rather than a serving of chips. The chain's "lifestyle bowls" also rank as one of its most nutritious options, thanks to their generous amounts of protein and fiber.
Restaurant Business reports that Chipotle added lifestyle bowls as a permanent staple on the menu in 2020 as a way to target diners that wanted nutritious takeout options during the early days of the pandemic. Items like the Chris Brickley Bowl — featuring brown rice, double chicken, salsa, roasted chile corn salsa, cheese, lettuce, and guacamole — and the Cody Rigsby Salad containing lettuce, brown rice, double chicken, fajita veggies, two types of salsa, and guacamole immediately livened up the menu. While these original lifestyle bowls had chicken as the star protein, one new plant-based meat alternative is offering something different.
What's in Chipotle's new plant-based chorizo lifestyle bowls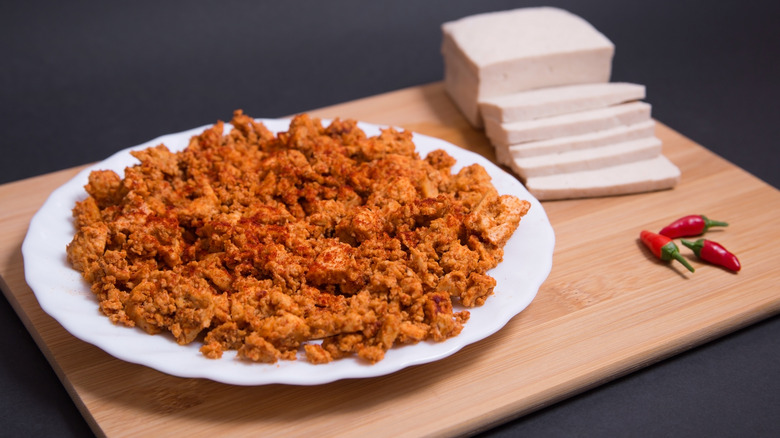 Eva Arranz/Shutterstock
According to a press release from the chain, Chipotle is now offering a plant-based chorizo protein nationwide for a limited time. The company tested the chorizo in select markets throughout 2021 and, based on its success, decided to incorporate the vegan protein into three new lifestyle bowls for the new year. The plant-based chorizo contains chipotle peppers, tomato paste, crushed garlic, Spanish smoked paprika, extra-virgin olive oil, and pea protein. It can be ordered as part of the Whole30 Salad Bowl, which comes with a super greens lettuce blend, fresh tomato salsa, fajita veggies, and guacamole. Meanwhile, the new Vegetarian Bowl features pinto beans, plant-based chorizo, fresh tomato salsa, fajita veggies, and cheese, while the Vegan Bowl comes with white rice, black beans, plant-based chorizo, corn salsa, fresh tomato salsa, and shredded romaine lettuce.
If you want to get your hands on these new lifestyle bowls, plan to order them exclusively through Chipotle's website or mobile app. Otherwise, the new chorizo can be ordered along with animal proteins at Chipotle restaurants. The chain hasn't stated how long it plans to keep the chorizo alternative on menus, so if you're interested, be sure to sample it soon.