An Aldi Customer Was Accidentally Locked Inside The Store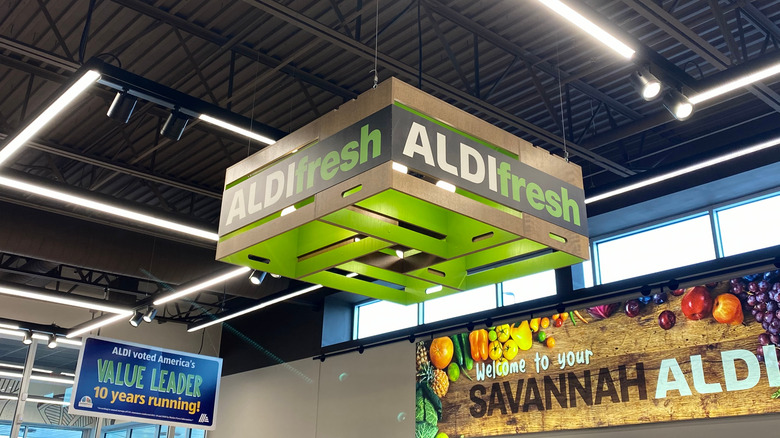 Kevin Chen Images/Shutterstock
Being locked inside a candy store or a toy store is something of a childhood fantasy, in which the lucky kid would be free to play and eat candy to their heart's content. It's not entirely impossible, however, to make oneself hidden in the sprawling aisles of big-box stores for a long period of time.
One teenage boy in Texas back in 2014 literally lived inside of a Walmart for two days, dwelling in lairs made of toilet paper, stealing drinks, and even wearing diapers to prevent making risky trips to the bathroom, according to 21 CBS DFW. In another apparent retail store squatting case, 13 WHTR reported police failed to locate an Auburn, Washington man, who they suspected was "living in the rafters of a grocery store for weeks." It would seem that in a place that's always filled with people, you don't have to try too hard to stay out of sight.
But what if you found yourself an unwilling retail store prisoner after-hours? Even if that store was the extremely popular budget grocer Aldi, would you panic? Would you help yourself to whatever you could in the store? This was the case of one man and another patron when they found themselves locked inside an Aldi after-hours.
When getting locked in Aldi also makes you go viral - twice
"Can anybody hear me? I'm locked in an Aldi!" 
This certainly wasn't something TikTok user Khaos Blackmetal (above) was expecting to say during a quick trip to Aldi in April 2020. As he explain in both the video and the comments, the Aldi wasn't supposed to close until 9:00 pm, but the store had apparently closed earlier than expected due to the COVID-19 pandemic. The lone cashier apparently locked up and drove away from the store with the man and another patron still inside. Unable to get out without tripping the alarm, the man called 911. Taking his situation in good humor, the man joked that he wouldn't have to worry about starving to death and that there was plenty of alcohol on hand at the discount grocer to sustain him. 
Fortunately, this story has a happy ending for all involved. Police officials and the store manager arrived 30 minutes later and, once everything was cleared up, they all had a good laugh over the situation.
The TikToker also noted that he first shared his experience on Facebook the day after the incident, where he claims the post "went viral." He was also honest about his attempt to double-dip that sweet social media fame. "I uploaded to TikTok this week knowing full well it would go viral," he commented. At over 8 million views and counting, as of this writing, it would seem he was right.