Subway's New Vault Sandwiches Were Designed By 3 NFL Stars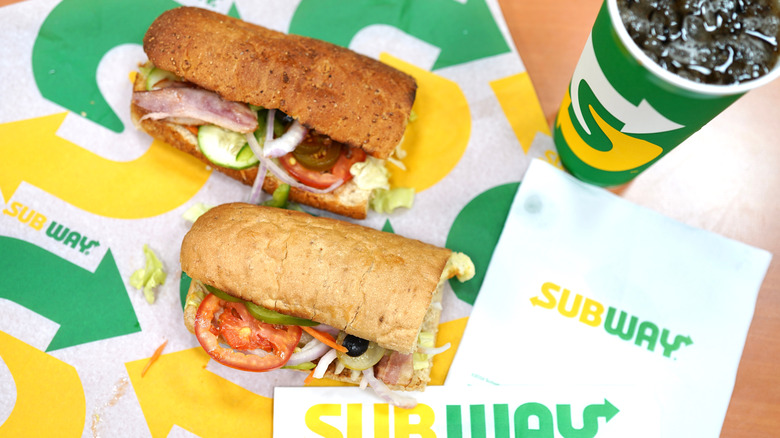 Prachana Thong-on/Shutterstock
In Mashed's 2021 ranking of the most popular sandwich chains, Subway didn't fare well (it was actually dead last) — but the sub-making giant does hold the distinction of being the largest fast food chain in the world. Business Insider reported in 2020 that Subway was even ahead of McDonald's with more than 42,000 locations around the world.
Along with the visibility of having a storefront on nearly every corner, the globally-dominant chain maintains brand awareness with a litany of celebrity endorsements, typically athletes, snagging everyone from Charles Barkley to Megan Rapinoe to hawk its subs. With Super Bowl LVI just around the corner, Subway has ... stuck to the playbook, but this time, there's ... a catch (puns intended)?
The chain has allowed three all-star NFL athletes to temporarily transform themselves into Subway Sandwich Artists by designing their own signature subs. Known as "The Vault," the sandwich line-up "furthers the Eat Fresh Refresh campaign," which the brand launched in July 2021 as a way roll out new menu items, per PR Newswire. So, what's the deal with this new gridiron-inspired grub? 
The 3 Vault sandwiches all have their own unique toppings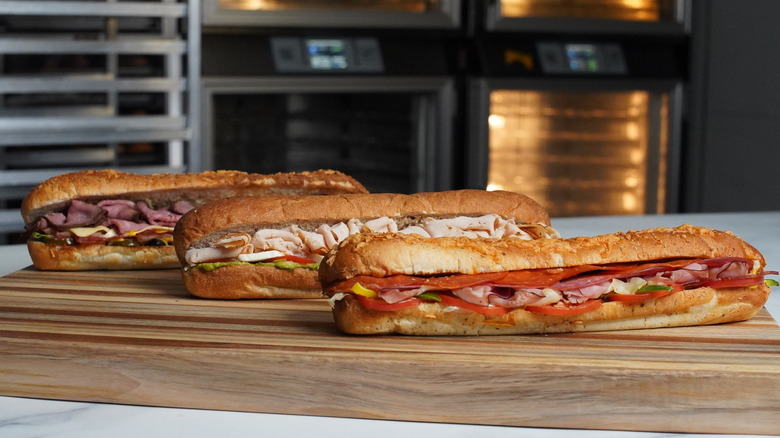 Subway
Subway's new Vault sandwiches add three new subs to the chain's menu, per PR Newswire. First up is Russell Wilson's "The Dangerwich," which features pepperoni, salami, black forest ham, bacon, and provolone cheese (to name a few of the toppings) on Subway's popular Italian Herbs & Cheese bread. Then there's Marshawn Lynch's "The Beef Mode," which includes roast beef, pepper jack cheese and hickory-smoked bacon on the same Italian Herbs & Cheese bread with Baja Chipotle sauce. Last but not least, there's Trevor Lawrence's "The Sunshine Sub," which has roasted turkey, fresh mozzarella cheese, avocado, and tomatoes on Hearty Multigrain bread.
Each sandwich is available as a 6-inch, Footlong, or Footlong PRO (which is double protein), and retails for around $7.29, $11.49, and $15.99, respectively, depending on regional pricing. While The Vault sandwiches are all currently available at Subway locations across the country, they're only available to order online at Subway.com or through the Subway app, meaning they must be ordered ahead. Why? Per PR Newswire, "The Vault is a dynamic menu, with new subs added regularly."
Intriguing. Does that mean Subway could have more surprise celebrity collabs locked way? Looks like the chain wants customers to keep cracking the digital safe to find out.