Twitter Is Arguing Over Which Krispy Kreme Donut Is The Best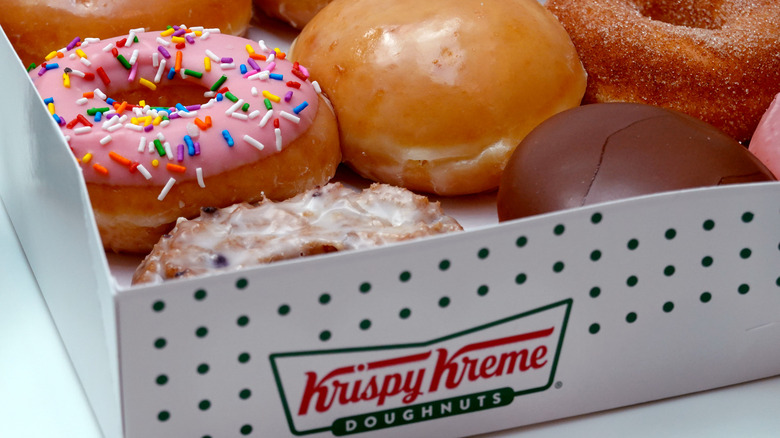 Scott Olson/Getty Images
Among donut fans, there are two camps: those who prefer Dunkin' and those who prefer Krispy Kreme. If you're in the latter group, you know the simple pleasure of biting into a sugary glazed donut, where the crispy exterior gives way to a fluffy, doughy interior. Ever since the donut retailer opened its first shop in Winston-Salem, North Carolina back in 1937, it's become somewhat of an American institution, famous for its classic glazed donuts served hot and fresh out of the oven. According to Love Food, each Krispy Kreme store churns out thousands of donuts a day, in a range of flavors and styles.
Of all the Krispy Kreme donuts available these days, however, which one is the best? Is it the OG glazed donut or something a little more unique? To find out the answer to the very important question, Today In Sports took to Twitter. The brand posted a photo of 12 Krispy Kreme donuts — including original, Boston kreme, chocolate iced, and jelly filled — and asked Twitter users to choose "the GOAT donut." The result? Turns out there's no clear winner.
Thousands of people have opinions on their favorite Krispy Kreme donut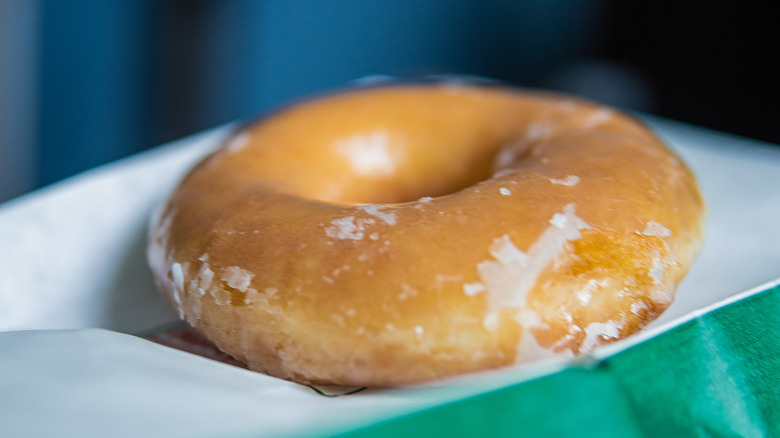 Vincent Doyle/Shutterstock
If you ever needed proof that Americans are passionate about Krispy Kreme donuts, this tweet from Today in Sports is it. Within 24 hours, the tweet racked up more than 14,000 responses (and counting!) from people vehemently arguing the case for their personal favorite donut. While fans might assume that the original glazed Krispy Kreme would be by far the number-one pick — after all, both Spoon University and Delish editors have dubbed the classic flavor the best of the bunch — it wasn't a clear stand-out. Sure, there were many who chose glazed as their go-to, like the person who said, "Glazed will always hit just right."
However, there appear to be just as many people who prefer other flavors (especially jelly, which seemed to be a popular choice). "The Boston Kreme won decades ago. There is no debate," one person tweeted, while another said the glazed chocolate was their favorite flavor. Some fans also added their own picks that weren't pictured, like chocolate glazed, maple dip, chocolate cruller, and coconut.
And while the original photo was of Krispy Kreme's donuts, Duff Goldman also chimed in with a surprising choice. "Blueberry Cake Donut from 7-11. I'm not kidding," the Charm City Cakes executive chef tweeted. Donuts from a convenience store? Fans will just have to take his word for it.