Why Thomas' Will Give Boston Free English Muffins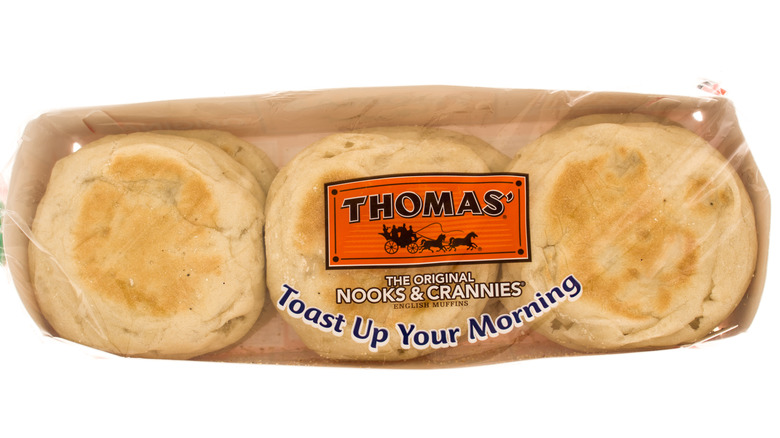 Keith Homan/Shutterstock
The past week's Nor'easter has taken quite a toll on the northeastern part of the US, with areas like Boston experiencing near record-breaking levels of snowfall. For many, this severe weather means having to endure the stressors that come with it, including being trapped indoors and having to shovel snow out of a driveway.
But for one Boston-based snow plower, dealing with a blizzard isn't as bad as it seems. Speaking to WBZ News Boston on January 29, Andy Barr appeared calm, cool, and collected, talking about his job as if it were as banal as making copies. "It's real easy. It's like bread and buttah," he remarked to the newscaster. He then likened his job of keeping the streets clear to spreading toppings on one his favorite breakfasts. "It's like a Thomas' English muffin with some jam: it spreads nice and gets all the nooks and crannies."
Barr's good spirits could likely warm up anyone in the blizzard. And it seems it already has — his appearance has since gone viral, with the original video raking in thousands of views and likes on Twitter. The clip has also earned Barr some admirers, with many complimenting his upbeat work ethic in the replies. "Love this guy's attitude!" wrote one user. Others were taken by Barr's descriptive commentary. Referencing his comparison of the ground to a Thomas muffin, one viewer wrote, "Now I'm craving an English muffin!"
It's all thanks to one spirited snowplow
People on Twitter weren't the only ones to notice Barr's shoutout to the English muffin brand. Shortly after the broadcast aired, Boston.com reported that the team at Thomas Breads were so delighted over the video of Barr that they named him the brand's "Official Snowplow." The breakfast brand's social media team, who dubbed Barr their "current obsession," marked the announcement by sharing a photo on the Thomas' Facebook and Instagram pages of Barr in his snowplow edited with an orange frame and English muffin graphic.
And as if Barr's new title wasn't already cool enough, the brand also said that in honor of the spirited snowplow's "love of buttah and jam," they plan to give Bostonians a chance to win free English muffins to help them weather the next snowstorm. Boston residents can get information about the sweepstakes on Thomas' social media pages.
If you want some suggestions for what to do with those English muffins once you get your hands on them, Barr has got you covered. In a follow-up interview with WBZ, the Massachusetts native demonstrated exactly how he likes to prepare his Thomas bread before work. According to Barr, for optimal results, always toast the muffin first, spread on a heaping pat of "buttah" on top, followed by some Smuckers. The trick to getting an even coating? Take it from the professional himself: treat it like plowing snow!