Thomas' New English Muffins Feature This Popular Breakfast Flavor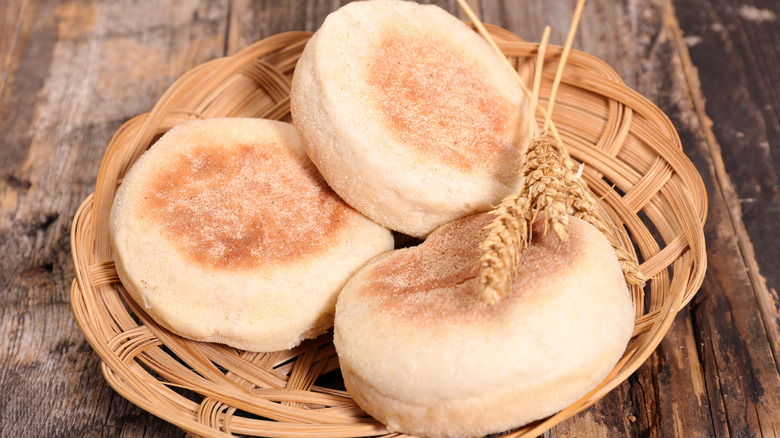 margouillat photo/Shutterstock
What's your favorite meal of the day? We love them all — snacks included — but there's just something about breakfast that really gets us jazzed. There's the hot coffee, ready to perk us up for the coming day. There are a plethora of egg dishes, from simple omelets to hearty shakshuka. And then, of course, there's the vast and wonderful world of breakfast carbs, including pancakes and French toast.
In recent years, one popular ingredient has helped transform the breakfast flavor landscape: everything bagel seasoning. Since the release of Trader Joe's Everything But the Bagel Seasoning, lovers of the savory blend of sesame and poppy seeds, sea salt, garlic, and onion have dreamed up surprising dishes including everything bagel ice cream and everything bagel potato chips. One new product release, however, shows that the "everything" craze doesn't need to stop at bagels: An intriguing new English muffin flavor from the Thomas' brand will level up your breakfast in a whole new way.
Yes, it's everything-flavored English muffins!
Unless you regularly make your own sourdough English muffins, chances are you've enjoyed the packaged variety made by the Thomas' brand. Established back in 1880, this breadmaker is known for its number-one selling Nooks & Crannies English muffins, according to the website, and has also released the soft and chewy classic in flavors like banana bread, honey wheat, cinnamon raisin, and pumpkin spice.
Thomas' latest limited-edition flavor to have caught our eye is more on the savory side: Everything English muffins. According to Chew Boom, these bagel-mimicking muffins are available in grocery stores nationwide right now at a price of $4.69 per six-count package. The muffins are baked with salt, poppy and sesame seeds, garlic, and onion (via Kroger), so if you've ever experienced the pain of an empty bottle of everything seasoning, these pre-flavored English muffins are the pick for you. Don't mind us while we buy a dozen and load them up with cream cheese and smoked salmon.