What 'Road Kill' Actually Means At Texas Roadhouse
If you're looking to scoot your boots and dig into a big hunk of steak so rare it's practically mooing, you needn't travel all the way to the Lone Star state. Texas Roadhouse is America's largest steakhouse, Restaurant Business Online reports, with more than 600 locations worldwide (via Texas Roadhouse). You may be charmed by the tributes to outlaw country star Willie Nelson, or enamored with the ability to pick your own steak. Heck, if just want to score some free peanuts and those yeast rolls with the cinnamon butter, we won't blame you. 
To keep the flair of the wild, untamed West alive, Texas Roadhouse goes above and beyond in emphasizing the "Texas" in their name. Every so often during their shift, employees will stop what they're doing and perform an impromptu line dance to modern country hits, as Country Music Nation notes. If it's your birthday, you could jump on the birthday saddle while employees loudly declare your birthday to the whole establishment. It may be kitschy, but it helps Texas Roadhouse stand out in a world where many chain restaurants seem to try to one-up each other with the same rehashed ideas. 
The theme also extends to the company's menu (via Texas Roadhouse). Instead of potato skins, it has "'tater skins." The chicken tenders are called "chicken critters." And on the menu is something many consider unpleasant-sounding: "road kill." Just what exactly happens when you order a "road kill" at Texas Roadhouse?
Road kill is just dressed-up steak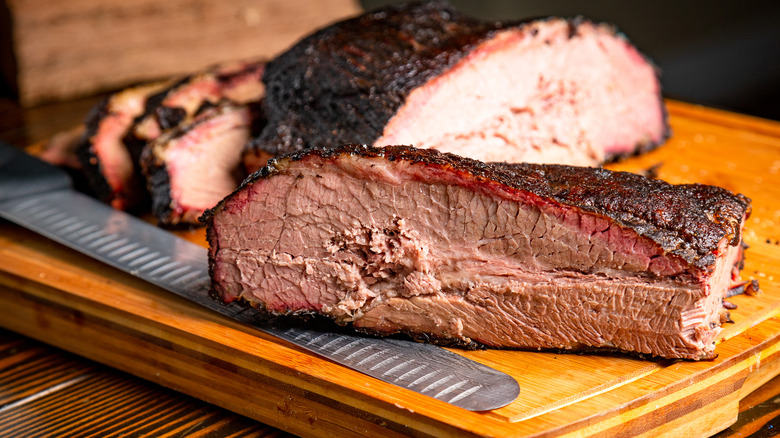 7713 Photography/Shutterstock
No need to be alarmed, reader. Texas Roadhouse's road kill isn't something a customer's Prius whacked while they were leaving the parking lot. Instead, it's an eight-ounce chopped steak smothered in sauteed onions, mushrooms, and finished off with a hefty layer of jack cheese. At $9.99 (via Fast Food Menu Prices) and including a choice of two sides, the road kill isn't a bad option if you're looking for a steak dinner, compared to the pricier cuts on the menu.  
Despite the off-putting name, it appears that many people are still willing to give the dish a try — perhaps to impress someone with their boldness. One reviewer on TripAdvisor claimed that his road kill was "quite good" and that it was more than he and his partner could eat. Another reviewer on Yelp said her husband craved the road kill often, though she herself ordered a sirloin. A Zomato reviewer known as "BigJ" commented that the road kill where they went was "pretty good," noting that it was "seasoned well and juicy." A user on ReviewStream, however, had a bit more unpleasant experience with their meal, describing the steak as ground beef that staff "formed into a tennis ball, threw it on the grill, and squashed like a tomato," with overly greasy onions and mushrooms. The user ended by warning that anyone with high cholesterol or blood pressure problems should stay away.
It seems that the quality of road kill differs from location to location.