The Reason Every Texas Roadhouse Has A Corner Dedicated To Willie Nelson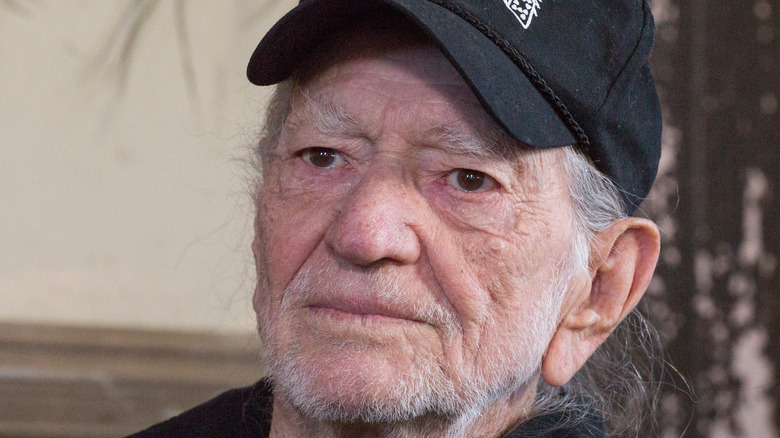 Rick Kern/Getty Images
It's Friday night, and you and your friends are out at a Texas Roadhouse for a couple of steaks and a few beers. The game's on TV, there's the rhythmic twang of country rock mixing with the rising chatter of the evening crowd, and you and your friends already have a hankering for another basket of those delicious bread rolls as you wait for your order. In between talking with your friend about some recent gossip you overheard and breaking peanut shells, you can't help but notice something out of the corner of your eye. Is that... Willie Nelson? Under the guitar-shaped neon light? Well, of course it isn't, it's just a picture of him. But right in the corner, tucked away, it seems like there's quite a shrine to the famous outlaw country singer. There are posters, a few records, a shirt or two. Someone at Texas Roadhouse must really like Willie Nelson, you think.
It's not just something you'd see at your neighborhood Texas Roadhouse. According to a company Facebook account, every Texas Roadhouse boasts a "Willie's Corner," a little section of the restaurant dedicated to old Shotgun Willie. While this may seem like a way for Texas Roadhouse to really show off its country flair, there is actually a little more behind these cozy corners than meets the eye.  
Willie Nelson and founder Kent Taylor were friends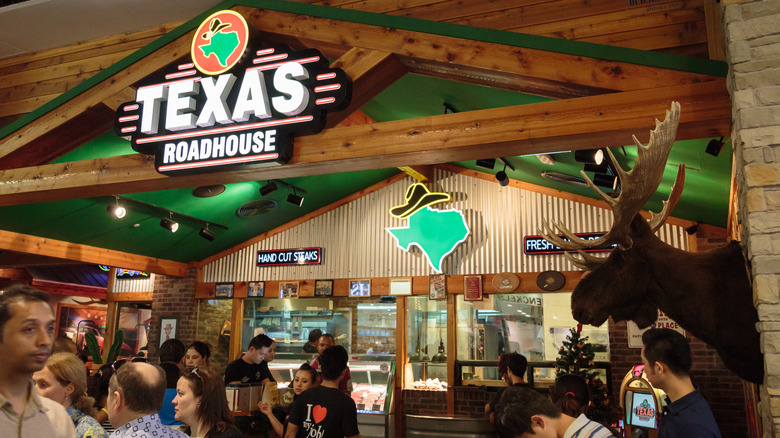 npp_studio/Shutterstock
According to the Texas Roadhouse Facebook post, the story of Willie's Corner began when the now-late founder of Texas Roadhouse Kent Taylor met Willie Nelson at a Farm Aid performance, a charity concert for farmers. Per U.S. 105, Over the years, the duo played poker every so often and struck up a friendship. As Willie's achievements in the world of country music became more prominent, Roadhouse decided to honor him by creating a designated corner of his achievements at every restaurant, a symbol of true country friendship if there ever was one. The respect for Nelson goes so far to offer guests and employees "Willie Braids," a bandana with two pigtail-braids reminiscent of the country star's classic hairstyle. In the words of Texas Roadhouse, the adorning of Nelson's hairstyle serves as a "reminder of our laid-back atmosphere and fun with purpose."
Of course, friendship isn't only just confined to a single corner or a hairstyle. In 2013, a stuffed armadillo belonging to one of Nelson's sound engineers by the name of Ol' Dillo was stolen from Willie Nelson's concert (via USA Today). As any true friend would do, and with an armadillo mascot of their own, Texas Roadhouse offered $1,000 gift cards as a reward for anyone who could help return Ol' Dillo back to the band (via BizJournals). Per a separate USA Today report, Ol' Dillo was returned safe and sound, much to Nelson, his band, and Texas Roadhouse's relief.