Joey Fatone Dishes On New Schlotzsky's Calzone Partnership And Favorite Foods - Exclusive Interview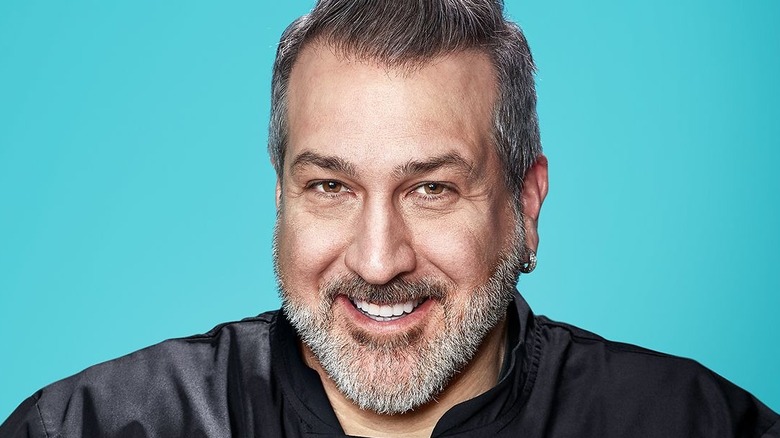 Schlotzsky's
It's not hard to recognize Joey Fatone right off the bat. For many, Fatone is most well-known as a member of *NSYNC, the boy band that took the world by storm with catchy pop hits throughout the '90s and beyond. Outside of the ever-popular pop group, Fatone has continued to make a name for himself as a Food Network host, a contestant on "Dancing with the Stars" and "The Masked Singer," and more. His latest endeavor? Spreading the news about a new line of calzones at Schlotzsky's through his love of food.
Fatone has teamed up with the sandwich and pizza franchise to show off three new calzones, and better yet? One is even named after Fatone. To learn more about the launch, Fatone's partnership, and his favorite foods, we went straight to the source. In an exclusive interview with Mashed, Joey Fatone opened up about where his love for food started, his go-to pizza toppings, and his ultimate guilty pleasure food.
Growing up Italian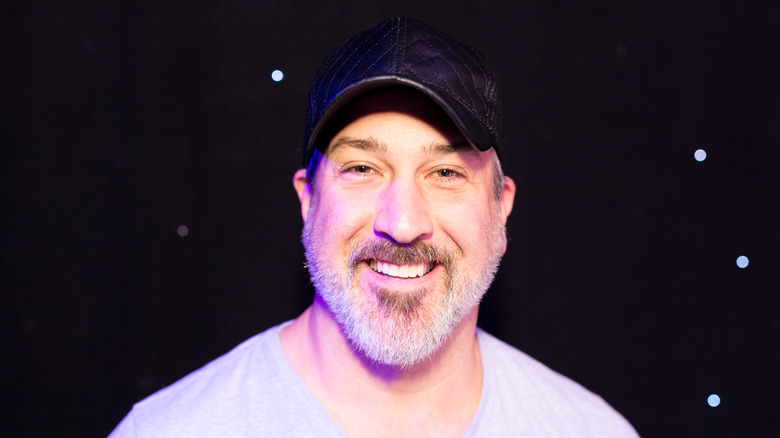 Greg Doherty/Getty Images
How did your Italian background play a role in your love of food today?
Well, look at me, I'm Italian. My dad used to make sauce and meatballs and did rice balls and all these Italian dishes. As I got older, and when I got married and had a family, I called up my dad and I go, "Hey, I've seen the sauce that you make, and I have an idea, but how do you make that?" That's how my love for cooking and love for getting into food started, I guess. I did different shows on Food Network and did a show called "Rewrapped," which was a competition. I did a show called "My Family Recipe Rocks," where I went to people's homes, and they cooked their dinner. I learned little tricks of the trade. Who doesn't love food? We all need it. We all have to have it at some point in time, whether it's healthy or not, so why not learn about it?
New calzones and partnership with Schlotzsky's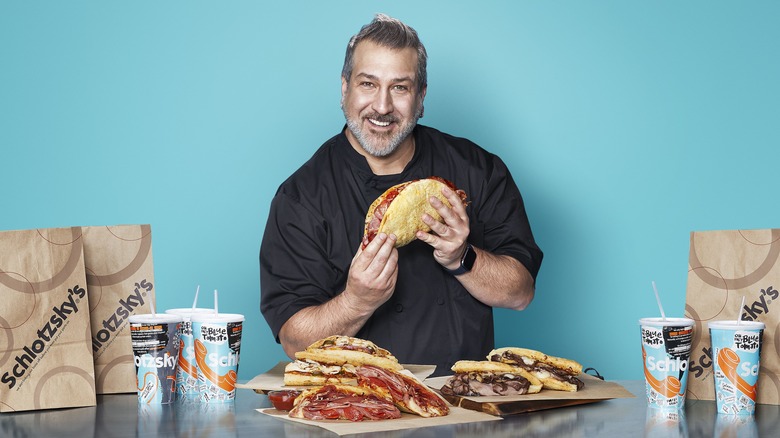 Schlotzsky's
Why'd you choose to partner with Schlotzsky's on their new line of calzones?
It just makes sense. You got a calzone, it rhymes with Fatone. Boom. There it is. I think it was a bunch of different combinations. Schlotzsky's, the company itself, I've known for many years. I live in Florida, but they don't have one in Florida. They have so many other ones in Texas, Oklahoma, I believe Atlanta. It's in all these different places, and the cool thing about it is, they came to me. "Hey, we have this calzone we'd love to do. We have three different flavors. We want to do the Italian calzone. We'd love to name it Fatone Calzone for a limited time." I was like, "You know what? That would be awesome." They're like, "Hey, we want to change your name to Joey Calzone." I was like, "Fatone Calzone, Joey Calzone? Done."
And they even gave you a chef coat!
Exactly. I got a chef coat for it. I look professional and stuff, right? It was a combination of enjoying the food, knowing about the company, and knowing that they don't take themselves serious. And that's one thing that I enjoyed about what Schlotzsky's did when they pitched me the idea saying, "We're going to do this whole thing of like world domination of calzones. We want you to do all these different scenes that were from different TV shows and you're going to play it kind of serious." I was like, "Done. I think it's great."
The other thing I said was, "I need to taste a calzone." If it doesn't taste good, then why am I even going to do this? Why am I going to put my name on something that tastes like crap? Let's be real.
When I got there, they made it fresh and I sampled the different ones. They had the barbecue chicken, they had the French onion dip calzone as well, but then they have the Italian, the Fatone calzone. It was great. It's amazing how much is really in there. It's a hearty calzone, I'm not going to lie. It has a bunch of different types of salamis, pepperoni, cheese, and you've got the famous Schlotzsky's bread, which has been around for years.
Go-to pizza toppings and a favorite type of birthday cake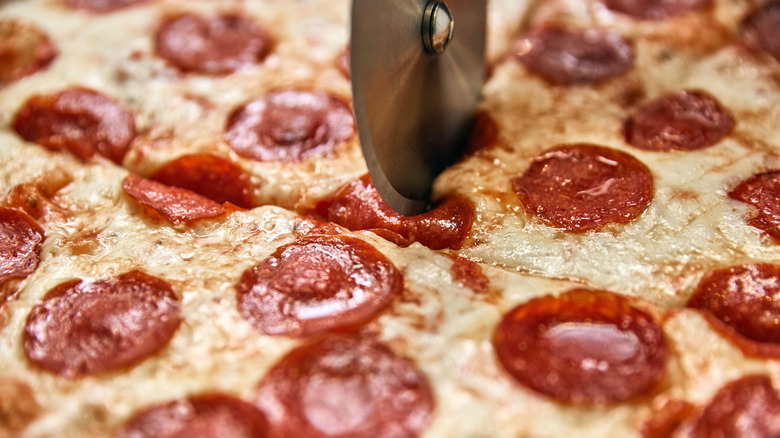 Sudhanshu92/Shutterstock
What is your all-time favorite pizza topping, or calzone topping?
I'm simple. I'm going with the pepperoni. Same thing with Schlotzsky's. I wouldn't mind throwing salami, maybe even some ham and cheese into a calzone. Keep it simple.
You celebrated your birthday recently. What is your favorite birthday cake? What is your go to every year?
Red velvet.
With cream cheese frosting?
Yep. Red velvet. The majority of my birthday cakes have been red velvet. Some of them have been chocolate. I'm a chocolate fan, but for some reason I'm always geared towards red velvet. It always tastes better the next day, when it's really cold in the fridge with the cream cheese frosting. Oh, it's so good.
Same thing for carrot cake. It's always better cold the next day.
Yeah, exactly, same thing.
Joey Fatone's ultimate guilty pleasure food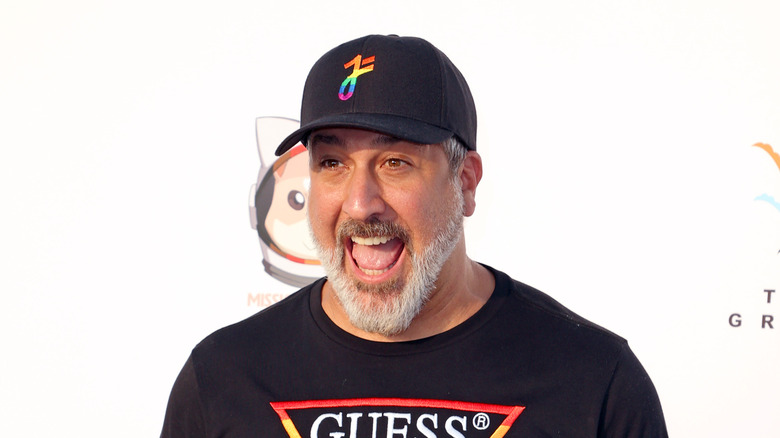 Kevin Winter/Getty Images
What is your ultimate guilty pleasure food?
I'm on a kick right now. I have no idea why, I think I went and I had it and then I bought it like an idiot: Fruity Pebbles. I don't know why. I haven't had Fruity Pebbles in years and I ate it and I was like, "Oh my God." That's like a guilty food pleasure right now. I ate it at night, for breakfast a couple of days, don't ask me why, but I just had a craving for Fruity Pebbles. No clue.
The nostalgia with it?
Yeah. You said it right. If I had a guilty pleasure, something like a staple or something that I would order all the time, definitely a chicken parm or something like that. You can't go wrong, usually people can't screw up a chicken parm, unless the sauce isn't that great. I'll choose a chicken parm.
Joey Fatone names his favorite kitchen ingredient and chefs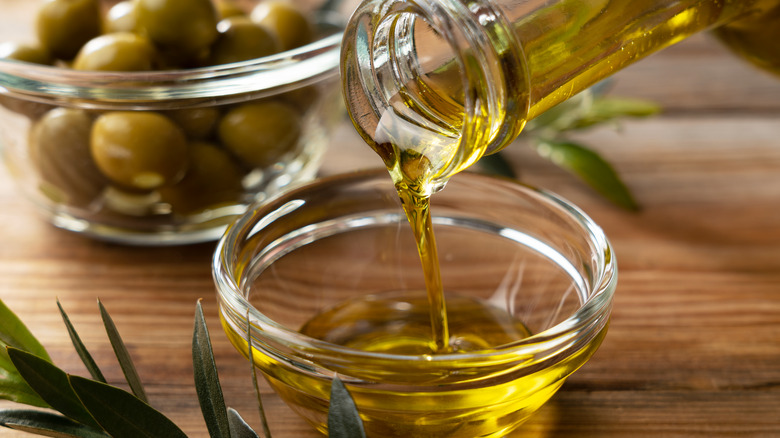 masa44/Shutterstock
What's one ingredient in the kitchen that you can't live without when you're cooking?
I'm looking at my kitchen right now. Olive oil, extra virgin olive oil. There's a lot of things you can cook with it or a lot of things you can use it for, whether it be a salad with vinegar and oil, or you can deep fry something. There's so many different ways you can use oil, or you can infuse it with different herbs or garlic, you can do a garlic oil or something like that. There are many different things you can do with it. 
Who's one chef that you'd love to have cook you dinner?
Bobby Flay. I've had Guy cook dinner many times, he's old news, whatever. Never had Bobby Flay cook me dinner. That'd be amazing. I've worked with Rachel Ray, I've never worked with Bobby Flay, but I've worked with Guy ... Oh gosh. Zakarian. There's a couple different people that are on Food Network that I've actually worked with or been around. Alex [Guarnaschelli] is another one, she's a great chef, so a bunch of different people. It's more or less hopefully getting Bobby. Come on, Bobby. He's from New York, too. 
Joey Fatone on The Masked Singer and Common Knowledge
A couple years ago you competed on "The Masked Singer." Would you ever do a competition show like that again?
Depending on the show. I did "Dancing with the Stars." I thought that was fun. They asked me 80 million times, I turned it down, and finally, I did season 4. It's at Season 30 or something like that now, isn't it? Geez ... I thought this masked thing was fun. It was this random, crazy [idea of] "Let's get into a costume, no one's going to know it's you, and have fun with it." It's one of those things where I would do those kind of shows more than your typical reality show of "Let's see your life and what it's about. Let's go behind the scenes." It's more competition shows, which are fun.
What is one surprising thing that you learned from hosting "Common Knowledge?"
I don't know a lot. I proofread to read things phonetically, but I never really pay attention to the questions or the answers until I get on stage, until we ask these questions. Sometimes, I am surprised at the answers and I'm trying to guess with them, I really am, on a lot of those things. There's some times where you go, "Okay, wow, that's interesting. How did you not get that?"
One of the things I've learned is patience, as far as talking and reading a teleprompter and trying to multitask, because people don't know that when I'm standing there on stage, you have two teams of three, I have monitors everywhere for points, questions, all this other stuff. I've got to be aware, and then I have two people yelling in my ear at the same time. How do you do that? I have no idea, but I do it, and then I have to make sure the contestants are comfortable. [All these things], I'm learning to multitask at the same time, by doing that, really focusing, and trying to learn what to do when a light bulb breaks in the ceiling and you have to get it out without the bulb, and how do you get that out? Cut a potato, shut off the power, stick a potato in there, unscrew it, and take it out.
Joey Fatone on the potential of a future NSYNC reunion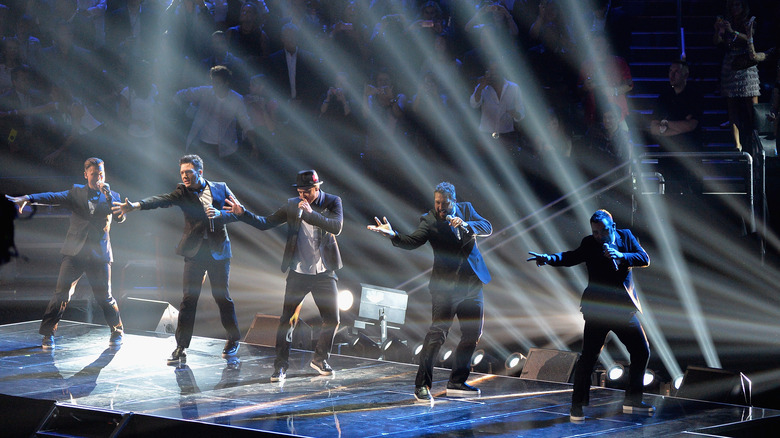 Rick Diamond/Getty Images
You did The After Party event last year in Vegas, which looked like a blast. So we have to ask, any chance for a full NSYNC reunion in the future?
Good luck on that one. We always try to have combinations of different people and that's what the After Parties were, because I love performing. We took, Nick Carter and AJ [McLean] from [The Backstreet Boys], we took Wanya from Boyz II Men, [and] matched the four of us together. Sometimes it's different combinations when we do a show like that, it's almost like a Rat Pack idea. We were in Arizona not too long ago, and it was myself, Wanya, I believe it was Chris [Kirkpatrick] and Nick, and then Shawn Stockman came out from Boyz II Men. We've had different people come on out. Ryan Cabrera has come on out. Dee Snider has come on out. It's random, different groups of people, depending on the availability, depending on what we do.
As far as NSYNC is concerned, never say never, but I know right now that nothing's happening. No talks about it, because everybody's been doing their own thing. Chris is on "Big Brother" right now. Lance has two kid twins. JC's been writing and producing. Justin's been out writing and producing. [I'm] doing Schlotzsky's, so it's a little bit crazy as far as getting us together to sit down and say, "Hey, what do we want to do?" or when are we going to do it, or if we're going to do it.
Upcoming projects in the works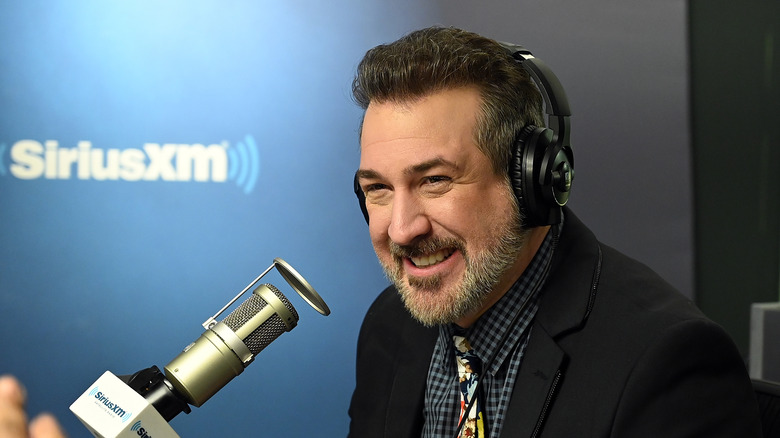 Slaven Vlasic/Getty Images
What are some other upcoming projects in the works that you're able to share about?
[We're currently focusing on] this right now with Schlotzsky's, it's called a Fatone Calzone. My name is Joey Calzone on every social media, pretty much. If you look at all my stuff, I changed my name. Hopefully, [we'll do] some more After Parties. Coming up, I just signed on to do stuff for the Food and Wine Festival over at Epcot [Center in Disney World], another "Joey Fatone and Friends" out there.
Hopefully, [we'll] shoot more episodes of "Common Knowledge," which we haven't talked about yet. We're still in the works to see what we're doing with that. Hopefully, [we'll] do a whole bunch of new ones. What else? There's a whole bunch of things. There's a lot of stuff in the works that's all been creative. We did this boy band Christmas thing last year. We're going to probably pitch and do some more stuff like that again for this Christmas, but you got to start gearing up now, which is insane to start pitching stuff [this early in the year], but you got to do what you got to do ... A lot more hopefully performing and touring, as far as with either After Party or Joey Fatone and Friends. 
The new Schlotzsky's line of freshly baked calzones is available now. The Fatone Calzone is available for a limited time. You can follow the newly-christened Joey Calzone on Instagram.