Here's Andrew Zimmern's Favorite Super Bowl Recipe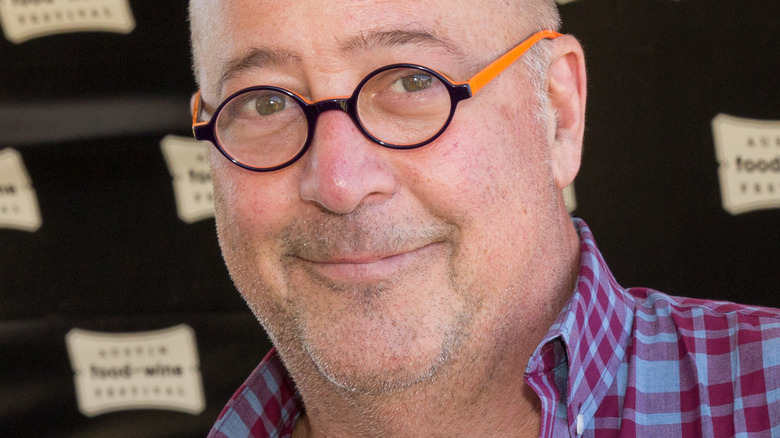 Rick Kern/Getty Images
It's no secret that Andrew Zimmern is a fan of football. In fact, Zimmern has two restaurants — Canteen Hoagies and Canteen Rotisserie — at the U.S. Bank Stadium, home to the Minnesota Vikings, and what Zimmern has dubbed the "best sports facility in the world" on his website. But since his "hometown team" is not in this year's Super Bowl, the celebrity chef shared on his substack newsletter, Andrew Zimmern's Spilled Milk, that he will be using it as an excuse to make all the "finger foods and one pot meals" he so enjoys, as he joins the millions of NFL fans on Sunday to watch the championship game from the comfort of his couch.
But unlike the masses who will be noshing on chicken wings from the likes of Buffalo Wild Wings and doing their part to help Super Bowl watchers hit that eye popping stat of 1.42 billion chicken wings eaten on game day that the National Chicken Council loves to boast about, Zimmern is sharing an alternative snack food. And before you cry sacrilege, don't worry. It still pairs well with the million of gallons of beer viewers of the big game will guzzle as the Cincinnati Bengals and Los Angeles Rams face off. In fact, Zimmern took to Twitter to call this snack his "favorite Super Bowl recipe."
Firecracker shrimp and blue cheese dressing
In a tweet that tagged several other celebrity chefs and implored them to share their own Super Bowl snack favorites, the "Bizarre Foods" host revealed his own pick, along with a link to the recipe for his firecracker shrimp with blue cheese dressing. Zimmern detailed the dish on his Spilled Milk newsletter, writing that instead of wings, he would be munching on this fruit of the sea during the Super Bowl. He even went the extra yard to boast, "These firecracker shrimp are better than any Buffalo wings— trust me." They definitely sound yummy — battered, fried shrimp tossed in equal parts butter and hot sauce? Yes please. 
We know what you are thinking. Is this a Hail Mary plea to get Super Bowl watchers to eat something other than chicken wings? Maybe, or maybe they really are that good. There is only way to find out. Zimmern assures his fans that these shrimp still bring the heat and give you the kick your taste buds enjoy. In fact, if you make this recipe, Zimmern encourages the use of Crystal brand hot sauce. He wrote, "It's the best supermarket bottled brand around; perfectly balanced between heat, vinegary tartness and peppery flavor. Plus, it's available everywhere."