Every Trader Joe's Puff, Ranked From Worst To Best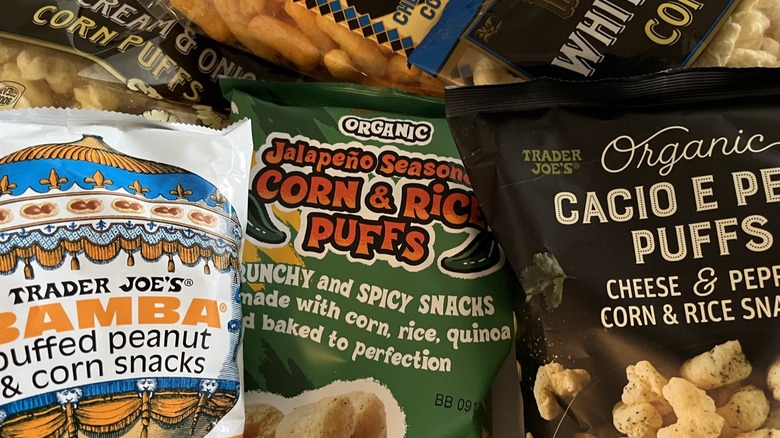 Sarah Gardner/Mashed
The savory snack hierarchy tends to revolve around potato chips, pretzels, and popcorn. While this classic trifecta may be a supermarket staple, next time you wheel your cart to the snack aisle, don't pass up the puffs – the humble puff deserves to be in the conversation. Whether made of corn or rice (or even a combination of both), tube shaped or cloud-like, sweet, spicy, tangy, or cheesy, they surpass their peers in myriad ways. Unlike potato chips, they won't cover you in crumbs, or to quote the Pringles rap dude, "get your hand full of greases." Continuing the '90s references, they're not going to make you thirsty, at least not as much as salty pretzels will. And if you're a fan of popcorn, puffs are more substantial, plus you won't get those pesky kernels stuck in your teeth.
If a puff sounds pleasing, we suggest heading to Trader Joe's. While you won't find your standard Cheez Doodles or Pirate's Booty, TJ's offers a wide assortment of textures and flavors that are sure to satisfy snacking needs. But which Trader Joe's puff is right for you? Well, we've tried them all and compiled our findings below in a ranking from worst to best.
7. World Puffiest Sour Cream & Onion Corn Puffs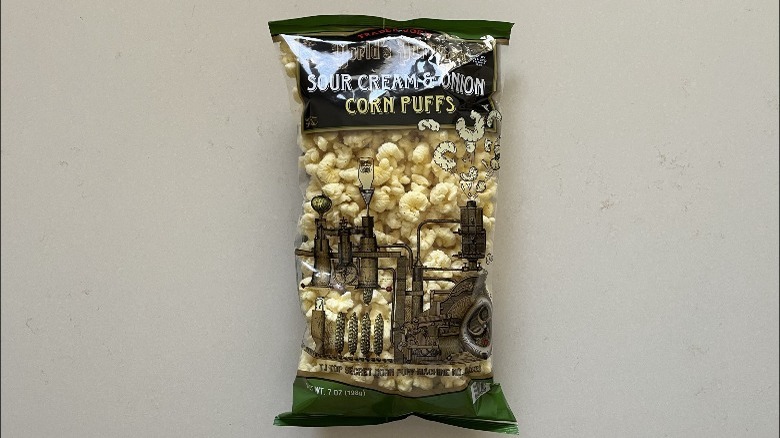 Sarah Gardner/Mashed
First of all, let's dispel the notion that these deserve the "world's puffiest" title when we all know the belt belongs to Sean "P. Diddy" Combs. But as to the puffs themselves: On the plus side, this bag is an impressive 7 ounces, so there are plenty of puffs, and the price tag of $2.29 seems reasonable. The corn puffs are indeed puffy, though the texture is oddly in the terrain of packing peanuts. That slightly bouncy sturdiness disintegrates almost as soon as the mastication process begins, and then the consistency becomes oddly gummy.
Things aren't much better when it comes to flavor. The specks of parsley flakes seem to indicate there's going to be a party in your mouth, but unfortunately that invitation takes some time to arrive. You really need to chomp down on a fistful of corn puffs to get a hint of that sour cream tang and oniony sweetness. It's possible we got a severely under-seasoned bag, but we're not motivated to repeat the purchase based on this sampling.
The World's Puffiest Sour Cream & Onion Corn Puffs bag features a cartoon image of an old-timey steampunk machine with the description "TJ Top Secret Corn Puff Machine No 00358." Unfortunately, this contraption is in need of some repairs.
6. Organic Cacio E Pepe Puffs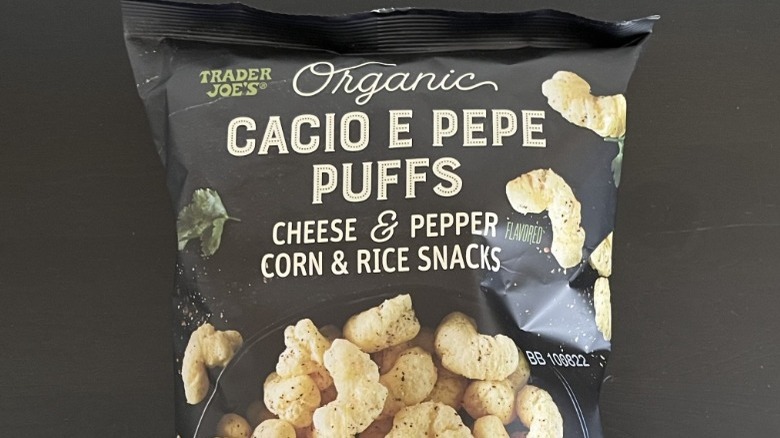 Sarah Gardner/Mashed
Few pasta preparations can best the simple yet spectactular cacio e pepe. The three-ingredient roster of butter, pepper, and parmesan (or pecorino) seems basic, but the flavor notes the unified trio delivers come together like Crosby, Stills, and Nash, which we guess makes Neil Young the spaghetti. Trader Joe's is well aware of the effectiveness of this triple threat, offering multiple cacio e pepe options including pasta sauce and ravioli. The latest addition on the TJ shelves is the Organic Cacio e Pepe Puffs, and we were excited to give them a try.
These gluten free puffs are made with both corn and rice and pack a pleasant crunch. Unlike the World's Puffiest Sour Cream & Onion Corn Puffs, the amount of flavoring sprinkled on these is far from lacking. Initially, your palate will settle in with a raw milk-like taste. Suddenly, a sharp cheesy tang takes over, but that soon subsides making way for mellow, nutty pecorino. The heat of the visible black pepper specks kicks in at the end and lingers on the tongue. It's certainly a roller coaster ride of tastes, and after a few bites we were ready to get off. While we always appreciate Trader Joe's impulse to get weird, this was just too much. 
These are worth a try for their unique flavor profile, but we wouldn't put them in the "cravable" category — nor the cacio e pepe category for that matter, since they lack the sauce's all-important creaminess.
5. World's Puffiest White Cheddar Corn Puffs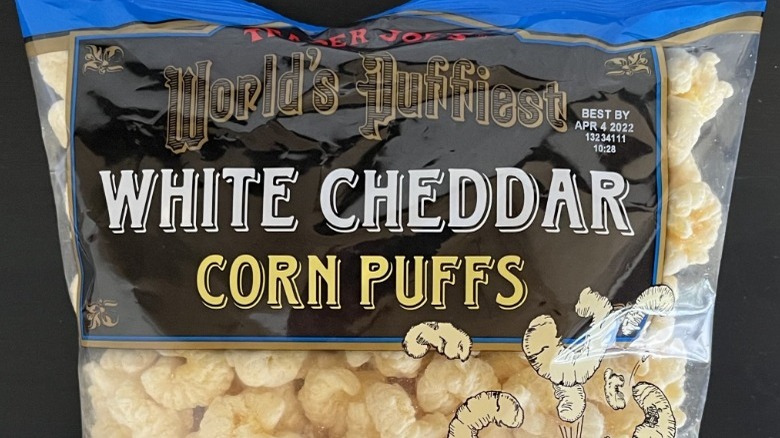 Sarah Gardner/Mashed
White cheddar is a familiar flavor for popcorn as well as the signature seasoning for Pirate's Booty, which is a similar snacker to these puffs. Unlike its sibling, The World's Puffiest Sour Cream & Onion Corn Puffs, these actually deliver on the flavor front, providing ample sharp cheesiness with every bite. But sadly, these puffs share that unfortunate trait of quickly dissolving upon saliva impact.
Thus, it's no surprise that The World's Puffiest White Cheddar Corn Puffs don't compare texturally to the sturdier Pirate's Booty, which is able to maintain a balance of crunchy and chewy. (It should be noted that Pirate's Booty also contains rice, to which we can which likely attribute its sturdier structure). Still, we couldn't resist popping fistfuls of The World's Puffiest White Cheddar Corn Puffs into our gullet, and considering the value, we could see ourselves buying another bag of these if our snack selection is lacking and we happen to be on a Trader Joe's run.
4. Dark Chocolate Bamba Snacks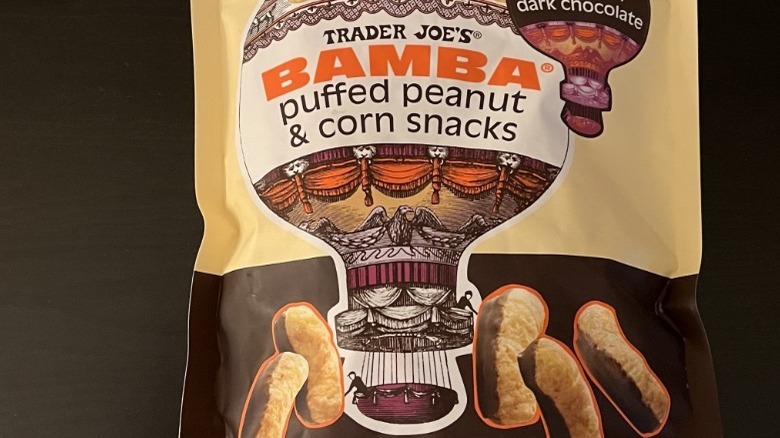 Sarah Gardner/Mashed
Peanut butter and chocolate is a classic food pairing, but the key to the combination is balancing the interplay between salty and sweet. It's this symmetry that makes Reese's Peanut Butter Cups a candy bar all-timer, but unfortunately for Trader Joe's Dark Chocolate Bamba Snacks, that ratio is completely out of whack. The puffed peanut corn snack, each puff approximately the size of a child's pinkie finger, is completely overwhelmed by the single-sided coating of rich dark chocolate.
Does it taste bad? Absolutely not. If you're a fan of dark chocolate, this definitely hits the bittersweet spot. But if you're making this purchase due to your love of Trader Joe's Bamba Snacks, you may be in for some disappointment. The puffs provide a bit of texture and a faint hint of peanut butter, but in this equation it's really more of an afterthought. The result is almost like a dark chocolate peanut butter Nestle Crunch bar, which, again, is by no means terrible, but it's not what we had in mind when we made our purchase. It makes sense that this wasn't placed in the snack aisle, but instead alongside some sweet treats near the register. However it was a surprise that the nutritional info is pretty much on par with your standard Bamba Snacks. If you're at Trader Joe's and looking for a chocolate and peanut butter pleaser, you're better off sticking with one of their nut butter cups.
3. Reduced Fat Cheese Puffs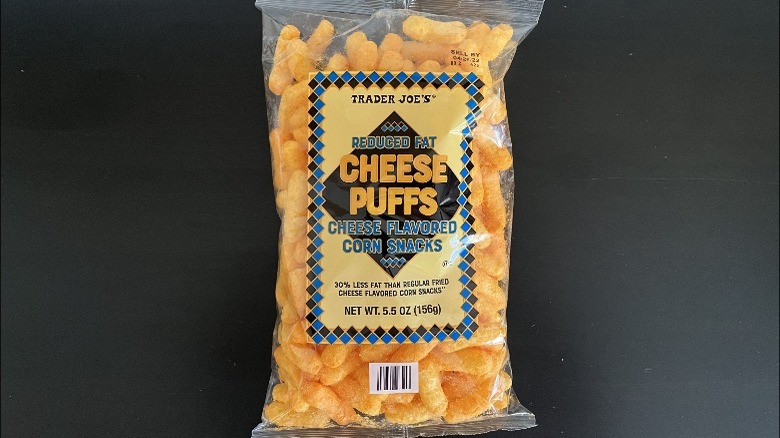 Sarah Gardner/Mashed
Trader Joe's gets plenty of well-deserved love for keeping their aisles stocked with culinary obscurities like the Organic Cacio e Pepe Puffs. But if you want to keep your snack game simple, they've got you covered with that too. Take these cheese puffs, which are just your standard tube-shaped cheddar corn snack with a neon orange coating that will be visually familiar to fans of Cheeze Doodles and Cheetos — with one exception. As its name suggests, these puffs don't pack as much fat as its competitors, specifically 45% less fat (6 grams as opposed to 11 grams) per package.
Lower fat usually means a sacrifice in flavor and/or texture, but that is not the case here. You're still treated to a delightfully airy crunch, and while they may not be as dusty as the name brands, there is ample cheese flavor baked into each puff. We're happy to tap these as a regular addition to our pantry collection to have on hand for a snack that won't make us feel too guilty.
2. Bamba Peanut Snacks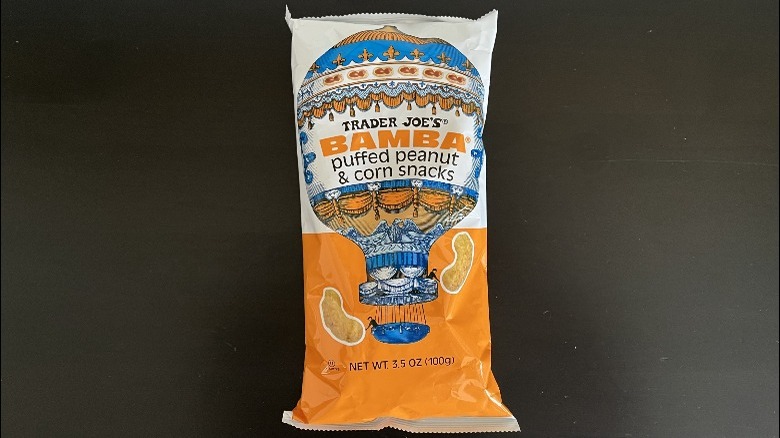 Sarah Gardner/Mashed
When Trader Joe's introduced Bamba Peanut Snacks in 2017, it was a revelation for those who had yet to try the Israeli sensation. What makes these four-ingredient (corn grits, peanut paste, palm oil, and salt) puffs so special is that the crunch gives way to stick-your-palate peanut buttery goodness that is irresistible to both young kids (Duff Goldman's daughter happens to be a huge fan) and adults alike. At a price of less than a buck a bag, these are one of the better bargains at TJ's.
According to Trader Joe's, the corn grits are popped, chopped (they're cut to resemble peanuts), and air baked to ensure maximum crunch. They're then coated with the hot liquid combo of peanut paste, palm oil, and salt (basically peanut butter), and that's how the magic happens. Sweet and salty, crunchy and sticky, these are the snacks we wish had been a staple of our childhood. If the creative minds at Trader Joe's can figure some sort of off-the-beaten path Norwegian jelly dip to pair these with, it would be a match made in heaven.
1. Organic Jalapeño Seasoned Corn & Rice Puffs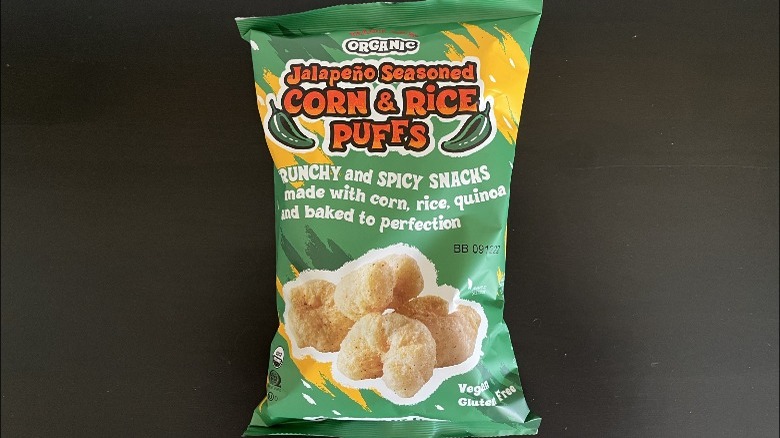 Sarah Gardner/Mashed
If you don't like spicy snacks, you'll still like Trader Joe's Organic Jalapeño Seasoned Corn and Rice Puffs. But if you do like spicy snacks, you'll love these puffs. They're a guaranteed crowd-pleaser (vegans and those who are gluten free can happily indulge) and an excellent entrypoint for kids or picky eaters in general to get accustomed to intense, high-octane flavors.
There's a gentle heat from the seasoning that lingers on the palate, but it isn't especially aggressive, and it will likely have the effect of you wanting more. Jalapeño pepper powder likely brings that spice, but the distinct pepper flavor is amplified by the addition of green bell pepper powder.
Beyond corn, long grain rice flour and quinoa are base elements in the puff's anatomy. All combined, they provide a neutral foundation for the addition of heat. There's also a subtle sweetness to this crispy indulgence that is reminiscent of a barbecue-flavored snack. Crunchy to the end, with a balanced and well-integrated spicy sweet flavor profile, we are officially declaring this the puff de résistance. Needless to say, we went through this 4.9-ounce bag almost as fast as you can say Organic Jalapeño Seasoned Corn and Rice Puffs.