Why You Might Recognize The Song In Bud Light's 2022 Super Bowl Commercial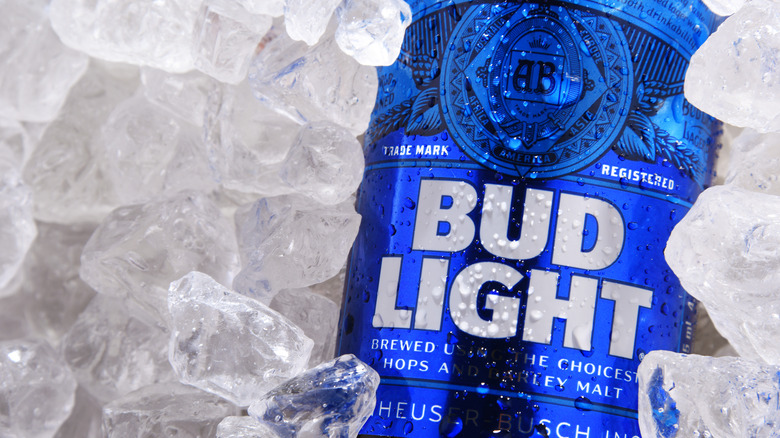 monticello/Shutterstock
Budweiser's 2022 Super Bowl commercial is both a nod to the past and a glimpse at the future. Previous Budweiser Super Bowl commercials have featured everything from frogs to lemons, as was the case in the brand's 2021 ad for its lemonade hard seltzer (which some people called the best of the night). This year's Budweiser ad, however, is all about Next, Bud Light's new low-calorie beer. 
The commercial, called "Zero In The Way Of Possibility," highlights Bud Light Next's zero-carb count. According to the brand's website, this product is all about the future, with the beverage being described as "brewed for what's next." With 80 calories and 4% ABV, the malted barley and rice-based beer hit the shelves at the end of January, just in time for the annual Super Bowl festivities, per CNN. For its 2022 ad, Bud Light enlisted major star power from the past to ring in excitement for the new product.
The ad features a Barbra Streisand song
CNN reports that the new seltzer-inspired beer known as Bud Light Next is meant to lure in Gen Z, many members of which have just reached the legal drinking age. And what better song is there to symbolize moving forward than Barbra Streisand's "Gotta Move," which talks about finding "some brand new place" and changing your life? This is the tune that plays during the new Bud Light Next Super Bowl commercial, which depicts young people leaving their current situations and heading to a new world.
Streisand posted the one-minute video on her Instagram account with the caption, "So great to see 'Gotta Move' still resonating with the next generation. Happy to be a part of @budlight NEXT's new Super Bowl spot for their first-ever beer with zero carbs." It didn't only capture the attention of Gen Z viewers: Many commenters reminisced about hearing the '60s song when they were younger and called it "timeless."