Valentine's Day Chocolate Can Have A Different Meaning In Japan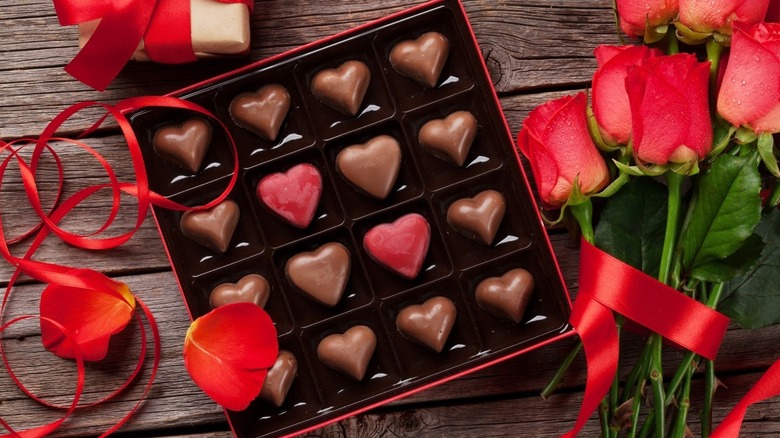 Evgeny Karandaev/Shutterstock
According to one of the many legends surrounding the origin of Valentine's Day, St. Valentine — after whom the holiday is celebrated — was a Roman priest who went against the emperor's rule which forbade soldiers from marrying by agreeing to perform weddings for them (via Real Simple). Since then, St. Valentine has become a patron of love, and Valentine's Day is firmly associated with all things romantic.
In most countries including the U.S., Valentine's Day is synonymous with lovers, exchanging presents, sweet declarations of love, romantic dinners, and chocolate. In Japan, however, while chocolate is of paramount importance in V-Day celebrations, it's not always a romantic gesture (via Bokksu). When the concept of Valentine's Day was brought to Japan by a chocolate maker in the 1950s, the marketing advertisements were interpreted in a way that made it seem like women were supposed to give chocolates and present to men (via Timeout). Today, Valentine's Day is a day for women to give presents to men. Different kinds of chocolates are given to different people, however, and the sweets are not always seen as a sign of romance.
Valentine's Day is followed by White Day a month later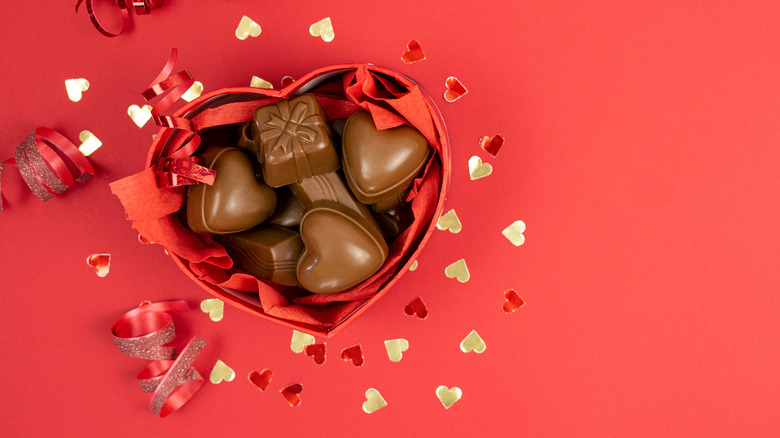 Maria Castellanos/Shutterstock
According to Bokksu, there mainly exist three kinds of chocolates that women give to men on Valentine's Day. Giri choco, also known as obligatory chocolate, is given to male colleagues as a sign of gratitude or friendship. Friendship chocolate, or tomo choco, as the name suggests, is exchanged between friends and can be given to male or female friends. Neither is seen as a romantic gesture or a proclamation of love. It is honmei choco, or true love chocolate, which is given to partners, the "special someones," and people you potentially fancy. Honmei choco is sometimes even made by hand to add an extra touch of affection.
While February 14 is when women give chocolates to men, the holiday is followed by what is called White Day a month later, on March 14. According to Forbes, a small Japanese shop by the name of Ishimura Manseido came up with the concept of having a day when men could return the favor of getting chocolates on Valentine's Day, regardless of whether it was in response to a gesture that was romantic, friendly, or obligatory. In 1978, the shop launched what was then called the Marshmallow Day and sold sweet marshmallows stuffed with chocolate which men could give to women. Today, White Day is the day when men return the Valentine's Day favor by giving women a sweet present that is of equivalent value to the giri, tomo, or honmei choco which they received.