Hershey's Has Gone Pastel For Valentine's Day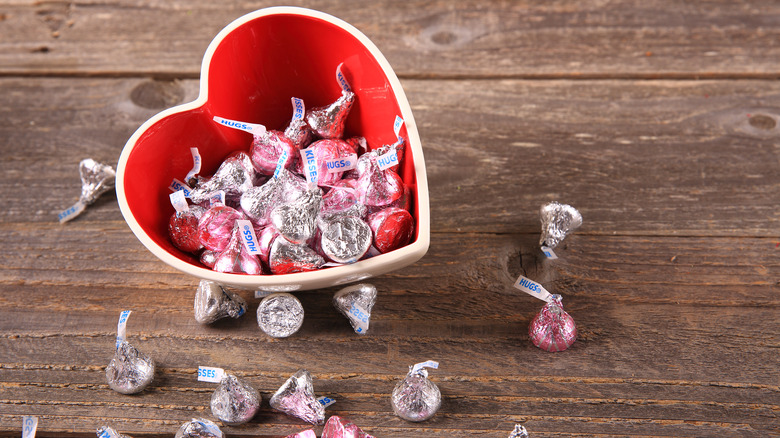 Nadia Yong/Shutterstock
If there's anything more iconic than heart-shaped chocolates packed inside a red-colored heart-shaped box for Valentine's Day, it's got to be a bag of Hershey's Kisses — they are called Kisses, after all! Although the candy was invented decades before, in 1907, Kisses first got a Valentine's Day spin in 1986 when the chocolate company ditched the silver foil for pink and red-colored pastel alternatives (via Time). In 2014, Hershey's reports that their Kisses happened to be the second-most sought-after candy for Valentine's Day. It's no surprise, then, that the Hershey's 2022 V-Day lineup of sweet candies involves a box of Kisses, too.
According to Brand Eating, Hershey is selling a Valentine's Day themed box of milk chocolate Kisses, but with a twist: one pack comes with two 5-oz boxes so that you can share it with a friend or romantic partner (or eat both yourself. Who's to judge?). Also in the V-Day collection is a single giant 7-oz piece of the Hershey's Kisses wrapped in a red foil fitting of the holiday, Roses Milk Chocolate Kisses with a truffle-like filling, the dark chocolate Lava Cake Kisses with a gooey center, and a bag of Conversation Milk Chocolate Kisses with little Valentine's Day-themed messages written on the pastel-colored wrappers.
More Hershey's Valentine's Day candies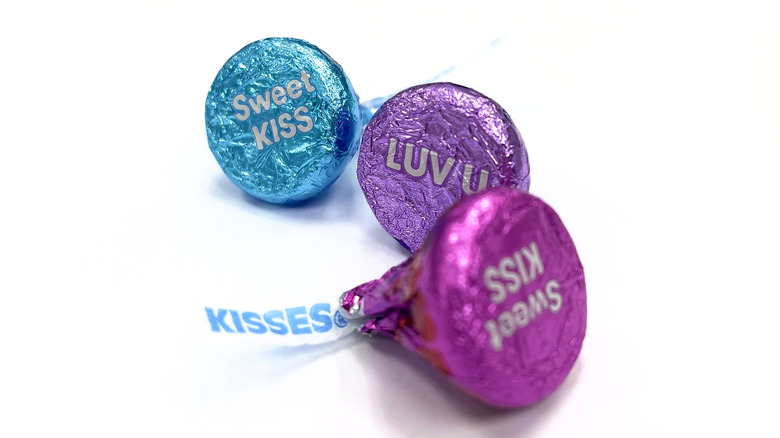 Sibra Mallisi Yussof/Shutterstock
While the Hershey's Valentine's Day collection of Kisses is an impressive feat in itself, the chocolate company has given several other candies a pastel makeover. If your partner is a fan of Reese's, there's a peanut butter-filled V-Day option for that, too. The Reese's Peanut Butter Cups Blossom-Top, reports Brand Eating, is a bag of miniature cups with milk chocolate on the bottom, a pink-colored cream on the top, and a peanut butter filling inside. Or, there's the pack of two 8-ounce pieces of giant heart-shaped Reese's milk chocolate peanut butter cups with the snazzy option of writing a personalized message on the wrapper for your date.
Other heart-shaped Valentine's Day candies include an assorted bag of Hershey's milk and dark chocolates with Reese's peanut butter cups all in pastel foils, and extra creamy milk chocolate hearts with a strawberry creme filling. Brand Eating also reports heart-shaped Cookies 'N' Creme chocolates with pink cookie pieces inside, as well as more Reese's White Creme Hearts with a peanut butter filling. Per the Reese's page at Hersheyland, a giant peanut butter cup shaped like a rose is also up for grabs if you'd like to swap flowers with an edible rose or two this Valentine's Day. Other sweet treats include pink-colored miniature Raspberry Creme Kit Kats, too.