Cookies 'N' Cream Stuffed Brownies Recipe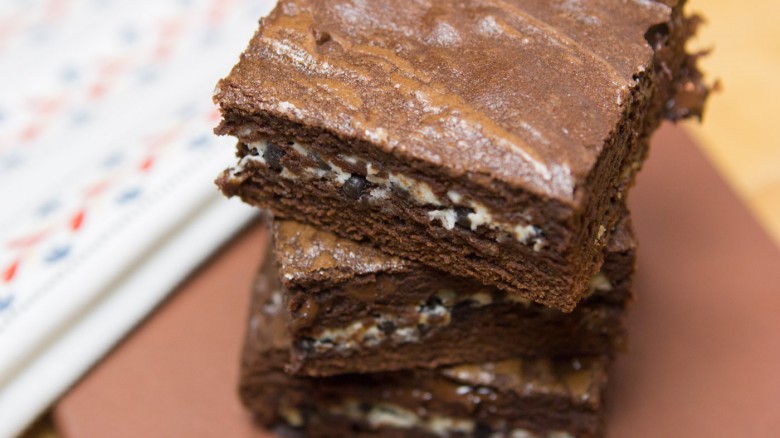 Prep time: 10 minutes. Cook time: 35 minutes. Servings: 9 brownies.
"Cookies 'n' cream" often refers to vanilla ice cream delightfully speckled with crushed chocolate creme cookies. While this flavor is incredibly popular, its origins remain murky since not much information can be found on the topic. One source cites 1983 as the year in which cookies 'n' cream (made with Oreo cookies) became popular.
Growing up, cookies 'n' cream was my favorite ice cream flavor of choice whenever my family took trips to the ice cream parlor. Large chunks of chocolate creme sandwich cookies crumbled into perfectly lush, creamy ice cream seemed to be the stuff dreams were made of. Then I discovered Hershey's cookies 'n' creme candy bar and my young life changed yet again — for the better. The ice cream flavor I adored could now be enjoyed in candy bar form? Amazing.
As I owe so much of my innocent childhood bliss to the phenomenon that is cookies 'n' cream, I intend this brownie recipe to be a humble homage to the ubiquitous flavor. Here, rich cocoa powder, dark chocolate, butter (of course), eggs, and flour make up the batter for a decadent, fudgy brownie crumb, while Hershey's famous candy bars melt between the brownie layers, harking back to some sweet nostalgia.
Ingredients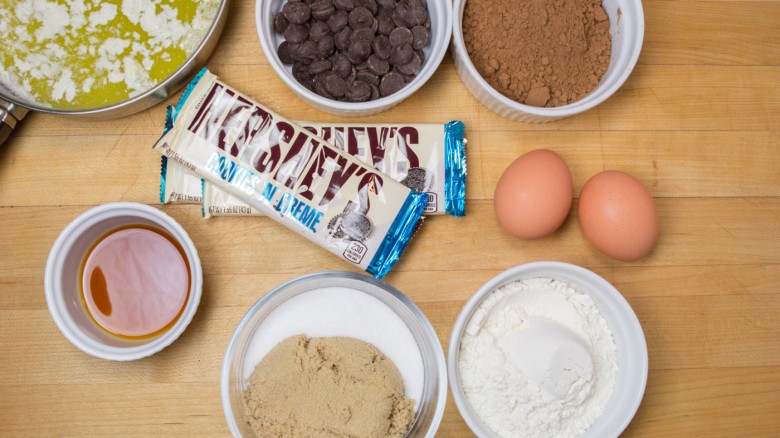 Shopping list


1 stick unsalted butter, melted plus more for pan


½ cup granulated sugar


½ cup packed light brown sugar


1 ½ teaspoons vanilla extract


2 large eggs


kosher salt


½ cup unsweetened cocoa powder


¾ cup all-purpose flour


½ cup dark chocolate chips


3 Hershey's cookies 'n' creme candy bars


Equipment


8-by-8 baking pan


aluminum foil


Make batter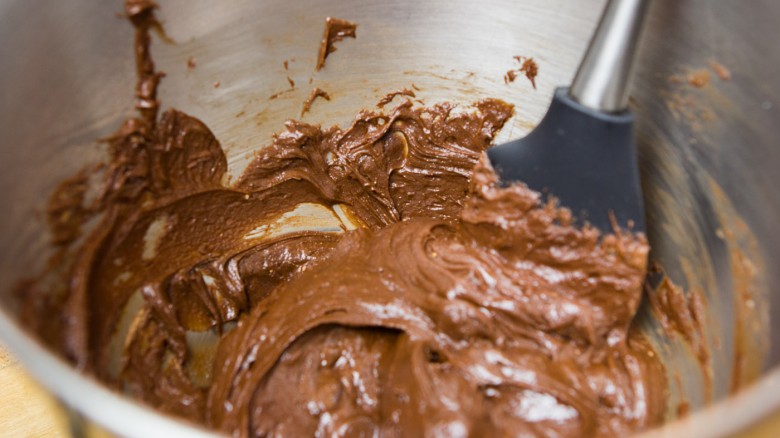 Preheat the oven to 350 degrees. Line an 8-by-8 baking pan with foil and grease generously. Set aside. In the bowl of a stand mixer fitted with the paddle attachment, mix together the butter, granulated sugar, brown sugar, vanilla extract, and eggs on medium speed until fully combined. Add a pinch of salt and the cocoa powder and mix together until fully incorporated. Reduce the speed to low, add the flour, and mix together until just incorporated. Stir in the chocolate by hand.
Prepare brownies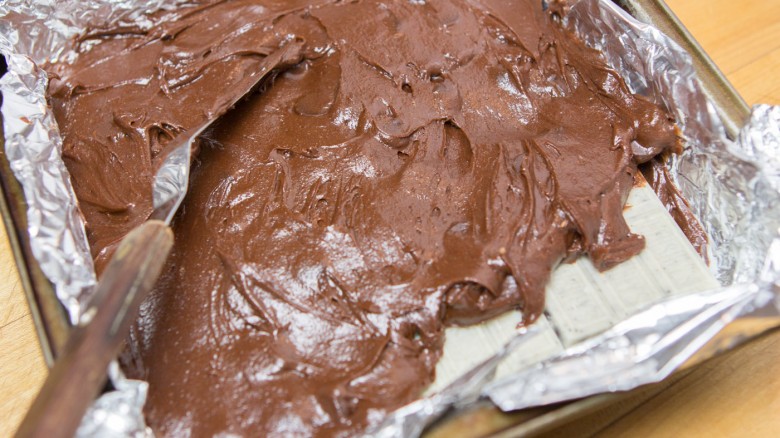 Using a spatula, spread half of the batter in the prepared pan and top with the candy bars. Top with the remaining batter and spread evenly.
Bake brownies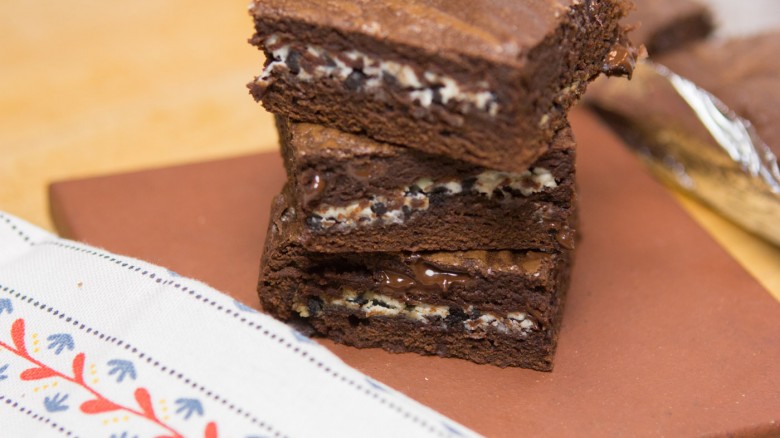 Transfer the brownies to the middle rack of the oven and bake until the center is almost set, 35-40 minutes. Set aside to cool completely before slicing into squares.