Here's What NFL Quarterback Joe Burrow Eats In A Day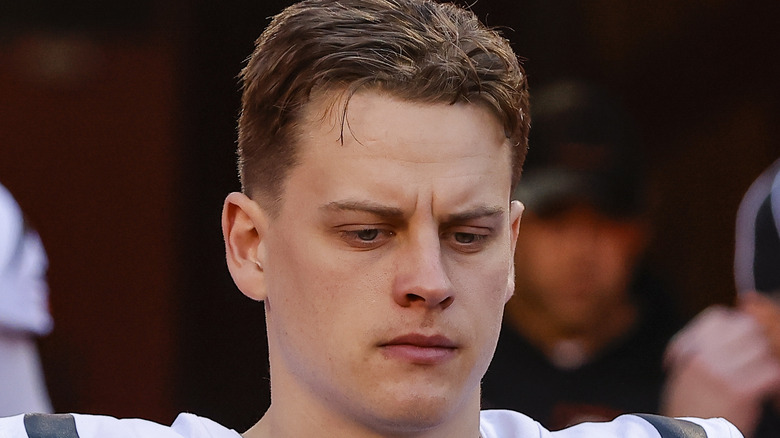 David Eulitt/Getty Images
Joe Burrow, the 2019 Heisman Trophy winner and first round draft pick for the Cincinnati Bengals, makes a bold statement on and off the field. From his college football days at LSU to guiding the Bengals to Super Bowl LVI, his passion for the game drives the success of "Franchise Joey" (per ESPN). While he has a hunger for that Lombardi Trophy, Burrow has a little help whipping up tasty food to fuel his athletic prowess.
According to WCPO in Cincinnati, Burrow used his first big paycheck to hire himself a personal chef, one with quite a culinary pedigree. Jose Salazar, James Beard nominee and chef/owner of several Cincinnati restaurants (per Cincinnati USA), cooks for Burrow six days a week. Even though Salazar has many chefs in his kitchen, he cooks Burrow's meals personally.
From the Saturday cheat day to everyday meals, Salazar commented that Burrow loves food. Although the meals focus on lean proteins and avoid dairy, the portions are far from small. Salazar commented that some meals can have one pound of protein. Since Burrow needs to keep his weight up, the portions are large and can be full of grains and vegetables. Although the chef cannot take credit for Burrow's accuracy or play calling, some might wonder if having a celebrated chef on speed dial has been the fuel to drive a successful season.
Did Joe Burrow's college career spur a love of great food?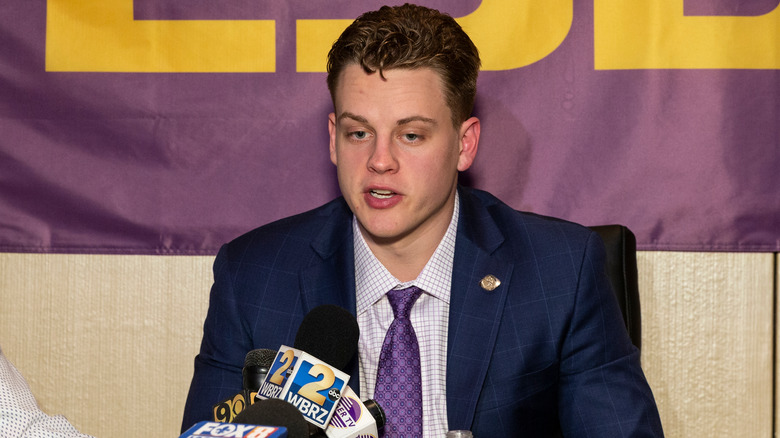 lev radin/Shutterstock
While Joe Burrow might have a celebrated chef making his breakfast, lunch, and dinner, the flavor of those meals seems to have a particular direction. As Jose Salazar told WCPO, Burrow likes it spicy, including anything with chili peppers. Given that Burrow was the LSU quarterback, it seems that Louisiana cuisine might have influenced his flavor preferences. During a 2019 SEC Media Day, Burrow commented on the differences between Louisiana and Ohio foods. He explained that Louisiana might not have a lot of dishes, but "it makes one thing really well." Ohio food has more variety that are overall "decent," but he has admitted on Twitter that "Skyline is terrible."
It seems that Burrow's love of spicy food has even caused Bengals fans to jump on that Louisiana food bandwagon. WCPO reports reports that many Bengals fans are serving creole-inspired dishes and even King Cake for their big game parties. Some fans might be hoping that there is a little good juju in those creole spices and it could bring the Bengals the Lombardi Trophy. Maybe that loud cry of "Who Dey" could be served with some spicy food, a flavor loved by the celebrated Bengals quarterback.