Padma Lakshmi's Hilarious Trick For This Pomegranate Problem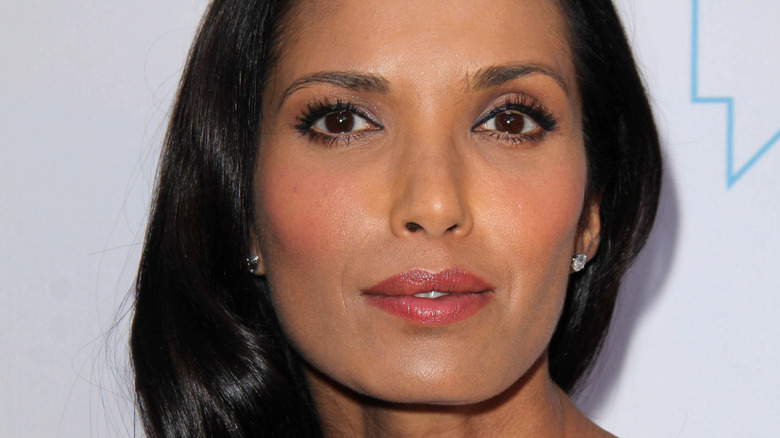 Kathy Hutchins/Shutterstock
Padma Lakshmi is a big fan of the pomegranate. We've even seen her use the seeds of this fruit to top off her peanut butter toast, making avocado toast eaters think twice about their breakfast. But, her love doesn't stop there. On January 8, the host of Bravo's "Top Chef" took to Twitter to share that, while "someone on TikTok said that pomegranate in thayir sadam (yogurt or curd rice) is the Indian equivalent of pineapple on pizza," the star chef is actually in favor of using pomegranate in yogurt rice. As she wrote, "Didn't think it was such a controversial combination. I, for one, love pomegranate in yogurt rice." The celebrity chef also explained to the Indian Express that it was the pomegranate that inspired her to write a children's book. 
It's fair to say Lakshmi is very passionate about this tangy, ruby red fruit. And when it comes to the ominous task of peeling it, she shared with My Recipes that she likes to do so while she is watching television. She said, "For people who have busy lives, who work and have kids, one of the things I say is when you're catching up on TV shows, do it in the kitchen or living room if you can, and chop vegetables and then just put them in the fridge. Also, that's a good time to peel a pomegranate, which is time consuming." Though, the task can be a messy proposition. Luckily, the cookbook author has a rather hilarious trick to contain the mess and preserve her clothes in the process.
Lakshmi's tips to avoid the 'super stainer' pomegranate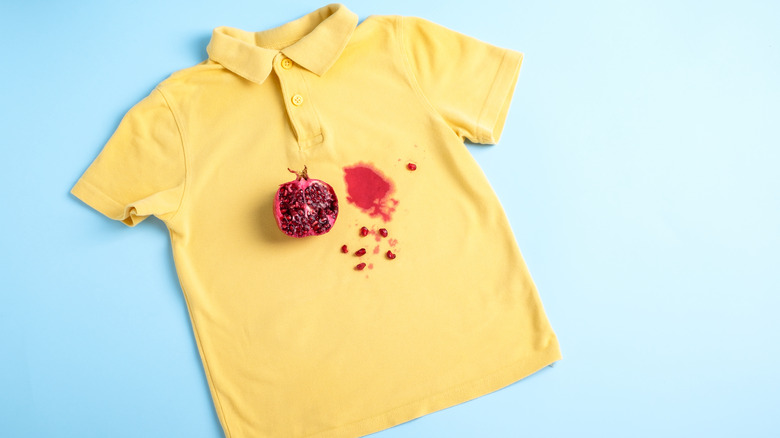 HalynaRom/Shutterstock
Late last year, Lakshmi revealed on Twitter she keeps her wardrobe free of pomegranate stains by choosing a piece of clothing she doesn't care about ruining. She said, "For peeling pomegranates I always try to throw on an old shirt I don't mind getting permanently stained." Seems like a good strategy to us, especially when you consider Good Housekeeping calls the pomegranate a "super stainer" that produces stains that are "almost impossible" to remove. But, is there an even better way to cut open a pomegranate?
The Twitterverse clearly felt like this was the perfect opportunity to provide Lakshmi with other options for her peeling pleasure, as well as to commiserate about pomegranate stains. One suggested, "Could you cut it in half and hit the top of it to get them out?" Another wrote, "Peel 'em underwater. Stain your fingers not your gear." Still, others could relate to the need for this hack with another person who added, "Did that last night. I did manage to stain my cutting board. Then for an encore, I cut up some beets." We think Lakshmi's hack is not only funny, but smart. What do you think?