Why The Internet Is Judging McDonalds' Kanye West Super Bowl Ad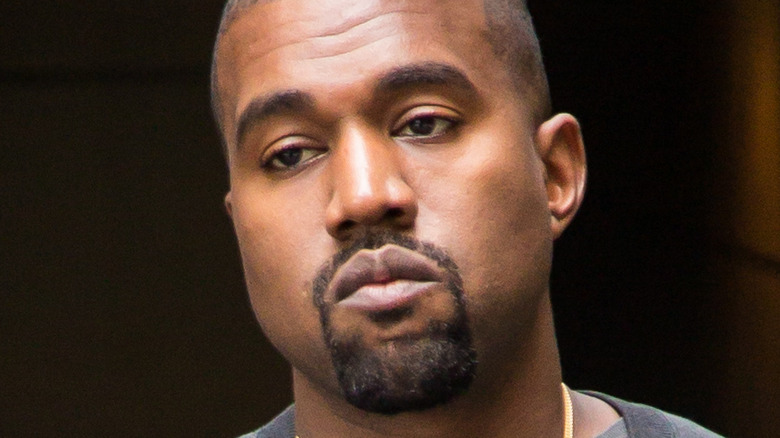 Liam Goodner/Shutterstock
Over the days leading up to the big football game, McDonald's was frying up hype for its 2022 Super Bowl ad, prompting fans to play a guessing game about which famous faces might appear in the TV spot. Finally, the fast food chain debuted the commercial on YouTube just before the game began, revealing that the surprising celebrity it had managed to recruit for the occasion was none other than Kanye West — now known as Ye. 
The ad, titled "Can I Get Uhhhhhhhhhhhh," consists of several customers pulling up to the McDonald's drive-thru window and suffering from indecision. Much of the internet was unimpressed with the storyline, some of them because they had been hoping for a new menu item. "I waited 24H. For a commercial. Of people saying uhhhh... I thought it was gunna be a new burger," one person commented on the YouTube video. A similar question appeared on McDonalds' Instagram post about the ad: "This what yall been hyping up?" one viewer asked. On Reddit, one commenter expressed disappointment that Ye was featured in the ad for just "four seconds." Here's what some of them would have preferred from the commercial.
Twitter users had different expectations for the McDonald's ad
Before the Super Bowl, fans shared what they hoped would happen in McDonalds' commercial based on the fast food chain's teasers about the ad. Because Tesla CEO Elon Musk tweeted back in January that he would "eat a happy meal on tv if @McDonalds accepts Dogecoin," many parts of Twitter were hopeful that the chain's Super Bowl spot would feature Musk or a reference to the meme-based cryptocurrency.
"Y'all need new content creators," one person tweeted. "That commercial must have cost a lot and it was cringe. but you won't see any profit increase like if you'd accept #dogecoin." Another user's post suggested that McDonald's should have paid Musk to appear in the commercial instead of Ye. "Lmao you had @ElonMusk ready to eat a happy meal and we get uhhhhh ... @kanyewest," they said. Many users suggested that they would be taking their business to other burger chains, like Wendy's. Finally, one person chimed in with the very clear suggestion, "Accept Dogecoin or delete your Twitter" (via Twitter).