Proud Daughter Padma Lakshmi Shares Video About Her Parents' Farm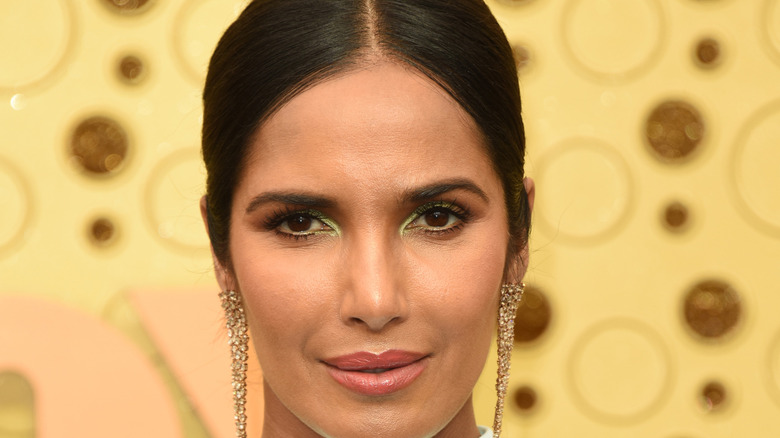 Kathy Hutchins/Shutterstock
We may receive a commission on purchases made from links.
Padma Lakshmi is a strong champion of herbs and spices. Take her book, The Encyclopedia Of Spices & Herbs, for example — it documents hundreds of spices found in the world. Lakshmi also adds a spiced touch of her own many mainstream recipes: candied pecans with chili powder, margaritas with turmeric, glazed carrots with tarragon, and even apple cake with saffron, cardamom, and cloves.
A recent video Lakshmi shared on Instagram indicates that her affinity for herbs and spices might run in her genes! Lakshmi shared a video created by Los Angeles-based journalist and producer Nathalie Basha, who made a trip to a curry leaf farm in La Puente, Calif. She spoke with the farm's owners about single-origin spices and why it's important to know where the spices we eat come from. The farm that was the subject of the interview — Prasad Curry Leaf — is owned and run by none other than Lakshmi's parents, Anand and his wife Vijaya!
The "Taste The Nation" host proudly shared the video with her fans and wrote: "So proud of my parents...I want them to sell it and move closer to me and Littlehands but this farm is so important to him!"
Padma Lakshmi's father is a third-generation curry tree farmer
Lakshmi's father Anand told Basha that he loves curry leaves and that all Indian cooking (as long as it isn't sweet) typically includes curry leaves (via Instagram). As a part of a third generation of curry tree farmers in Fiji, Lakshmi's father Anand began the Prasad Curry Leaf farm to champion single-origin spices and keep his tradition alive. Despite the difficulties that the drastic climate and terrain change of Los Angeles brought compared to Fiji, Anand is now known for the superior quality of his curry leaves. He sells them to Burlap & Barrel — a single-origin spice company that sources fresh and sustainable spices of quality straight from farmers.
Instagram is loving Lakshhmi's proud daughter moment and appreciates the work that her parents are trying to do. "Beautiful! Had no idea about the spice trade and single origin," one follower wrote. Some fans were left bewildered by the knowledge that there even exists such a thing as a curry leaf farm and found what Lakshmi's parents are doing to be extremely cool and inspiring. Others wondered whether the Prasad Curry Leaf farm is open to visits from the general public, and that's an answer we'd all love to hear about!