This Brand Just Put Duff Goldman's Face On A Cereal Box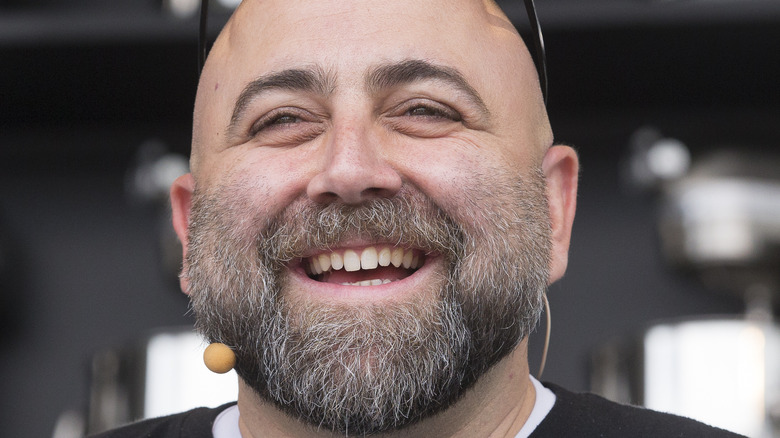 Sterling Munksgard/Shutterstock
You may know him as Duff Goldman or you may know him as the Ace of Cakes (RIP!). However you know him, the Food Network star is famous for being the master pastry chef behind Charm City Cakes, which he started in Baltimore in 2002. Currently, he's the host of the adorable "Kids Baking Championship," where he judges the culinary creations of talented kid bakers from across the country. Along with his numerous successes in the world of restaurants and food television, Duff can now add another achievement to his resume: He's become the face of a very popular cereal brand.
Duff has long been a cereal fan. Not only did he tell Foodsided that he loved Special K growing up, but in 2018, he created an exclusive full-course menu of appetizers, entrees, and desserts (which included Corn Flakes Mac n' Cheese!) at Kellogg's Café in New York City (via PR Newswire). However, it isn't Kellogg that has recruited the celebrity pastry chef for its boxes. Instead, Post has put Duff on the cover of one of its most beloved cereals: Grape-Nuts.
Duff is the new face of Grape-Nuts
In a recent Instagram post, Duff Goldman revealed that he'll be smiling back at you (while wearing a shirt that says "Nuts for Grape-Nuts") from every Grape-Nuts cereal box. "Thank you @post_cereals and @post_grapenuts for the cereal box! I love it," he captioned the photo, adding the hashtag #dreamcometrue. It's not the first time he has professed his love of Grape-Nuts, which were first invented by Post in 1897. Earlier this year on Twitter, in a response to a Food Network tweet asking fans what their go-to cereal is, Duff tweeted, "I weirdly love grape nuts."
While Duff's controversial opinion on Grape-Nuts — that they're the ultimate cereal — was met with mixed opinions, there's no denying that the nostalgic Post cereal has a bit of a cult following. Last year, during the COVID-19 pandemic, there was a nationwide Grape-Nuts shortage, as people scrambled to get their hands on a box of the crunchy cereal. According to a press release from the brand on PR Newswire, boxes of Grape-Nuts were being sold on secondary markets like Ebay for up to $110 a box. Now that's a devoted fanbase. Fortunately, Grape-Nuts have since returned to their normal price.