Here's What Happened To Dollop Gourmet After Shark Tank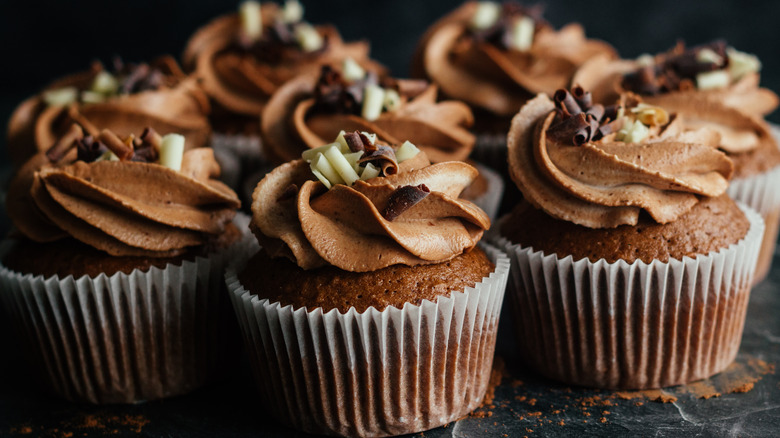 NataliaMilashkaShop/Shutterstock
Appearing on "Shark Tank" must be a daunting experience — even worse than admitting to your parents that you know Santa Claus isn't real (sorry you had to find out this way). But the benefits of achieving investment and support from business stalwarts far outweigh initial nerves. The chances of successfully pitching a product on the popular show are actually better than you may think: More than 50% of ideas featured on "Shark Tank" are awarded a deal, according to The Hustle. One triumph was Dollop Gourmet, which was featured in Season 7, per Shark Tank Tales.
Created by Heather Saffer, Dollop Gourmet was designed to provide a better option than artificial cake frosting, which Saffer appears to dislike vehemently. The specialty toppings are intended to have the same quality as homemade creations but are far easier to access than having to make them from scratch. But how has Dollop Gourmet fared since its appearance on the show?
Shark Tank really helped to boost Dollop Gourmet's sales
During her appearance on "Shark Tank," Heather Saffer managed to negotiate a deal with Barbara Corcoran of a $75,000 investment in return for a 25% stake in Dollop Gourmet, according to Shark Tank Tales. The "Shark Tank" exposure worked wonders for the company and got the cupcake frostings a bit of attention: Sales were dramatically boosted after the show aired, Saffer revealed in an interview with The Physical Product Movement.
Perhaps the biggest shock is that Saffer's deal with Corcoran was never finalized, but that didn't hinder Dollop Gourmet's delicious rise, per the Shark Tank Blog. The company's website offers a wide range of exclusive frosting options, including Sea Salted Caramel, Madagascan Vanilla, and Cream Cheese Cashmere. All of the flavors are free from dairy, contain natural ingredients, and avoid genetic modification (per Dollop Gourmet).
The business gained further fame and fortune by featuring on QVC, and its Instagram account shows a following of more than 12,000 people. According to Starter Story, Dollop Gourmet has been bought out by the Canadian company Mimac and amasses an impressive monthly revenue of $30,000.
Dollop Gourmet seems to be struggling
Even though Dollop Gourmet rocketed to fame after its "Shark Tank" appearance and seemed to gather commercial success while under the control of founder Heather Saffer, the business appears to have been less fortunate since it was bought out.
While Dollop Gourmet's website displays an intriguing array of frosting flavors to choose from, all of them are listed as being sold out. Of course, this could happen to any company, but its social media suggests a different story. Dollop Gourmet's Instagram remains active with plenty of photos of frosting causing fans to ask when they can buy the product. An update from August 2022 suggested once packaging and labels had been updated they would be back in business. However, label problems were noted in March 2022, and the company had issues with gluten-free and non-genetically modified certifications in October 2021, indicating business has been difficult for some time.
As for Heather Saffer, Heather's Many Thoughts reveals that she is working as a program coordinator and business coach, helping entrepreneurs with their start-up companies. Saffer says she wants to help budding business creators "build their dreams."